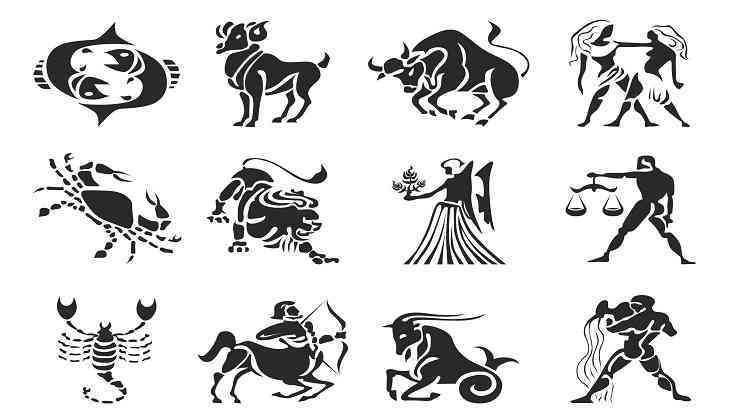 1. ARIES
Don't be afraid to take on new challenges. Even if you feel unsure about your abilities, embrace the chance to test them. If others think you're up to the challenge, you should give yourself the same benefit of the doubt! Amid all the boring work buzz, you will manage to sustain your sense of humour. You are in a gregarious mood and that explains it. This also makes you a welcome guest at any party you may wish to grace.
LUCKY COLOUR- CYAN
LUCKY NUMBER- 5
2. TAURUS
If you are in active sport or in the creative field, you may find other people to be more interfering than usual. Keep to your course and avoid confrontations. If you throw in your lot with someone you trust, there's no end to what you can do. You may seek support and confidence from close partners, associates and even family members. You shall get the full support from all quarters.
LUCKY COLOUR- RED
LUCKY NUMBER- 3
3. GEMINI
You have been working overtime to improve their finances; this is fine, but don't allow money to rule your life. It is also important to enjoy the work you do. If you can do the work you love, you will prosper spiritually. The urge to shop, especially for communication equipment ,phones and computers is quite strong, but yummy fashion items will be found in the local mall.
LUCKY COLOUR- YELLOW
LUCKY NUMBER- 4
4. CANCER
You will receive some important agreements at work today. The early hours of the day will bring some good news. Meeting important people will bring good results. Use your high energy to accomplish important tasks. Discord at home may cause dejection but handle the situation tactfully. Few tensions may leave you irritated.
LUCKY COLOUR- VIOLET
LUCKY NUMBER- 1
5. LEO
You may need to re-evaluate some processes that aren't producing results. You could have mixed feelings about someone whom you share your many interests with. You'll be more discriminating at work, though in a positive way. Your reaction to an important matter could be the result of other peoples opinions.
LUCKY COLOUR- GOLDEN
LUCKY NUMBER- 8
6. VIRGO
Today you will see an improvement in your emotional behaviour and this change is going to come because of a movie that you've watched lately or because of a novel that have read. People will praise your for your performance at your workplace.
LUCKY COLOUR- GREEN
LUCKY NUMBER- 6
7. LIBRA
You are optimistic and have a lot of tolerance for things. Arts students will reach new levels, remember the lessons life has taught you it will serve better. Set your priorities, clean your head and decide what is needed to be done first and leave the rest for last. Use your brilliance and sort out your problems in no time but do not over estimate your abilities.
LUCKY COLOUR- BROWN
LUCKY NUMBER- 3
8. SCORPIO
There is some good news for you today. You might get good news from your nearer or dearer one. Either you might get a proposal from someone or you will get to know about your one of closest friend's secret crush on you.
LUCKY COLOUR- PURPLE
LUCKY NUMBER- 7
9. SAGITTARIUS
It's possible that you might feel obliged and tired with your own thinking. But you don't need to feel disturbed about it because it's entirely normal to feel this way. If you are a creative person then pick a paint brush and express your thought and if you are a writer then write down your opinion about whatever is bothering you.
LUCKY COLOUR- MAGENTA
LUCKY NUMBER- 9
10. CAPRICORN
Use your high energy to accomplish important tasks. Discord at home may cause dejection but handle the situation tactfully. Few tensions may leave you irritated. Misunderstandings may creep in at some point, so double check the details before starting out on a new project. It may be wise to retract your steps to a more secure position.
LUCKY COLOUR- INK BLUE
LUCKY NUMBER- 1
11. AQUARIUS
You may want to use your reputation to benefit a good cause, so check out your local charities. Help out in any way you can. Expect a call from a distant place that should bring a solution. A wise approach in financial matters is needed here, though an expensive purchase is the issue at home.
LUCKY COLOUR- PINK
LUCKY NUMBER- 4
12. PISCES
The one who does not listen to others is the one who often found themselves in trouble. So chose your steps wisely. And if before doing something drastic listen others and try to understand their point of you.
LUCKY COLOUR- GREY
LUCKY NUMBER- 5