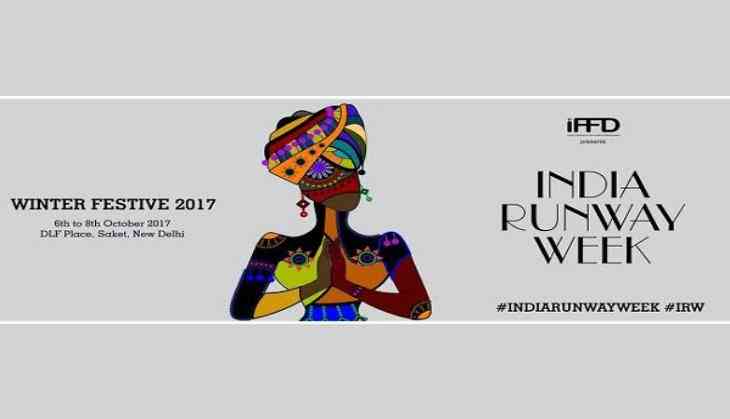 The Indian Federation for Fashion Development (IFFD) recently hosted the extremely anticipated ninth season of India Runway Week in the national capital.
As they are acknowledged to promote new and emerging talent along with renowned names in the industry, the three-day gala event highlighted the fashion trends of the upcoming winter festive season.
A mix of 39 designers showcased the wisdom of fashion through their collections.
The first day of India Runway Week W/F 2017 was opened by James Ferreira, one of the most prominent names in the Indian Fashion Industry, followed by Kaynaat by Aanchal Sawhney, Isabis Couture by Parul M Dhawan. Bollywood Diva Shriya Saran stunned the audience with her gorgeous looks in amazing collection by Kavita Agarwal.
The closing show of day one was presented by Varija Bajaj, and Bibi Russell, an internationally acclaimed fashion designer from Bangladesh.
The second day was opened by Apash by Aparna and Shruti where Singer Ankit Tiwari mesmerised everyone by his voice while walking the ramp for the designer duo.
Followed by Rav by Vadhu, who presented his Nakshatra collection, Élan by Rahul and Vidhu showcased 'Samhitha Collection', Vintage Loom by Ashina Chharia showcased her latest travel themed collection 'Wanderlust'.
Shibani Dandekar walked the ramp for Twee-In-One by Niti Singhal. The next lined up show was by designer Sehrish Kabir who presented 'Dilkash', the show was followed by Nikheil and Rivenhall, where Ukrainian model Alexandra Kutas, the first fashion model with a disability, graced the show with her appearance.
The La Styliste by Purvi Roy presented Quirky Formal wear.Niharika Pandey, Varanasi Weavers and Artisans Society supported by AIACA, SoCHE also presented their collection for the audience.
Casio presented Street Style Show by Fashion Bloggers, renowned jewelry designer Akassh K Aggarwal by Shubhashini Ornamentals presented Rangyatra with Geeta Kapoor being the show stealer; the show followed by Rajdeep Ranawat and Kaaisha by Shalini.
The third day was opened by Nisha Singh with her collection 'Her Majesty', followed by JM by Jyoti Munish, Saima Kashif, Getup by Shweta and Moumita; singer Shibani Kashyap graced the show with her presence and voice for designer duo Rajat and Sumit who showcased Indian Modern Boho collection.
The next lined up show were Sai Dham's (NGO) Neo Tribe, Sulakshna Jasra, Sangeeta Swati and AvraChic by Shalini Bisht. Paksh by Sudhir Nayak's collection speaks of modern vision of a practical, back to basic attitude and Ridhi Dogra walked the ramp for designer Miku Kumar who dedicated the collection to the 'Royal style diary for the princess in you'.
Designer Sadan Pandey presented 'Illuminate' and Beauty queen Lopamudra Raut spread her charm at IRW W/F 2017 for Gazal Mishra. Then were Pinessaa by Neha and Shivangi, Indian August.
Actress Saiyami Kher sizzled the ramp for designer Priyal Barkway. SHREE showcased their four magnificent collections and of course the most awaited grand finale of the India Runway Week was presented by Saaj by Ankita.
Avinash Pathania, director, Indian Federation for Fashion Development (IFFD), said in a statement "As thought, our efforts are to strengthen India Runway Week as a platform every season. The 9th edition of Winter Festive brought the best of amazing designs to the runway. We continue to provide an integrated experience of knowledge, rendezvous and business for all our participants, buyers as well as industry experts."
"I am extremely delighted with the kind of response we are getting with each passing show. These all are immensely talented designers and the increased number of entries along with the continued growth of the India Runway Week reaffirms the platform's stature in terms of relevance and reach in the Indian fashion market," noted Kiran Kheva, fashion director, IFFD, stated about the event's growing prominence in the industry.
-ANI