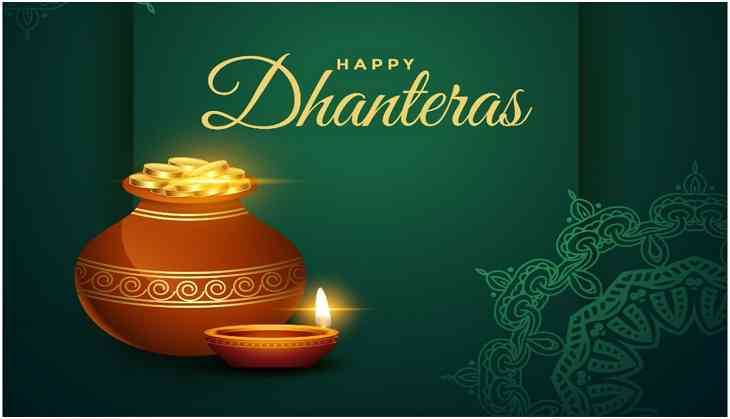 Dhanteras, also known as Dhanatrayodashi, officially marks the beginning of the five-day long festival of Diwali. According to the Hindu calendar, Dhanteras falls annually in the month of Kartik and is celebrated two days prior to the grand festival.
On this auspicious day, devotees worship Lord Ganesh, Goddess Lakshmi, Lord Kuber, and Lord Dhanvantri for good health, wealth, and prosperity.
It is believed that Dhanteras Puja will bring in the homes of the devotees. Buying gold, silver and utensils on this day is considered auspicious.
On this auspicious day, send top trending wishes, messages, GIFs and more on WhatsApp to your loves ones. All you need to do is download festive themed Dhanteras 2022 on whatsApp stickers from the app store. WhatsApp doesn't have specific festive stickers but it allows you to download third party sticker apps.
Here are some top trending WhatsApp messages you can share with friends and family.
I hope the festive of Dhanteras brightens your heart and home with happiness and fills it with success. Warm wishes to you and your family.
I wish that you and your family will showered with the choicest blessings of Goddess Laxmi, and pray that you are blessed with more wealth, happiness and prosperity in coming years
May Goddess Laxmi and Dhan Kuber give you and your family strength and opportunities to lead a prosperous and happy life.
May Maa Lakshmi shower her blessings on you, enriching your life with prosperity and happiness.
Shubh Dhanteras.
May Goddess Lakshmi always stay in your heart and help you to lead a happy and peaceful life.
Happy Dhanteras to you and your family.
How to send Dhanteras 2022 WhatsApp stickers
Go to Google Play Store and search for Dhanteras stickers for WhatsApp in the search bar.
From the given options, select the sticker pack you would like to download and add it to WhatsApp
from the list.
Once it is done, you will see all the stickers in the pack inside of the My Stickers tab of WhatsApp.
From the sticker pack, select the sticker and then tap on the 'Add' button denoting the '+' symbol.
You will need to confirm by tapping on the 'Add to WhatsApp' button.
Now you can simply select and send Dhanteras 2022 stickers to your friends and family.
How to send Dhanteras WhatsApp GIFs
Go to WhatsApp and click on the individual or group chat where you want to send the GIF.
Tap on the smiley icon available on the messaging box
Click on the GIF option
Now click on the search icon and type Dhanteras
Select the GIF you like from the options displayed on the screen
Share the GIFs to your loved ones by tapping on the send button
Here are some top Dhanteras images to share