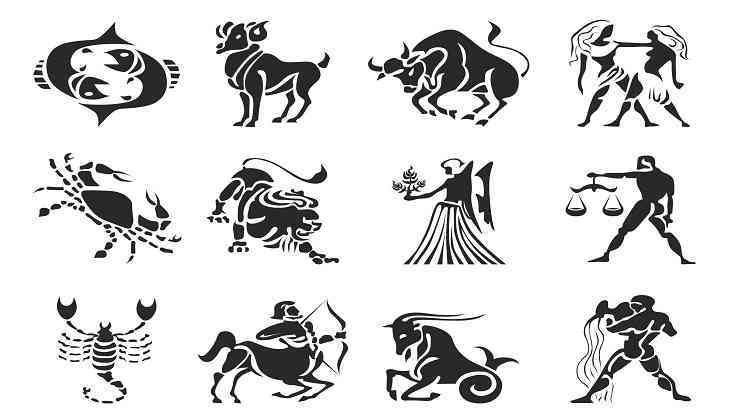 1. ARIES
Today plan your day else you will get suppressed by your work. Keep your family in mind and make sure that you have done efficient planning which will give you an upper hand over others when the competition is tight. You will bump into 'someone special' today and after which you will see the feeling of love blooming for you.
LUCKY COLOUR- PINK
LUCKY NUMBER- 3
2. TAURUS
Your day is going to be very dark and gloomy but do not worry as the clouds of worry will soon disappear and you will hear some positive bells ringing around. You might receive a phone call from someone living in abroad who will surprise you. Cheer up because everything's gonna get fine.
LUCKY COLOUR- BROWN
LUCKY NUMBER- 8
3. GEMINI
Today you will become quite popular at your workplace and your honesty and efforts will be recognised, which will surely bring some fulfilling results for you. But, be prepared for what will be coming next because everyday is different and might not be favourable for you like today. Do not loose hope.
LUCKY COLOUR- MAROON
LUCKY NUMBER- 6
4. CANCER
Today all your focus will be on your work and your domestic responsibilities. Your colleagues and head will lend you the best support and because of which you shall feel contended at the end of the day. Do not pick unnecessary arguments with anyone today because you will be only one who will be at the loss.
LUCKY COLOUR- MAGENTA
LUCKY NUMBER- 1
5. LEO
Today, your friends and family will have higher expectations from you and you will surely try to fulfill it but it will affect your mood and which is why you will feel irritated. However, you will find out some amazing ways by which you can end it all at once.
LUCKY COLOUR- BLUE
LUCKY NUMBER- 4
6. VIRGO
Your stars are not quite favourable today, it shows that there are obstacles in your way. However do not be afraid if that, sort out the problems and move ahead. Your calm nature will help you a lot in fixing out all the problems of your life. Take out some time for yourself and relax for a while.
LUCKY COLOUR- YELLOW
LUCKY NUMBER- 5
7. LIBRA
You will have to face some kind of tension which will have an effect on your physical and mental health. You will have some really important meeting today which will end up successfully but you will be tired after it gets over. You will also get a great opportunity to participate in some social functions.
LUCKY COLOUR- ORANGE
LUCKY NUMBER- 4
8. SCORPIO
Today will be a very cheerful day for you as all your friends, colleagues and family members will be very impressed with your way of behaviour. With the help of your sense of humour, you will become popular as you will never fall short of jokes. It is advisable that you spend some time on devotional activities too.
LUCKY COLOUR- PURPLE
LUCKY NUMBER- 7
9. SAGITTARIUS
Today, you will be satisfied with your work at your workplace and your seniors will be quite impressed with you. Your finances will be at great pace and family will keep you busy during the afternoon. You will be busy singing or dancing in the evening. You need to thank God for all the precious gifts that he has bestowed upon you.
LUCKY COLOUR- PEACH
LUCKY NUMBER- 5
10. CAPRICORN
Today will be a very emotional day for you and you will love to spend your entire day with your friends and family. Do not loose hope as your fortune will soon favour you. Try on doing the best you can do without expecting anything from anyone. You might visit any devotional place in the evening.
LUCKY COLOUR- PINK
LUCKY NUMBER- 3
11. AQUARIUS
Today will be a very positive day for you as from everywhere you will tend to hear good news which will definitely life up your mood for the day. But deep inside your mind you will feel that you are not going in the right direction and will want to talk about the same with someone. Alot of success and financial opportunities are knocking your door, check them out.
LUCKY COLOUR- RED
LUCKY NUMBER- 2
12. PISCES
12. PISCES
Today you will be really busy in all your official work. You will be under a lot of pressure for work which is good for you since it will bring out the best in you. Your colleagues will be quite impressed by your work and will look forward to take suggestions from you. Do not expect the result of your hardwork soon.
LUCKY COLOUR- GREY
LUCKY NUMBER-8