The Emperor's clothes: Modi changes 4 times in a day in Silicon Valley
Catch Team
| Updated on: 29 September 2015, 9:43 IST
Narendra Modi wowed Silicon Valley. He connected big time with the tech czars, impressed them with his Digital India pitch and had an 18,000-strong crowd of Indians working abroad eating out of his hands at the SAP Centre.
So what clicked? The passionate IT talk, the dream-big attitude, and everything in between. And all that packaged nicely in four changes of clothes.
The Prime Minister stepped down Air India One at San Jose International Airport on Sunday in a silver Nehru jacket over a white kurta-churidar.
By the time, he reached Tesla Motors, he had changed into a light-blue shirt, a pair of khakis and a V-neck ivory waist coat with a blue kerchief. The same attire served him for his meeting with Apple CEO Tim Cook.
Next stop: the Digital India dinner. Modi was in a brown (not the formal black or blue) bandhgala when he met Microsoft Chief Exec Satya Nadella, Qualcomm's Paul Jacobs, Google CEO Sundar Pichai Cisco boss John Chambers and Adobe's Shantanu Narayan.
He went for the Facebook townhall with Mark Zuckerberg in an off-white formal shirt, black trousers and a black Nehru jacket. By the time he reached SAP Centre stadium to meet the Indian diaspora, the kurta-pyjama was back. This time with a brown jacket.
Also read:
Dear PM, please sell the right message to the right audience
Modi in Silicon Valley: the politician overshadows the PM
Silicon Valley's gift to Modi: What the Tech giants have to offer India
Whoa! Who packs his suitcase?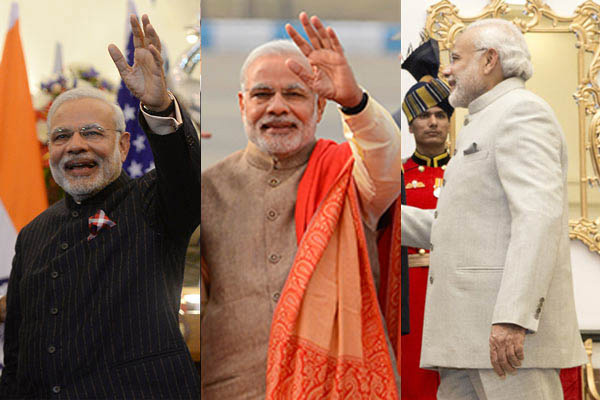 But this isn't the first display of Modi's sartorial sense. Remember the last Republic Day? Modi changed thrice on a single day when Barack Obama was in town while the good ol' American prez stuck to a dark suit, white shirt and a grey tie throughout the day. One of the Modiwear of that day was the infamous 'signature suit'.
Well, at the end of the day the PM is his own man and can chose his clothes (or how many of them he wants to sport in a day). But just to put things in perspective, a former home minister ran into real rough weather when the media pointed out his change of three bandhgalas in a single day when Delhi was reeling under serial blasts. Anyone remembers Shivraj Patil?