Modi in Silicon Valley: The politician overshadows the PM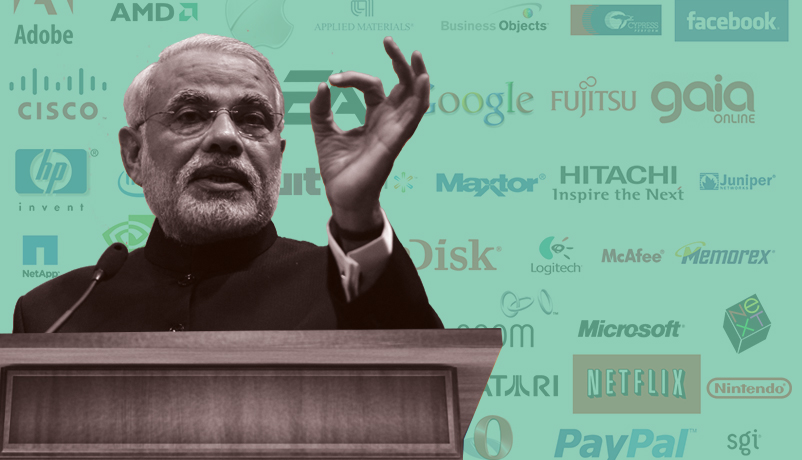 Soliciting support
Narendra Modi addressed a packed stadium at SAP Centre, San Jose
The crowd comprised mostly of Indians working or settled abroad
The PM sought a stamp of approval for his 16 months in office
Poll mode
The speech sounded more like a poll campaign, not a PM\'s address
He belittled political rivals to prove how good his regime is
The crowd chanted his name whenever he sought their stamp of approval
After the speech he announced a Delhi-San Francisco Air India flight
After a year of his Madison Square speech, Prime Minister Narendra Modi was again in the United States, again among his NRI supporters and fans. This time he was at the SAP Centre, San Jose in the famed Silicon Valley.
The PM addressed Indians working there or settled in the States. There was a big crowd outside the six-floor stadium, packing 18,000 people. For those who couldn't make it to inside, there were big screens installed outside.
The show, however, didn't match the scale of Madison Square, Sydney's Allphones Arena or the one during his recent UAE visit. The speech was a tad repetitive. Perhaps the illusionist was not being able to sustain the hypnotism.
And yes, Modi remained in the his pre-election campaign mode. Even after 16 months in office, Modi abroad is more of a politician than a Prime Minister.
He mentioned the Emergency, corruption by politicians and failure of previous governments in many fields, including technology, economy and terrorism. Without naming them, he targeted Indira Gandhi, Priyanka Gandhi, even Robert Vadra.
Seeking approval
Most of Modi's speech remained a self appraisal - he gave himself a clean chit and sought a performance certificate from supporters abroad.
Modi started his one-hour-plus speech at 7.40 am IST with a "Good evening, California" and tributes to the revolutionary Bhagat Singh. "I am coming here after 25 years. Things have changed," he said.
"I can feel the vibrant image of India here. The magic of your fingers on keyboards of computers has done this."
Despite 16 months in office #ModiAtSAPCenter sounded like a poll campaign
The PM distanced himself from the brain-drain theory. Calling Indians abroad the country's "brain deposits", he urged them to pay back with profits.
"Twenty-first century kiski (Whose is the 21st century)?" Modi asked. And the crowd chanted: "Modi, Modi, Modi..." He smiled with pride and asked "Who has brought in change? How has it come?" The crowd repeated the chant.
He then said: "I need your certificate for the performance after 16 months. Did I work hard and keep my promises?"
Petty politics
He then took on the opposition. "In India, allegations about misconducts start surfacing against politicians within a few months of their assuming office . beta (son) 250 crore, beti (daughter) 500 crore, damaad (son-in-law) 1,000 crore. Is there a single allegation against me?"
Bolstered by the crowd response, Modi said: "I will live for the country and die for it."
The PM then presented his report card: in past few months India has become the fastest-growing economy, it has become more promising and gained stature in forums like Brics etc.
"We started with the Upanishad and now we have an upagraha (satellites). Space technology, e-governance, Digital India are our strengths. Twenty-first century hindustan ki hai (the twenty-first century belongs to India," he said.
Trying to garner credits for anything positive, Modi said "unlike other countries, our Mars mission was successful in the very first attempt. The same happened with me."
As Modi's address continued, the Facebook application on my mobile device displayed a banner: "Do you support Digital India? PM Modi is visiting Silicon Valley. Update your profile picture to show your support for transforming India into a digitally empowered society."
Also read:
Dear PM, please sell the right message to the right audience
Silicon Valley's gift to Modi: What the Tech giants have to offer India
The Emperor's clothes: Modi changes 4 times in a day in Silicon Valley
I am the best
The PM picked on political rivals again, citing their failure in ensuring bank accounts despite banks being nationalised long back. "We did in 100 days what was not done in the last 40 years," he said, and presenting a new mantra for his government: JAM - Jan Dhan Yojna, Aadhar Card and Mobile governance.
The core of the speech came towards the end: "There can't be good terrorism and bad terrorism. Terrorism is terrorism. We need to stand strong against it for humanity."
The time has come to clearly identify who are with terrorism and who are for humanity, he said.
Apart from terrorism, Modi also highlighted global warming as a challenge before the world community.
As he was receiving greetings from those gathered after finishing the speech, an aide passed him a chit. The microphones were switched back on and Modi announced: "From 2 December, Air India's Delhi-San Francisco direct flight, three days a week."
Then the show was over.