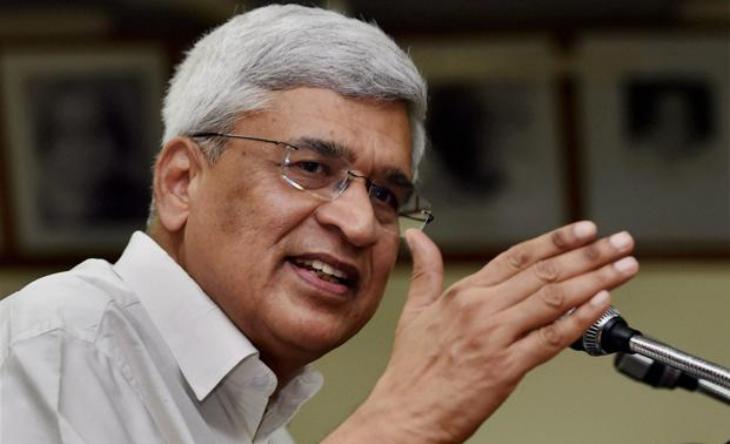 Senior Communist leader and former General secretary of the Community Party of India (Marxist), Prakash Karat has expressed optimism in the Left Democratic Front(LDF) gaining majority in Kerala Assembly and improving the party prospects in the poll-bound West Bengal. Talking to Rajasthan Patrika in Jaipur on Monday Karat said it was the whole Opposition except the BJP against the ruling party in West Bengal while the unpopular Government headed by Chief Minister Oomen Chandy was on its way out in Kerala.
Karat ruled out any contradiction in the CPI (M) fighting the Congress and its allies in Kerala while aligning with the  Congress against the ruling Trinamool Congress Party in West Bengal, a State which it had ruled for 34 years in the past. Karat, who is a member of the CPI (M) Polit Bureau at present, was in the Rajasthan capital to deliver the first Comrade Hariram Chouhan lecture. 
"It may be too early to talk about Kerala results but we are optimistic. Overall political situation in Kerala is favourable for us. The ruling UDF is isolated from people and is defensive," he noted. "In West Bengal the struggle is for restoration of democracy. That is why all the parties have joined together against the Trinamool," Karat explained.
However, the veteran Marxist was shied away from questions about post poll prospects of the 'association' with the Congress in West Bengal. He was also quick to rule out that this 'proximity' would bring about any future alliance with the Congress at national level. He also defined the poll understanding in West Bengal as an 'arrangement' and 'no formal' alliance. When pointed out that he had in his lecture earlier made a call for the coming together of all Left and democratic forces, Karat explained that it was for 'struggles' against authoritarian and anti-poor, anti-farmer polices and not for "political causes".
"Coming together in West Bengal had been an automatic process resulting from the oppression of the Trinamool. We were trying to build up unity against oppression and to protect democracy. In this process even small number of our party voters who had deserted us in the previous election for the BJP have come back," he pointed out.
When asked whether the association with the Congress in West Bengal blunted the attack on the ruling front in Kerala Karat replied in the negative and said perhaps Congress might find it difficult to explain and not them.
-- Written by Sunny Sebastian