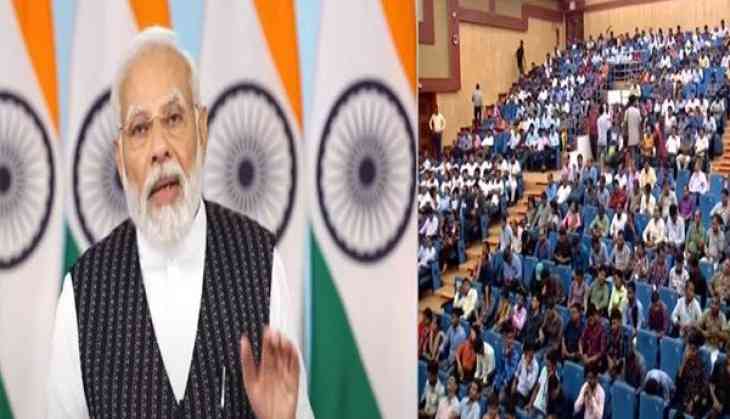 Prime Minister Narendra Modi addressed National Rozgar Mela through video-conferencing
Distribution of Appointment Letters to New Appointees
Prime Minister Narendra Modi addressed the National Rozgar Mela through video conferencing, where he distributed approximately 70,000 appointment letters to individuals joining various government departments and organizations.
India's Growing Influence and Stable Governance
During his speech, Prime Minister Modi highlighted the global interest in partnering with India for its remarkable growth journey.
He emphasized that India's political stability holds great significance in the current world scenario.
The Prime Minister also pointed out that the Indian government is known for its decisive and progressive economic and social policies.
A Symbol of the Present Government
Prime Minister Modi acknowledged the National Rozgar Mela as a defining characteristic of the present government's initiatives.
He expressed his satisfaction over similar Rozgar Melas being organized regularly by Bharatiya Janata Party (BJP) and National Democratic Alliance (NDA)-ruled states.
Referring to the ongoing "Azadi Ka Amrit Kaal" (Golden Jubilee of Independence), the Prime Minister emphasized the significance of this moment for individuals entering government service. He urged them to contribute wholeheartedly towards transforming India into a developed nation within the next 25 years.
Emerging Employment Opportunities
Prime Minister Modi congratulated the new appointees and their families, emphasizing the importance of their roles in shaping India's future. He discussed the promising prospects for both employment and self-employment in the country's economy, inspiring them to work towards a prosperous future.