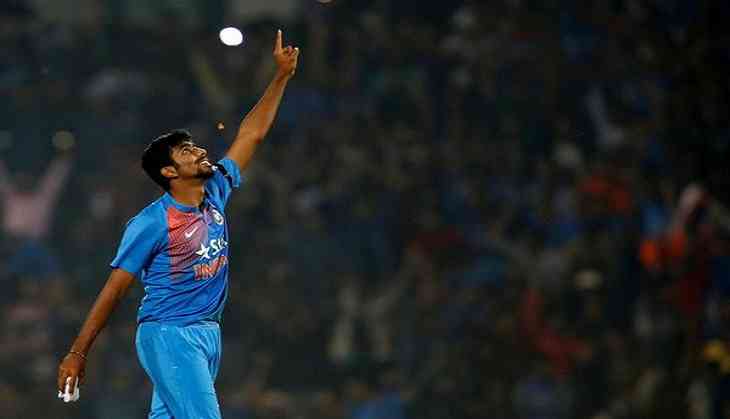 For long, India has been longing for a death over specialist and it appears that they have found one in Jasprit Bumrah. Bumrah has time and again came out with stupendous performances and proved why he is one of the best in the business.
On Saturday, while playing for Mumbai Indians in the Indian Premier League ( IPL), he displayed one such example of his brilliant death bowling skills against Gujarat Lions and help his team snatch victory from the jaws of the Suresh Raina-led side
The lanky fast bowler conceded just six runs in the Super Over to help his team win by five runs against Gujarat Lions at the SCA Stadium in Rajkot.
Defending 11, Bumrah conceded only six runs displaying brilliant variations of slower deliveries, including a few in the blockhole and not allowing even the likes of Brendon McCullum and Aaron Finch to score.
In the next game against Royal Challengers Bangalore on Monday, the 23-year-old again came up with brilliant bowling performance and helped Mumbai Indians earn a playoffs berth, while making sure that the Virat Kohli-led side are out of the tournament.
In a two-minute talk show with Shane Bond, Mumbai Indians bowling coach, Bumrah revealed the secret of his death bowling success and said that he consistently practice this aspect of bowling in the nets.
"I think the plans which we had talked during the bowling sessions, and also the bowlers meeting, is helping us. We have been executing the plans and I think that is helping us," Bumrah said in an interview with Bond on iplt20.com.
"I always try to keep calm. I had a chat with you ( Shane Bond) as well. So, I try to keep calm and try to execute the plans which I have spoken before, and so I try to do that," he insisted.
One of the great assets of Bumrah is his ability to bowl 'yorkers' on a consistent basis. He, however, said that Sri Lanka's Lasith Malinga, who plays alongside him in the cash rich tournament, has been a great influence for him.
"Lasith Malinga has been a great influence for me to bowl yorkers consistently. I used to bowl yorkers before as well, but to bowl consistently, you need practice. So he helped me in that," he said.
"It's always difficult when you bowl at the death. You can contribute to your team if you do well, so it plays a massive role when you bowl in the death. So, I think I am enjoying the role right now, and let's see how it goes in the future matches," he added.
Going into the Champions Trophy, it would be an added asset for Team India with Bumrah continues to bowl with such precision, especially in tight contests as that could make a huge difference for the success of the team.
-ANI