The Royal Ascot is back with the world's most hideous hats
Catch Team
| Updated on: 10 February 2017, 1:49 IST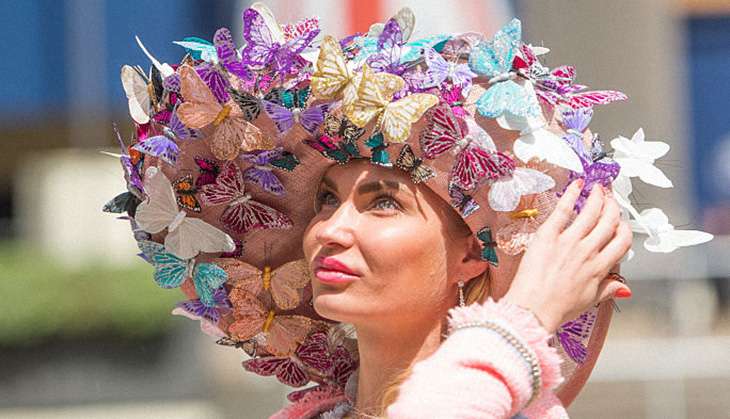 In the latest iteration of the Alice in Wonderland movie franchise, the Madhatter (Johnny Depp) finds himself chastised by his hat-making father for creating hats that were too weird even by Wonderland's bizarre standards.
But, in a case of real life being stranger than even the strangest of fiction, the Madhatter's creations would be right at home in one of European high-society's most cherished events - The Royal Ascot.
Held annually, at the Ascot Racecourse in Berkshire, the horse racing event draws the crème de la crème of British and , indeed, European royalty. And, as if flaunting their riches at the exclusive event wasn't enough, guests at the Royal Ascot come dressed in the most garish and outlandish hats, just to prove how obscenely rich they are.
How are hideous hats proof of wealth or power? Because you'd need to reach a pretty insane level of richness to not have people laugh at the ridiculous creations the event's guests wear on their heads. If you think we're kidding, or, even worse, exaggerating, think again. These wouldn't look out of place in a mad scientists lab, never mind a high-society event.
From floral hats that put the 'bloom' in blooming idiot, to the unwanted love child of the Cheshire cat and a tropical bird and even a swarm of butterflies, here are the most ridiculous hats from the Royal Ascot 2016.
Photo curation: Priyata Brajabasi
More in Catch:
These women aren't just rocking Cannes, but taking on fashion fundamentalists
Forget fashion, Sabyasachi's new store will redefine luxury retail. Here's why
2016 Billboard Music Awards: the worst of fashion hits the red carpet
A racegoer attends Day 1 of Royal Ascot on 14 June, 2016 in Ascot, England. (Anwar Hussein/WireImage)
A racegoer arrives for day 2 of Royal Ascot at Ascot Racecourse on 8 June, 2016 in Ascot, England. (Samir Hussein/WireImage)
A racegoer attends Day 1 of Royal Ascot on 14 June, 2016 in Ascot, England. (Anwar Hussein/WireImage)
Anouska Lancaster attends Day 1 of Royal Ascot on 14 June, 2016 in Ascot, England. (Anwar Hussein/WireImage)
Nazer Bullen attends Day 1 of Royal Ascot on 14 June, 2016 in Ascot, England. (Anwar Hussein/WireImage)
Isabell Kristensen attends Day 1 of Royal Ascot on 14 June, 2016 in Ascot, England. (Anwar Hussein/WireImage)
A racegoer arrives for day 2 of Royal Ascot at Ascot Racecourse on 8 June, 2016 in Ascot, England. (Samir Hussein/WireImage)
Tracy Rose arrives for day 3 of Royal Ascot at Ascot Racecourse on 16 June, 2016 in Ascot, England. (Samir Hussein/WireImage)
Racegoers attend day 3 of Royal Ascot at Ascot Racecourse on 16 June, 2016 in Ascot, England. (Samir Hussein/WireImage)
A racegoer attends Day 2 of Royal Ascot on 15 June, 2016 in Ascot, England. (Anwar Hussein/WireImage)