These women aren't just rocking Cannes, but taking on fashion fundamentalists
The Cannes Film Festival is upon us and you know what that means - glamour, couture and even more couture. Leave it to the ultimate French red carpet to inspire celebs to don the chicest looks of the year.
But while most agree to play by the rules - and it turns out Cannes has a lot of rules, some spoken, others unspoken - a few stellar women are taking the rules head on and coming out on top. In the process, they\'re also giving us #MajorFashionGoals.
When it comes to style, Blake Lively can do virtually no wrong. She rocked every red carpet look she wore at Cannes 2016, demonstrating why she is known as one of the 'most stylish people on Earth.' The Gossip Girl actress, who's currently expecting her second child with husband Ryan Reynolds, had a major Cinderella moment at the premiere of Slack Bay in an eye-catching powder blue Vivienne Westwood Couture creation.
But just because she can rock the most gorgeous gowns doesn't mean Lively doesn't have a rebellious streak. A red-hot one, evidently. Promoting her upcoming film, Woody Allen's Cafe Society, she broke fashion rules (gowns, gowns, gowns) by appearing in a fiery red wide-legged jumpsuit with a scoop neckline and matching fabric draped necklace. Despite that, media houses have already declared her the best dressed celebrity in the first 3 days of the two-week-long film festival.
And though she did stick to heels, she too spoke out against the 'Heelgate' controversy at the event last year, saying it shouldn't be made compulsory for women to wear heels to the event.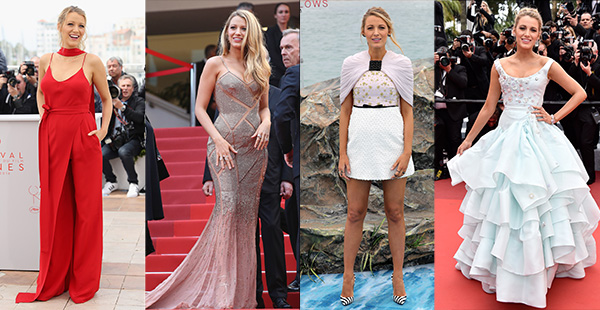 Photos: Getty Images
The 26-year-old actress who's also part of Woody Allen's latest offering showcased a platinum blond 'do' that's a big move from her usual brunette locks. While some may be quick to assume that the change is due to a movie role, that wasn't the case. Basically, 'K.Stew' decided to "f*ck up" her hair (her words, of course).
The tomboy actress decided to live up to her trademark style by appearing on the red carpet in a badass sheer dress and showed up to other events in skirts and flats too.
Like Lively, Stewart also spoke out against the famous event's heels-only policy. "Things have to change immediately," Stewart told Indiewire's Anne Thompson during a round-table conversation for Café Society on Thursday.
"It has become really obvious that if [a man and I] were walking the red carpet together and someone stopped me and said, 'Excuse me, young lady, you're not wearing heels. You cannot come in.' Then [I'm going to say], 'Neither is my friend. Does he have to wear heels?' It can work both ways."
Did we say we love her?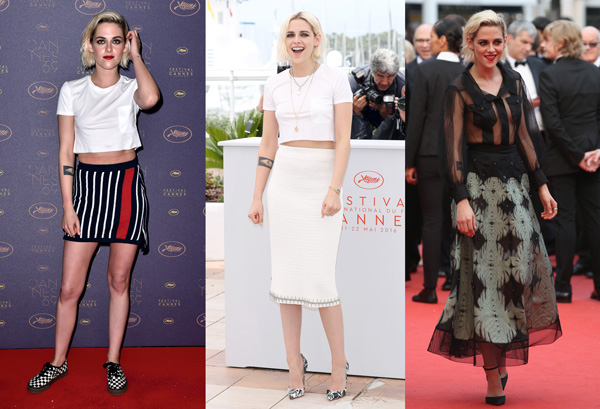 Photos: Getty Images
Last year, the Cannes film fest came under fire for turning away a group of women who weren't wearing heels.
This year the legendary Roberts took a stand, quite literally, by walking the red carpet barefoot.
Roberts donned a vintage-inspired black gown featuring a plunging neckline and off-the-shoulder cap sleeves. She paired her dress with an emerald pendant on a diamond chain and a matching ring. She looked, in every sense of the word, fabulous - but her true fabulousness was revealed as she hitched up her dress to reveal that she was barefoot.
At Cannes to promote her film 'Money Monster', she went ahead and wore the pants for the photo call of the film, too, and ditched the dresses for a sharp pinstripe suit.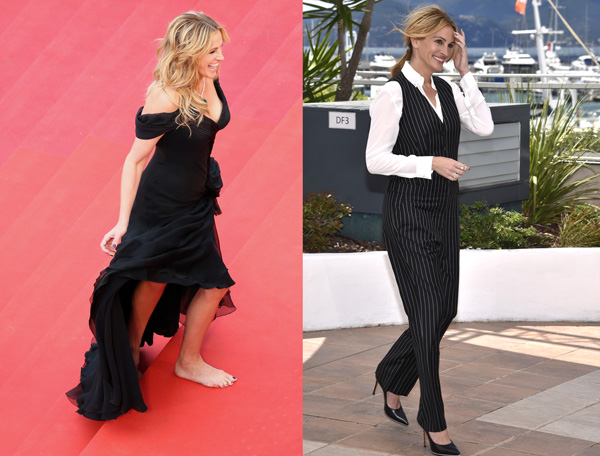 Photos: Getty Images
Another one who decided not to let her footwear choices be dictated by committee, Susan Sarandon too violated the strict (unwritten) dress code by ditching heels at the red carpet and opting for comfortable flats. But after last year's controversy, it's not a surprise celebrities are rebelling against the rules. Wearing flat shoes to events where all the other actresses totter around in high-heels is nothing new for Sarandon who's in Cannes to receive a Women in Motion Award. Back in 2009, she even went barefoot at a red carpet event in New Zealand.
In another subtle eff you, she also donned a pair of sunglasses the entire time she was on the red carpet - not quite Cannes' idea of appropriate. Did Sarandon care? No, as the 69-year-old's chic blue tuxedo-style dress proved. Brimming with confidence, she completed her look with gold accessories and a pair of large orange sunglasses.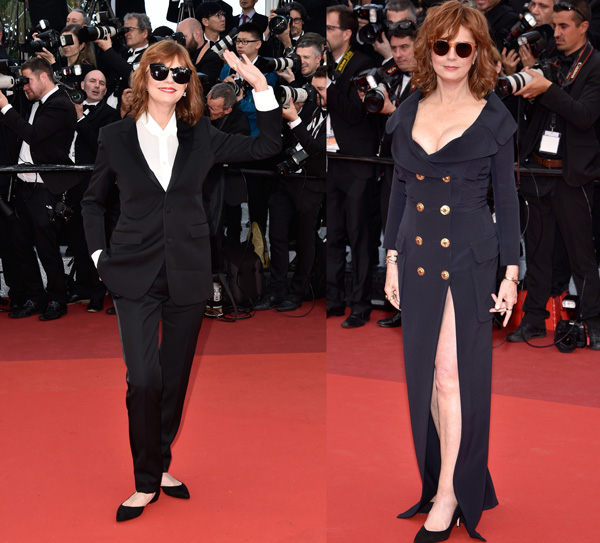 Photos: Getty Images
The Bollywood superstar set the red carpet on fire in a white Ralph & Russo saree-inspired gown at the premiere of Mal De Pierres. Though many Indian actresses at Cannes have opted for Indian attire, Sonam decided to take things to a whole new level. Remember Rihanna's yellow cape dress at the 2015 Met Gala that had the whole world talking? Sonam Kapoor's look at the red carpet is now the talk of fashion columns the world over. The train of the dress from the shoulder is a version of a saree's 'pallu.' And, while she certainly took the road less travelled, we think she looked marvellous.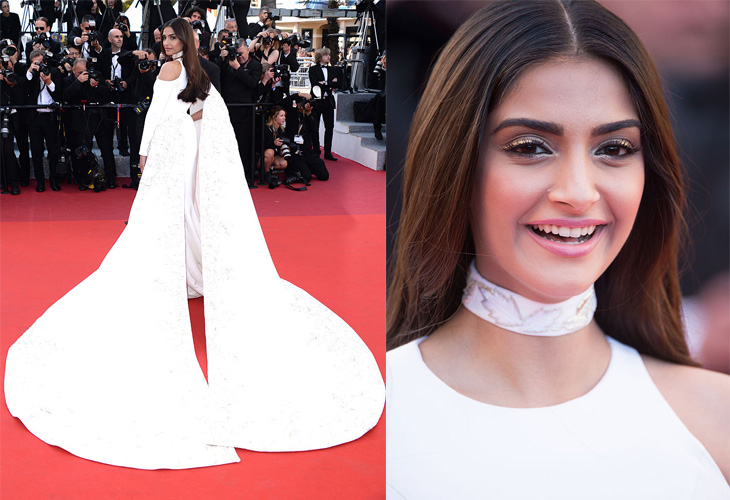 Her outfit at the photo call, however, made jaws drop. The stunning gown by Rimzim Dadu is a futuristic version of a saree and we can't get enough of it. It is clearly something that has never been seen on the red carpet before. And don't forget her accessories. Her earrings were stunning - connecting from one ear to the other from behind her head.
She's definitely not playing it safe at Cannes, but who needs to play it safe when you have style like Sonam?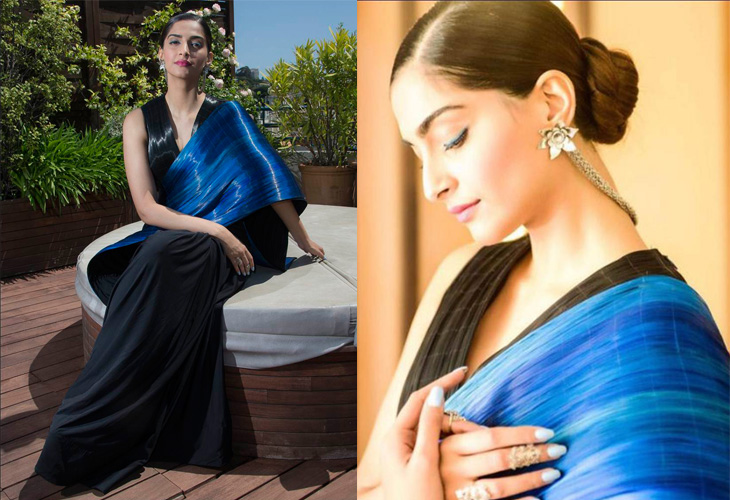 Celebrities have made bold statements with dresses and accessories on the Cannes red carpet but not just with lipstick. Aishwarya Rai Bachchan, who usually plays it safe on the red carpet, stunned fashion critics when she made an appearance with her lips painted purple.
Her beautiful floral Rami Kadi dress was completely overshadowed by her lips. She completed her look with smoky eyes and while there's no shortage of haters, the one thing she can't be accused of is what Aishwarya is always accused of: bland beauty.