Pakistan Elections 2018: See how Twitterati reacted to Pakistan politician's poster features Big B, Madhuri Dixit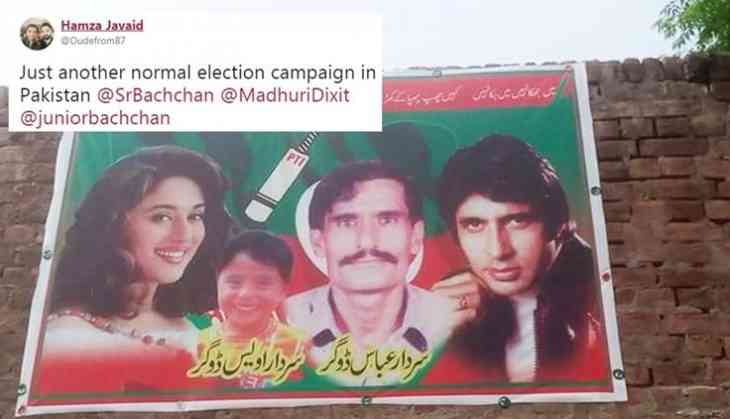 Pakistan prepares to go to poll on July 25, a poster from the election frenzy has caught the attention of Twitter users closer home. The poster carries pictures of a Madhuri Dixit-Nene and Amitabh Bachchan, along with who is reportedly a candidate of Pakistan Tehreek-e-Insaf (PTI) party has been creating quite a buzz on the Internet.
Featuring the party's election symbol of a bat with PTI written on it, a cut-out of a child's face along with the Bollywood actors and the candidate's face in the middle.
Sardar Abbas Dogar of PTI channels Madhuri Dixit and Amitabh Bachchan for his election campaign! #GE2018 https://t.co/IScEpk24t5

— maleeha siddiqui (@siddiquimaleeha) July 22, 2018
Just another normal election campaign in Pakistan @SrBachchan @MadhuriDixit @juniorbachchan pic.twitter.com/CjUHbEBAxg

— Hamza Javaid (@Dudefrom87) July 21, 2018
@MadhuriDixit @SrBachchan have made it to Pakistan election 😁😁😁😁 pic.twitter.com/408CaZ3z9N

— rahul kumar (@rahulnamo1700) July 22, 2018
Oh, khair. Sardar Dogar aap par Sardar Bachchan aur Sardarni Dixit qurban. pic.twitter.com/SgW39qy30k

— Nadeem Farooq Paracha (@NadeemfParacha) July 22, 2018
is this for real! pic.twitter.com/oW8LH3fumN

— sidrah roghay (@roghay) July 21, 2018
The poster reportedly was spotted in Multan, a city in Pakistan. Not surprisingly, it did not take much time for the candidate's apparent Bollywood connection got viral.
Also Read: Woman on United Airlines flight complained to flight attendants over masturbating seatmate