Karunanidhi death: Tamil associations holds condolence meet in Abu Dhabi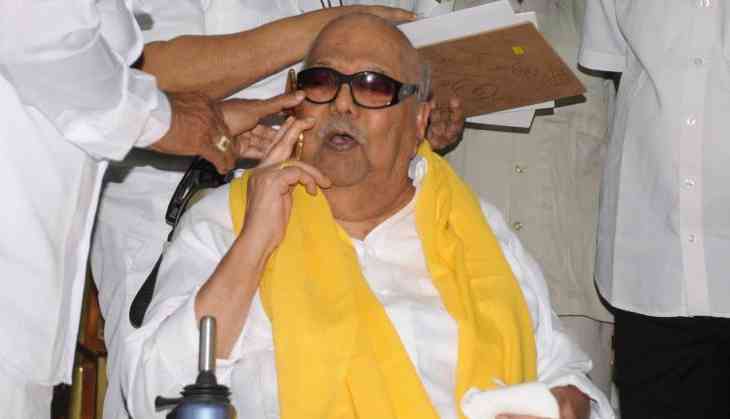 Abu Dhabi-based Tamil Sangam mourned the former Tamil Nadu chief minister and DMK patriarch Karunanidhi passed away on Tuesday aged 94. Sangam president Reginald Samson said that the leader was a campaigner of social equality, this made him an unparalleled leader in India.
Samson said, "Karunanidhi lived his life for the people of Tamil Nadu, even if he was in power or not. I doubt if there is any other politician who was active even at the age of 94. There were lots of things that he dreamt about when he was young and achieved them too. In 1952 movie 'Parasakthi', Karunanidhi wrote dialogues seeking rehabilitation for beggars and gypsies and ending horse racing and hand-pulled rickshaws. And when he became the chief minister in 1969, all these were realised. He was a top leader as far as social equality is concerned. He would face defeat with grace and it was the hallmark of a tall leader. He was a very good administrator too,"
Calling him a mass leader, Samson said, "He had a soft corner for poor and backward. Anyone could meet him anytime. You can see how the people in the state are reacting on this day. They are all in tears. The tallest leader of the family has passed away."
Today the Tamil associations will be holding a condolence meet in Abu Dhabi.
#Karunanidhi 96 UNTIRING YEARS in politics.. And many many years to go Dr.Kalaingar.. Prayers from Abu Dhabi

— Joel john (@cws_joel) August 7, 2018
One of the long-time residents of Dhabi, Mubarak Ali said, M. G. Ramachandran, J. Jayalalithaa, and Karunanidhi will forever remain in the minds of people in Tamil Nadu. Ali also said, "There is no day which passes without mention of these leaders. Some old people still believe MGR is alive, so you know the impact these leaders have made on us."
Another resident George Mathew said, "He was a leader par excellence. He was a revolutionary leader with a great sense of drama and literature. He always sent social messages through his beautiful plays, books, and cinema."
Also Read:Imran Khan's gift to India: 30 Indian fishermen to be released on eve of oath-taking ceremony