On Sylvester Stallone plea, Trump grants posthumous pardon to ex-heavyweight champion boxer Jack Johnson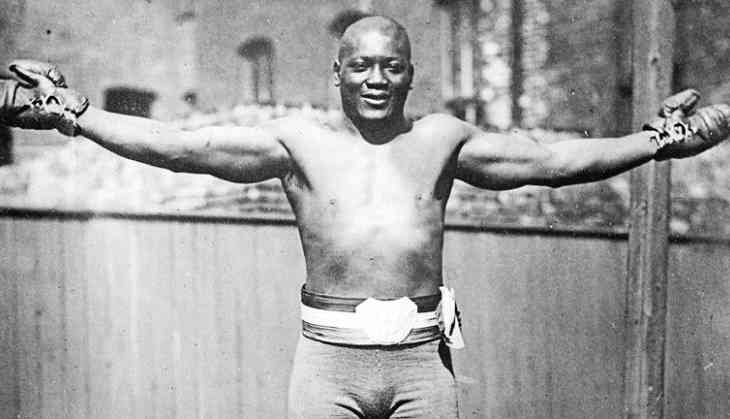 US President Trump in a historic move granted a posthumous pardon to an American boxer named Jack Johnson on Thursday.
He was the first black man to be heavyweight champion. In the year 1913, he was convicted for violating a Jim Crow-era law that prohibited the transport of white woman across state lines "for the purpose of prostitution or debauchery, or for any other immoral purpose."
Trump cleared the former champion of racial charges from his relationships with white women in 1912. Calling him a great fighter, Trump signed the pardon. The ceremony was attended by boxing legends like Lennox Lewis, actor Sylvester Stallone and current heavyweight champion Deontay Wilder. All the boxers said, "He had a tough life."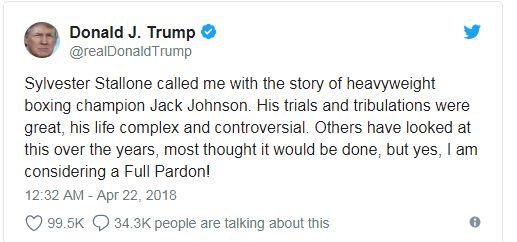 A plea for his pardon was being pushed for 14 years. Be it George W. Bush or Barack Obama presidencies, advocates for Johnson have been constantly pursuing his case.
During the oval office ceremony, Sylvester Stallone said, "He was treated so unfairly, his prime was taken away, but somehow he still managed to persevere and kept a smile on his face, and he's truly an inspirational character."
"I am taking this very righteous step, I believe, to correct a wrong that happened in our history," Trump said. "It's about time."
This is third posthumous pardon given in the history of presidency along with Joe Louis and Muhammad Ali.
Also Read:Volcanic ash from Mount Merapi covers 9th-century Buddhist temple in Indonesia
Thank you one and all! Justice has been done!… https://t.co/haC6D45KLn

— Sylvester Stallone (@TheSlyStallone) May 24, 2018
Johnson was convicted of sexual debauchery with a prostitute, Belle Schreiber. He was charged with violating the Mann Act. However, he fled from the country in exile in Canada, Europe and Mexico during before returning to serve his year-long sentence prison in Kansas.
Also Read:WWE: Daniel Bryan might retire ahead of Money in the Bank