100 days of Oli-garchy: Nepal PM's joke is on the people
CK Lal
| Updated on: 14 February 2017, 5:26 IST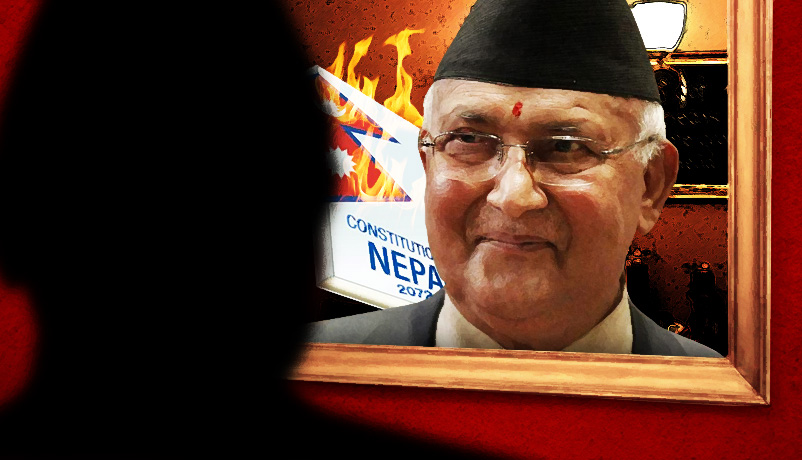 The report card
Nepal PM KP Oli is about to complete 100 days in office
He has failed on most fronts. The political crisis in Nepal still continues
The smokescreen
He has created an Eminent Persons Group to review Indo-Nepal ties
This is nothing but an attempt to divert attention from his failures
More in the story
Will there be any real change in Indo-Nepal ties?
What are Oli\'s main achievements and failures?
Why Oli may not yield much to the Madheshis
In a strange and unexpected move, the coalition government in Nepal has decided to form a four-member Eminent Persons Group (EPG) to look into all aspects of Indo-Nepal relations ahead of Prime Minister Khadga Prasad Sharma Oli's planned visit to New Delhi sometime in February.
The committee
All EPG members are notable worthies of the ruling regime.
Bekh Bahadur Thapa has spent a lifetime in politics and diplomacy and continues to be an unrepentant monarchist.
Read- False dawn in Kathmandu: how PM Oli lost the plot & what India can do
A former bureaucrat, Surya Nath Upadhayay has been an outspoken supporter of 'nationalist' position in Indo-Nepal relations.
A career international civil servant, Kul Chandra Gautam retired as an Assistant Secretary General of the United Nations and has been courting the Permanent Establishment of Nepal (PEON) in right earnest ever since.
The only active politician in the team is CPN (UML) lawmaker Rajan Bhattarai. It seems the EPG is designed to produce recommendations according to the requirements of the regime.
Predictably, there are no representatives of ex-Gorkha soldiers of the Indian Army, ethnic Marwari entrepreneurs, or Madheshi academics with cross-border connections.
For any sensible Prime Minister of Nepal, resolving the conflict over the contested constitution of the country would have been the topmost priority.
Is Oli's committee to review Indo-Nepal ties a move against India and an invitation to China?
There seems to be no end in sight for the five-month long protests in Tarai-Madhesh that have crippled normal life, played havoc with the academic calendar and pushed the economy to the edges of precipice.
People affected by the earthquake languish in makeshift shelters in the peak winter as relief and rehabilitation work cries for the government's attention.
Given these challenges, what was the pressing need to form an EPG to review Indo-Nepal relations at this juncture?
Is it a stick to beat perennial bugbear of self-declared Nepalese nationalists-India-or a bait to attract the Chinese Dragon south of Himalayas?
Also read: Nepal must act to resolve the Madhesi crisis. And act fast
Both cynical and alarmist speculations may well turn out to be just that-mere speculations. PM Oli is too clever not to know that it's best to let sleeping dogs lie.
The reason for the formation of EPG may just be that Oli wanted something grand to hide his spectacular failures on all fronts.
A tenure of diversions
When Premier Oli assumed charge on 12 October, 2015, times were indeed difficult for Nepal. But even after nearly one hundred days, Oli shows no signs that he has begun to appreciate the gravity of the situation.
To be fair to Oli, he did inherit a sorry mess when he took over from Prime Minister Sushil Koirala, better known dismissively as SuKo due to his celebrated indolence.
After bumbling through the entire term of over 20 months, SuKo reluctantly agreed to vacate office when he failed to initiate relief and rehabilitation work for the survivors of the earthquake of 25 April, 2015, ignored all concerns of international community for the betterment of the country, and promulgated what has turned out to be one of the most controversial constitutions in history.
Talks with the Madheshis have yielded nothing. Now, Oli may take the confrontation to the next level
Even though he was merely a ceremonial head of an alliance that consisted of politicians with their own agendas, SuKo is partly responsible for the ruthless suppression of peaceful protests in Tarai-Madhesh that left dozens dead and hundreds injured in September.
The entire upper-caste members of Pahadi community had closed ranks to celebrate a regressive statute that was being opposed by Madheshis, Janjatis, Tharus, Muslims and women activists. But SuKo will have to stand alone in the dock when the court of history passes its judgment over the political lapses that deepened existing divisions between different ethnic communities of Nepal. Perhaps, his only plea bargain with destiny would then be that his successor turned out to be much worse in handling the situation.
A man of decisive inaction
An ill-educated but smooth-tongued conservative with a Naxalite background, Oli had the 'nationalist' media of Nepal eating out of his hands with pithy one-liners when he controlled the reins of government as its de facto head even as de jure Premier SuKo sulked in isolation.
He ridiculed republicans with the taunt that it was not possible to travel to the moon in a bullock-cart. Maoists were mocked as mindless ultras. He made fun of federalists as well.
Read more: India's spectacular policy failure in Nepal
Democrats were disparaged as weaklings incapable of protecting national interests. Advocates of proportional inclusion and population-based representation were jeered with derision. Other than fellow monarchists in the communist camp, it appeared as if Oli had no respect for any other viewpoint in Nepalese politics.
The revivalist devotees of Oli-comparable to India's Modi-bhakts for their senseless dedication -returned the favour of their leader. By the time Oli realised his life's ambition of becoming Prime Minister, his bhakts had already elevated him to a pedestal. They placed him alongside great Gorkhalis of last three centuries such as the warrior-chieftain Prithvi Narayan Shah, Jang Bahadur Kunwar and Mahendra Shah.
Despite failures all around, Premier Oli has succeeded remarkably in maintaining the fiction that he is a man of action.
Premier Oli was supposed to have hit the ground running, he did so instead by waltzing into office. Since then, he has donned the mask of a court jester and never allowed an occasion pass without making a laughable remark.
Unfortunately, all the jokes are on ordinary Nepalese who have no option but to take their Prime Minister for a comedian. In the manner of the apocryphal politician at election time, he promises to build bridges where there are no rivers and then goes on to justify his pledge with some unrelated but funny anecdotes!
After a weak monsoon and dry winter, there is acute shortage of potable water in Kathmandu. Water has to be pumped out of pipes in the wee hours of the morning when Nepal Water Supply Authority releases supply once a week on rotation in different localities of the city.
There are rumours that Oli may offer making Nepal a Hindu Rashtra to appease India's Hindutva lobby
The official cuts in electric supply-euphemistically called load-shedding-go on for 16 hours daily, often much longer. The joke in Kathmandu is that the Nepal Electricity Authority publishes its power-cut schedules according to Nepal Time, withdraws supply at Bangladesh Time (15 minutes in advance) and restores as per the Indian Time (15 minutes later) so that consumers in Nepal are fully aware of superficial differences between South Asian countries.
There are credible reports that supply constrains at most border points except Birgunj have almost ceased, but petrol and cooking gas still sells in the open market at two to three times the regulated price.
For reasons that nobody seems to know, prices of essential commodities have increased manifold. Consumers are laughing through all difficulties with a joke about Oli on their lips and prayers in their heart.
Negotiations with Madheshis
In practical terms, it's now abundantly clear that Oli is unwilling to cede even an inch to protesting Madheshis on the question of delineation of provincial boundaries. He is ready to accept population-based representation, but with the rider that each administrative district will continue to have at least one electoral constituency.
A review of lopsided composition of Upper Chamber appears unlikely.
Constitutional provisions for inclusion in state organs in proportion to population can be tweaked, but without changing its basic feature. This is aimed at perpetuating the the dominance of hill upper-castes in all sectors.
Read: Nepal has become a Hindu State through the backdoor
In short, Oli appears to be telling Madheshi protestors to go take a hike.
That's the reason endless rounds of talks between United Madheshi Front and the government have consistently failed to produce any result. Now, Oli seems to be mulling taking the confrontation to the next level.
On the domestic front, it's likely that preparation will start for local, rather than provincial, elections on the pretext that the latter option is too contested to touch. He probably assumes that such an arrangement will strengthen existing relationship between his party and the Maoists and weaken all the opposition.
He is keen to visit India as soon as possible to secure support for his electoral ambitions. If rumors in Kathmandu are correct, Oli is willing to offer to make Nepal a Hindu Rashtra once again as an olive branch to the Hindutva lobby in New Delhi.
He is ready to accept all proposals of the Indian business sector as long as they can stand behind his decision of not giving anything to protesting Madheshis. It seems that he feels he can charm his way into New Delhi on the basis of promises he may not have to keep. Then there is the ambiguous EPG as an insurance policy to keep bureaucrats and policymakers in India guessing.
The main Opposition party Nepali Congress has proven to be unwilling and incapable of challenging the ruling coalition. Protests in Madhesh and pressures from New Delhi will together determine whether 100 days in office for Oli have been too long or too short.
For the common Nepalese, it has been a period of tragic-comedy in which they laughed even as they suffered the fate of having an insufferable Prime Minister at the helm.
More in Catch:
Modi regime's denial of AMU minority status
What killed Hyderabad university Dalit scholar Rohith Vemula?
'Shiv Sainiks get angry. But even they are capable of love': Ghulam Ali
Alvin and the Chipmunks: The Road Chip review - good, harmless fun for the whole family