UP horror: Woman suffering from high fever brutally beaten by tantric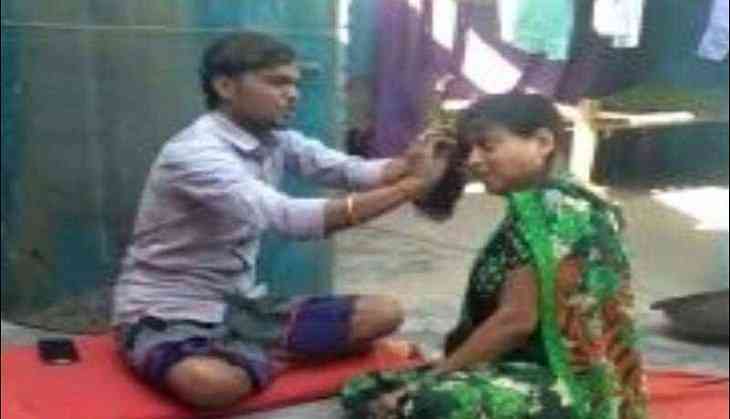 A bizarre case has been reported in Uttar Pradesh's Agra, where a woman suffering from fever went for her treatment to a tantric. A video showed how badly the tantric treated the ill woman.
However, the incident happened over a month ago, but it has gone viral on social media on Thursday afternoon.
In the video, the occultist can be seen mercilessly beating the woman and also poked her with a sharp knife in her back.
The woman in the video is identified as Harshri alias Seema, who was married to Pokhopal Sarashwat alias Sachin in 2005 and after marriage, they were living in Gadaiya Mohalla of Shikohabad police limits in Firozabad district.
As per the reports in Times of India, nearly two months ago, the woman of three children came to her sister-in-law Uma's house with her ill husband and children in Malpura area.
Seema's husband was suffering from liver ailment and anemia.
According to the elder brother of the victim, Dinesh Sharma said: "Harshri's sister-in-law Uma and her husband Akash used to physically and mentally harass her. A month ago, she complained of a high fever. But, instead of taking her to a doctor, the duo along with another relative Abhishek took her to a tantric, Rahul Bhagat. The tantric brutally assaulted my sister and her condition deteriorated."
In the minute-long video, the tantric Rahul can be seen kicking and punching the woman while grabbing her hair. While Seema was begging him to leave her.
The tantric also tried to stab the woman with a knife multiple times on her back. As per reports, the tantric also applied some chemicals on the victim's face to make her unconscious.
Later, Seema's elder brother filed a complaint against Uma and her husband Akash, Abhishek, and tantric Rahul.
All have been booked under IPC sections 323 (voluntarily causing hurt), 354-A (sexual harassment), 506 (criminal intimidation), 508 (act caused by inducing person to believe that he will be rendered an object of the divine displeasure) and under Drugs and Miracle Remedies (Objectionable Advertisement) Act 1954.
The victim woman was also sent for medical examination including coronavirus check-up. While the four accused have been sent for detailed interrogation.
Also Read: Hyderabad: MBA graduate steals over Rs 8 lakh for his girlfriend's treatment