#SoniSoriAttack: they have burned her, but they can't break her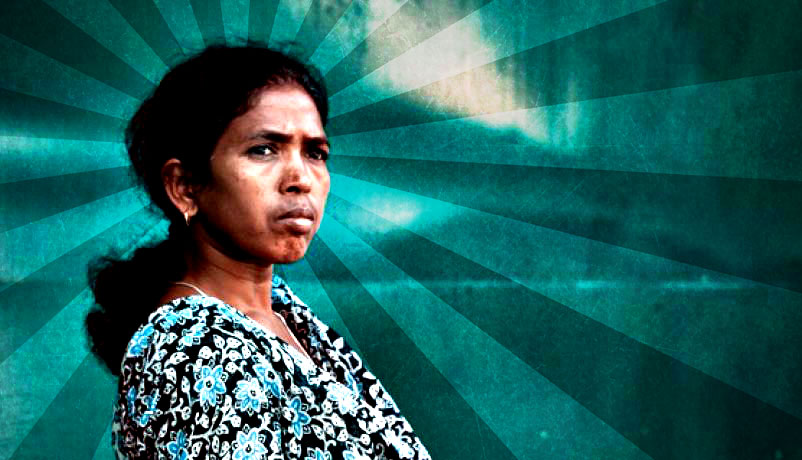 Soni Sori knew she was going to be attacked. On the morning of 20 February, she and her colleague Rinki rode from Geedam, where they live, to Jagdalpur, 80 km away. In the evening, as they were about to hop on to their bike, they got a call from some villagers in Mardu gaon. "The police are planning to get you badly tonight," she heard. Sori, having faced death threats for most of her life, hung up saying she would be fine.
An hour into her ride, she and Rinki noticed three men on a motorbike following them. They followed them for some time but Sori didn't have the option of pulling over. It was already past 10 pm and the roads were pitch dark with no streetlights. They had to keep riding.
About half an hour later, the men overtook Sori and pulled over in the middle of the road, blocking her passage. She had to stop. The men got off. One of them pulled out a knife, and pointing it at Rinki, dragged her some distance away. The others got Sori off the bike. While one of them pinned her down, Sori watched the other man slip on a pair of rubber gloves. He opened a bag, put his hands into a thick black liquid. Then, he rubbed it all over her face.
Also read: Soni Sori attacked with acid-like substance; face swollen, eyes shut
At first, nothing happened. The men sped away. Rinki and Sori were some 15 km from home. But once on the bike, her face started to itch and burn. Her eyes were sealed shut. By the time she got home, her face had swelled to double its size. She was in excruciating pain. And yet, there wasn't a trace of panic.
For those unfamiliar with her, Sori is a tribal activist. Almost a decade ago, she and her nephew Lingaram were charged with being Maoists. It was the beginning of Sori's - and her family's - brutalisation by the police. She has since been tortured, stripped and sexually abused in police custody. Her crime? Sori wouldn't allow herself and others be implicated on false charges.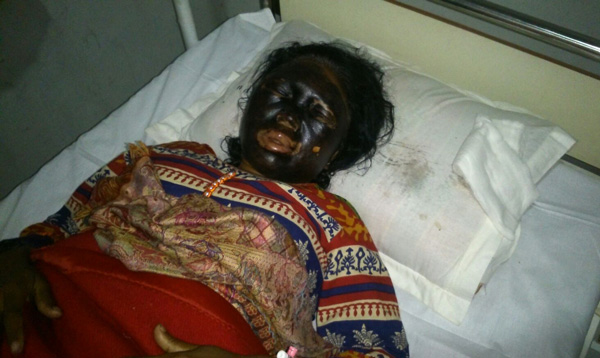 Sori has spent her life fighting to get justice for the families of people killed in fake encounters in Bastar. This time, too, with her skin on fire, she asked Linga to not tell her three children about it. Their exams were coming up and she didn't want them distracted. "I will be back in a few days," she told him.
Battling on
By the time Sori was admitted in the ICU of Delhi's Apollo Hospital the next evening, she had been in and out of two hospitals in Jagdalpur. The doctors are yet to figure out what the substance she was attacked with is. All they know is that it's an "acid like substance". Her eyes are barely open and she still has blurry vision. She can't eat or chew because her skin has become like burnt plastic. She's being fed through a pipe.
"A junior doctor told me this is a greasy acidic substance that is eating into her skin. The face is continuing to swell because of the chemical reaction. If it continues this way they will have to do a facial surgery. Until then she's being kept under observation at the ICU," says Sarika Chaudhary, member of the Delhi Commission for Women.
Last night, DCW chief Swati Maliwal went to receive Sori at the Delhi airport. After admitting her in Apollo, she tweeted, "What has happened to our democracy? I appeal to @BJPRajnathSingh ji max punishment should be given to Soni Sori perpetrators and police protection be provided to her and others."
Although Sori's case is technically outside DCW's jurisdiction, Maliwal decided to move her to Delhi after the National Commission for Women did nothing about her. "In rare cases we have to make exceptions," says Chaudhary.
The Delhi government has also lent a helping hand. "We ensured that Sori was admitted in Apollo under the Economically Weaker Section quota so that she gets immediate quality treatment that is free of cost," says Gaurav Singh, 25, who works in Chief Minister Arvind Kejriwal's Grievance Redressal Cell and has previously worked with Sori in Bastar. Sori is associated with Kejriwal's Aam Aadmi Party. She unsuccessfully contested the 2014 Lok Sabha election on the party's ticket.
Marked out
Sanket Thakur heads AAP in Chhattisgarh. He is with Sori today, waiting outside the ICU. They have together taken on the state over some of the most pressing human rights violations in Bastar.
According to Thakur, Sori knew very well that she was going to be attacked. But since all the physical violence and mental torture by the police over the years had only strengthened her resolve to keep fighting, the forewarning she received on 20 February changed nothing. "That's who she is," says Thakur.
Also read: AAP leader, tribal activist, Soni Sori receives death threats
Although the battle between Sori and the state of Chhattisgarh has been going on for years, Thakur says it was the sequence of events beginning in October 2015 that really culminated into this attack. Here is a recap of the events.
October 2015 A farmer from Neelawai village in Dantewada was killed in an "encounter" by the security forces, and his family called upon Sori to help seek justice. So, Soni, Sanket and other AAP leaders held rallies at different places in Dantewada.

"It was the first time that a political party went inside a Naxal belt wanting to carry forward a rally. The police refused to let us proceed," says Thakur. While Thakur was stopped at Palnar, Sori was stopped in a village near Neelawai.
November 2015 Sori came to know that 40 tribal women in Peda Gellur, Bijapur, were molested and sexually harassed by the security forces. On investigation, she found out that they had been forced to strip naked and paraded into the local water tank. Three of the women had been gang raped as well.

The story was made public last year by Sori and the Jagdalpur Legal Aid Group led by Shalini Gehra. No FIR was allowed to be lodged despite this.

It was only when one of them, a 14-year-old girl, was made to explicitly recount details of their harassment to the collector, Yashwant Kumar, that he agreed that an FIR should be lodged. But while the FIR was lodged, no arrests were made.

"It could have been so easy to find out who the personnel were, which battalion had been out that night, but not even the basic search was made and the FIR was lodged in the name of 'unknown' persons," recounts Thakur.

When Thakur and Sori wanted to stage a dharna in Bijapur, the security forces, led by the Inspector General SRP Kalluri of Bastar, didn't allow it.

"Kalluri said that this allegation against the forces was just propaganda of the Maoists and their supporters. He said it was a fake story we were all propagating," says Thakur.

December 2015 The police beat up three women in Sukma. Sori took them to the commissioner's office in Jagdalpur.

January 2016 In Nendra village in Bijapur, nine women were gang raped by the security forces. When they came to Sori for help, she took them to Bijapur to make them talk to the SP and the collector. But they both denied to speak to her. "The SDM refused to even lodge an FIR saying the SP was out on work and that he couldn't do it without his presence," says Thakur.

Since nobody would listen, Sori organised a press conference in January and the media picked this up, too. Finally it was the media publicity and a 'thana gherao' which made the SP agree to lodge an FIR.

According to Thakur, when Sori and research scholar Bela Bhatia were on their way to Bijapur thana to lodge the FIR, that they were confronted by group of people who threateningly said, "You are defaming the police forces. You are defaming Bastar."

The faces weren't familiar to Sori. But Thakur has reason to believe that they, and those who attacked Sori two days ago, are men who work for Kalluri.

"Everybody knows it. Kalluri is an old friend of the BJP. He has always supported the actions of the party. He was moved away briefly but after Narendra Modi came to power, he was called back to restart his reign over Bastar's poor tribals," says Thakur.

In the same month, effigies of Sori and Bhatia were burnt amid much pomp and celebration on the streets of Bastar. The faces were, again, all unknown.
Also read: Voice of the weak: why forcing out Scroll reporter is a crime against Bastar's victims
February 2016 On 4 February, Sori found letters slipped under her door threatening that if she set foot in Bijapur, she would be stripped naked and burnt alive.

On 5 February, AAP leaders were meeting to decide what they

would do next. And mid-way through their meeting they got news that one Hadmo from Sulenga, Mardun thana, had been killed in a fake encounter by the security forces. They had called him a Maoist, but Hadmo was a farmer with seven children. And he had all his papers in order - a ration card, a bank account, he had even claimed the Indira Awaz Yojana.

"When we met his family we saw he had had twins some months ago and they were still being breastfed. How could he be a Naxali? There is all evidence to show he lived at home and not in the jungles. His bank account was opened in December 2015 after a police verification," says Thakur.

Sori and Thakur found the police had even a reward prize of Rs 1 lakh for whoever killed Hadmo. A poor farmer's death was celebrated as a great victory.

Some days later, Hadmo's family called to tell Sori that the police had come and casually dropped Rs 10,000, asking them to keep quiet and stay away from Soni Sori.

On 16 February, Sori and Thakur went to Raipur and took Hadmo's wife and all seven children to the IGP of Bastar and urged him to investigate the case. An enquiry was finally initiated. "It was after this enquiry that the police started gunning for us," says Thakur.

First it was Shalini Ghera and Isha Khandelwal, of the Jagdalpur Legal Aid Group, who were suddenly asked by their landlord on 19 February to vacate within 24 hours.

When Sori was informed about this, she went to meet them in Jagdalpur on 20 February. It was while she was returning that she was attacked.
Also read: Getting ready to fight Salwa Judum II
Sori, in all likelihood, will undergo a facial surgery and return home in some weeks, ready to take on the next battle thrown at her. For Bastar's people, Sori is the force that cannot be silenced. She is that power that brings the truth about the plight of thousands of poor victims of state power to national spotlight.
She is the only bridge between the state's draconian Jungle Raj and India's largely ignorant, indifferent elite. By having endured this far, Soni Sori has shown she isn't ordinary. We hope that her invincible strength sees her through this ordeal as well and returns her, with ever stronger punches, to the boxing ring.
Edited by Mehraj D. Lone
More in Catch:
Will Bastar soon be Naxal-free?
Don't know about Soni Sori. But Rupa Subramanya wins worst tweet of the year