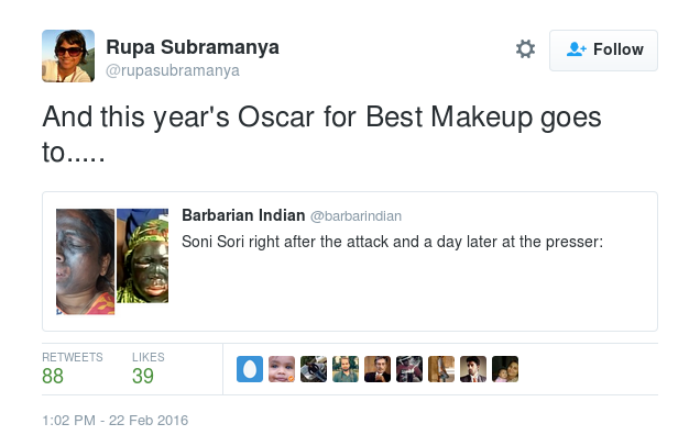 On Saturday, 20 February night, Aam Aadmi Party leader and tribal rights activist Soni Sori was attacked by unknown assailants in Dantewada district of South Chhattisgarh.
Sori was returning to her home in Geedam town when the unidentified men threw an acid-like chemical on her face. While it wasn't acid, the substance burnt her face. She couldn't open her eyes for hours and her remained swollen.
But that didn't stop Twitter from playing 'spot the difference' between her pictures from after the attack and at the press conference.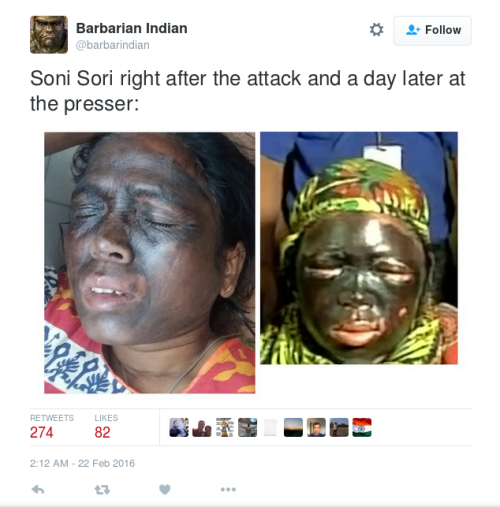 What seems like 'paint' or 'photoshop' is actually how burnt skin looks like after a few hours. But Rupa Subramanya missed taking that possibility into consideration when she RTd @barbarindian's tweet with the comment, "And this year's Oscar for Best Makeup goes to..... ".
She received a lot of backlash for what is an unmistakably insensitive remark.
@rupasubramanya Would it merit making such a statement without verifying the authenticity of your argument? @barbarindian

- Poonam Yadav (@poonam_yadav) February 22, 2016
not in good taste.. @rupasubramanya burns usually takes time to swell..

- Sudharsan S (@sudharsh0685) February 22, 2016
@rupasubramanya She may loose her eye sight!!! Dont derive pleasure in someones misery!!!

- Anirudh K Sharma (@anijsw) February 22, 2016
But just to be sure, we tried to reach out to Subramanya on Twitter. And here's how that went down.
.@rupasubramanya Hi I'd like to get a quote from you on this. 1. What do you really mean by this tweet? 2. What makes it look like make-up?

- Durga M Sengupta (@the_bongrel) February 22, 2016
haha. The spinmeisters would like to run a story on my tweet. See how this works folks. https://t.co/Q3On2PFwMa

- Rupa Subramanya (@rupasubramanya) February 22, 2016
@rupasubramanya So I'm not getting a quote from you? :)

- Durga M Sengupta (@the_bongrel) February 22, 2016
The clarification is on my tl. But I have a feeling you'll twist it anyway. So go ahead. @the_bongrel

- Rupa Subramanya (@rupasubramanya) February 22, 2016
It wasn't Subramanya's reaction that surprised us though. Here's the Twitter madness that continues to pour in as I write this.
Have a look.
@the_bongrel @rupasubramanya Hi, why don't you stick to writing "10 reasons to date a Gujarati girl" & leave the serious stuff to others?

- Homer Vyasalmiki (@HomerVyasalmiki) February 22, 2016
@the_bongrel @rupasubramanya Rupa, this moron may even go for a PhD thesis on this topic..in JNU...leftist clowns :D

- AllroundView (@allround_view) February 22, 2016
Dear @the_bongrel ,Please can you answer what makes your ideology?1 money2 blackmail3. Religion @rupasubramanya #presstitues

- DEEP (@blueredoran) February 22, 2016
@the_bongrel please pay a visit to Dr.Batra you'll get answer for second question https://t.co/gpi8aGpWsy @rupasubramanya

- South Ganga (@southGanga) February 22, 2016
chotte mote media houses and journos are all trying their luck these days. @rupasubramanya @the_bongrel

- Name cannot be blank (@Achin_jaipur) February 22, 2016
@the_bongrel @rupasubramanya Catch news? Nascent Scroll wannabe as I have heard.

- Pinkman (@ankit14794) February 22, 2016
Make no mistake. This sort of utter disregard for human pain is easily politicised on Twitter. Here are some wonderful examples:
An unfunny lady calling someone poor for calling a spade (terrorist) a spade (terrorist). Don't know who's sicker https://t.co/4l4MDr5wwS

- Ravi Agarwal (@raviatlarge) February 22, 2016
Congressis sorry that Soni Sori got attacked with grease, they wish it was acid so they could exploit it. Aww. https://t.co/Y424BwmnMM

- Nayanika (@nayanikaaa) February 22, 2016
Soni Sori is an Aapian but Kejriwal is mum. Kya karein. Youth for equality wala pakka baniya jo hai, aur Sori ji ST.

- Hari Rewaria (@hrewaria) February 22, 2016
Just to wash 'ink' nautanki zyada nahin ho gayi RT @ashutosh83B: Soni sori reached Delhi.Will be admitted in Hospital for treatment.

- Page Turner (@lafangajatt) February 22, 2016
--- Edited by Abha Srivastava