Soni Sori attack: How will the police arrest its own men?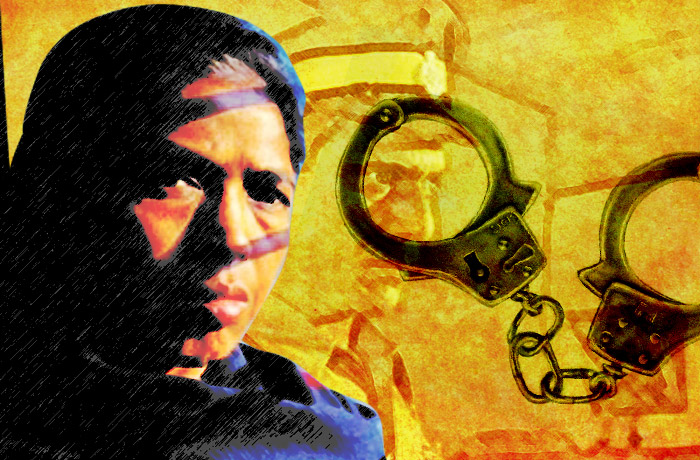 On 5 February, Chhattisgarh police came cracking on Mardoom village of Bastar region and killed Adivasi leader Hidmo in broad daylight.
The police declared Hidmo was a hardcore Maoist with a bounty of Rs 1 lakh on his head. This didn't convince the residents of Mardoom and they called tribal activist Soni Sori for help.
Soni Sori found that Hidmo was a local farmer who could be seen working in his fields every day. A father of 7 children, Hidmo possessed valid identification documents like ration card and Aadhar card. He was even issued money under the 'Indira Awas Yojna' by local panchayat this year.
Also read - #WomensDay2016: If bravery has a name, it is Soni Sori
Local villagers swear by Hidmo's popularity. They all listened to him as he was always ready to help them.
Was Hidmo killed because he stood in the way of govt's plans to give tribal land to big companies?
Any tribal leader with some support-base is facing the same predicament in tribal hinterland of Chhattisgarh. There is a conspiracy to force the tribals into surrendering their land. Any voice of dissent is being muzzled with no remorse.
Was Hidmo killed because he stood in the way of govt's plans to give tribal land to big companies?
However, Soni Sori decided to speak up against the cold-blooded murder of Hidmo. She took his widow and children to Raipur and called a press conference to expose the truth.
This unnerved the police department and Soni started getting threats. Yet the police did not budge from its stand that Hidmo was a Naxal. Soni Sori challenged the police officials to prove this claim.
She argued that Hidmo had no past criminal record. He was called for the police investigation and shot at point blank range. Far from taking Sori's statements in right earnest, the adamant cops started demanding the prize money of Rs 1 lakh for taking Hidmo's life.
With no solid proof against Hidmo, the police adopted the means of coercion. On 20 February, many Adivasis from Hidmo's village were rounded up and severely beaten at the local police station.
The attack on Soni Sori
It was the same day Soni Sori was attacked. She was in Jagdalpur when an Adivasi called her at around 2.12 pm. The caller said he had overheard a conversation among cops and an attack on her was imminent that day.
Soni Sori shared the information with human rights lawyer Shalini, who was accompanying her at that time. Shalini immediately sent five text messages to women activists of different groups to apprise them of the matter.
However, this did not prevent the attack. Sori was targeted on the same night while returning from Bastanar town of Dantewada to her residence in Geedam town.
Two persons reportedly threw acid-like substance on her face. She suffered burn injuries on eyes and face. Sori was taken to a hospital in Jagdalpur where a Tehsildar came to record her statement. She told the official about the phone call and alleged that the assailants had warned her against raising the issue of Mardoom incident. According to her, the attackers also wanted her to stop speaking against the Inspector-General (IG) of Bastar range SRP Kalluri.
The police swiftly moved into action following the statement but justice was last on its agenda. Sori's call details were investigated on the same day and the identity of the caller was established. The Adivasi man was brutally beaten at his home. The cops tried to take him in their jeep but the brave wife lay down in front of the wheels. As the other villagers started to gather, policemen had to return empty-handed.
The matter caught the attention of the national media when Soni Sori was shifted to Delhi for treatment. This prompted IG Kalluri to constitute a Special Investigation Team (SIT) to probe the attack. However, SIT comprises only the subordinates of Kalluri. It summoned Sori's nephew and tribal journalist Lingaram Kodopi for questioning.
After Linga's deposition, Soni Sori's brother-in-law Ajay was picked up from his home and tortured for two days. The police also rounded up Sori's younger sister from her college and threatened to break her limbs.
Even Sori's other close aides were not spared. Her family friend Manoj Baghel was taken into custody by SIT and beaten up for the whole day. He was asked to remain silent.
Soni Sori decided to speak up against the cold-blooded murder of Hidmo
Soni Sori's father was insulted when he went to meet IG Kalluri. Linga was once again called on phone by police officers.
Linga insisted that he has already recorded his statement and would only meet police in presence of his lawyers. Next day, he was handed over a notice the by Tehsildar. The Tehsildar told him that he has been charged with disobeying police orders.
A large number of policemen were present at Tehsildar's office to arrest Linga. When Linga's lawyer questioned the notice, the Tehsildar said he wanted to talk to Linga in person. All other people were evicted from the court and as soon as Linga started answering Tehsildar's questions, a man started to record the video.
The Tehsildar had to stop the video recording when Linga's lawyer Shalini argued that it was illegal.
The SIT is yet to record Soni Sori's statement. It has not even tried to contact the man who had cautioned her or contacted lawyers who were messaged by Shalini. SIT knows who is behind the attack. Can the police arrest its own men?
More in Catch - Own family attacked Soni Sori? 'Cops trying to extract confessions out of kin'
AAP leader, tribal activist Soni Suri receives death threats