SIMI encounter: How media wrongly labelled undertrials as 'terrorists'
MP Police and ATS killed 8 men Monday after news of a jailbreak
The deceased, alleged SIMI members, were all undertrials
Several newspapers however branded them \'terrorists\'
When eight undertrials were shot dead in Madhya Pradesh on Monday, the media sat up and took notice. As it should have had. But then, somewhere down the line, a section of the media dropped the ball.
The coverage started early, with the news of the eight alleged members of Students Islamic Movement of India killing a guard at Bhopal Central Jail and fleeing. Soon, there was news about a police team on hot pursuit who tracked them down to a forested area quite a few kilometres away from the jail and shot them in an 'encounter'.
ALSO READ: SIMI encounter: a simple graphic to show the gaping holes in the police story
By evening, however, there were video clips and reports floating around that suggested the encounter was staged (something that isn't uncommon in India).
ALSO READ: SIMI shooting: Here's India's track record when it comes to fake encounters
Soon social media was abuzz with whether it was an encounter, a staged encounter. By the time for 'Prime Time News' there was enough masala for the day with claims and counter-claims by political parties.
ALSO READ: Opposition parties demand judicial probe into SIMI encounter, BJP miffed
Needless to say the media was excited, as it should be. But what many seemed to have forgotten was who the eight were. Either that, or this section of the media chose to shrug off their journalistic responsibility to align with a narrative offered by the State.
ALSO READ: Dead men walking: the SIMI encounter was about more than just a jailbreak
The octet shot dead were UNDER TRIAL. None of them were convicted of crime. They faced serious charges - murder, robbery, sedition, jailbreak and they allegedly belonged to SIMI, a banned organisation. But all that didn't make them criminals, for they were not convicted. But a section of the media has declared them 'terrorists'.
Now, the job of a journalist is undoubtedly a high-pressure one and lapses are understandable. Some initial errors are understandable as not all information was available. But even if those were mistakes, many media houses left them uncorrected. As a result several newspapers went to print proclaiming the dead as 'aatankis' (terrorists).
Leading the pack is Dainik Jagran, a brand which takes pride in being the 'world's largest-read newspaper'. 'Eight terrorists who fled Bhopal jail killed' read its headline, plastered across six of its seven columns. A double-column space on the right hand was made into a gallery for short bios of 'The terrorists who were killed'.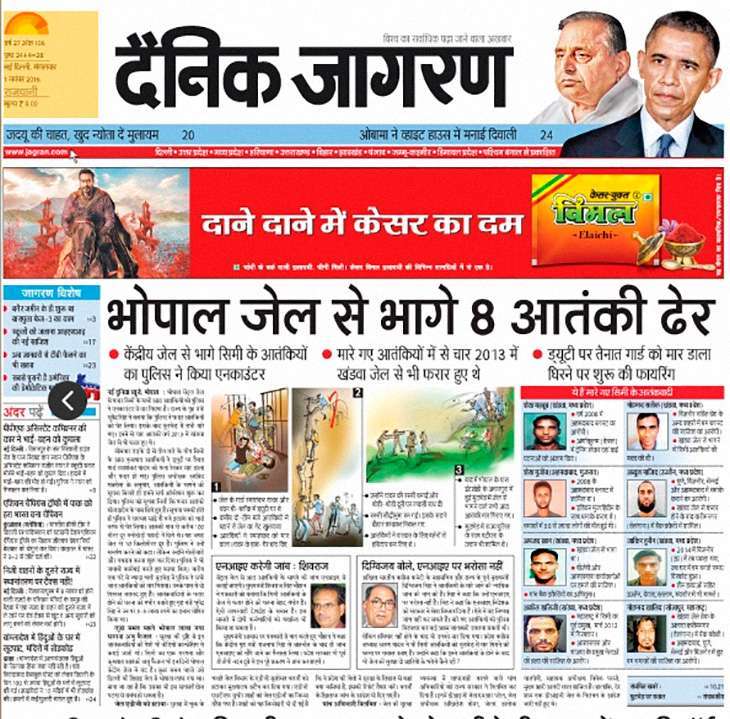 The front page of Dainik Jagran.
Not to be left behind, Dainik Bhaskar (which would like you to believe you read the most-trustworthy and 'No.1' newspaper,) has this to say: 'In 8 hours police and ATS kills all terrorists and take revenge'
.
It claimed this was the first such instance of 'terrorists' being killed in such short time after taking to their heels.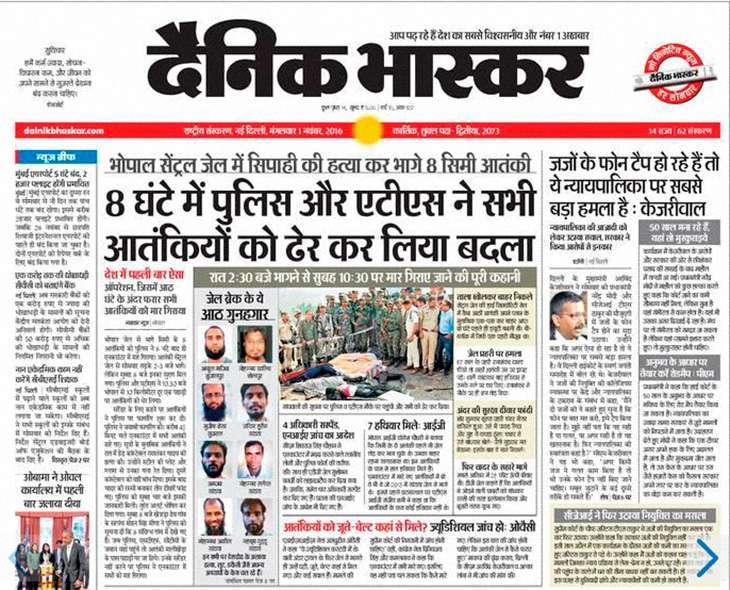 The front page of Dainik Bhaskar.
Oh! and to complement this, a logo on the right of the masthead said "no negative news on Mondays" and on to the left there was, what looked like, a quote-of-the-day: "we should work more, think less, and not let life pass us by". Chuckleworthy?
Amar Ujala, which sells in all northern states, wrote: 'Eight terrorists who fled Bhopal jail by slitting the throat of the guard killed in encounter'
. It continued using the term 'terrorists' subsequently.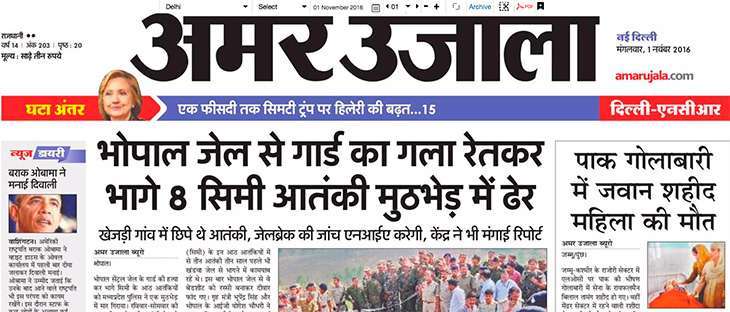 The front page of Amar Ujala
Ditto with Punjab Kesri: 'Eight SIMI terrorists who fled jail killed.'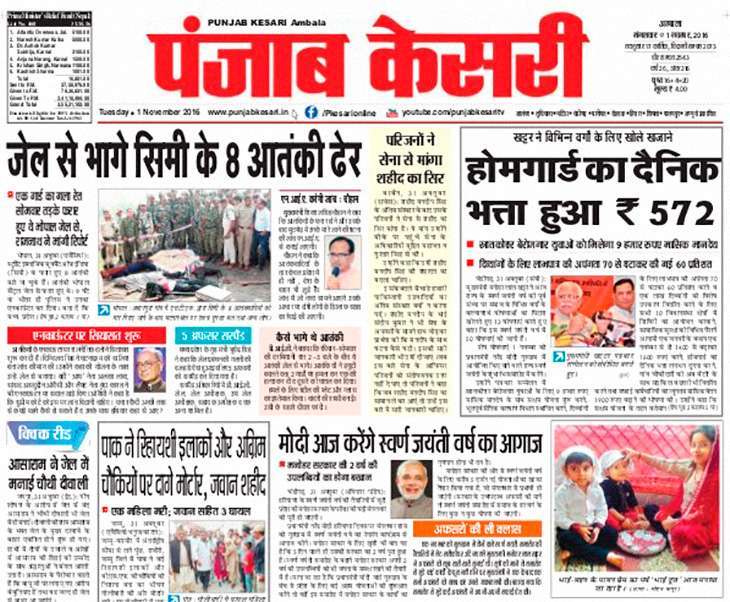 The front page of Punjab Kesari.
Hindustan said the same thing, more or less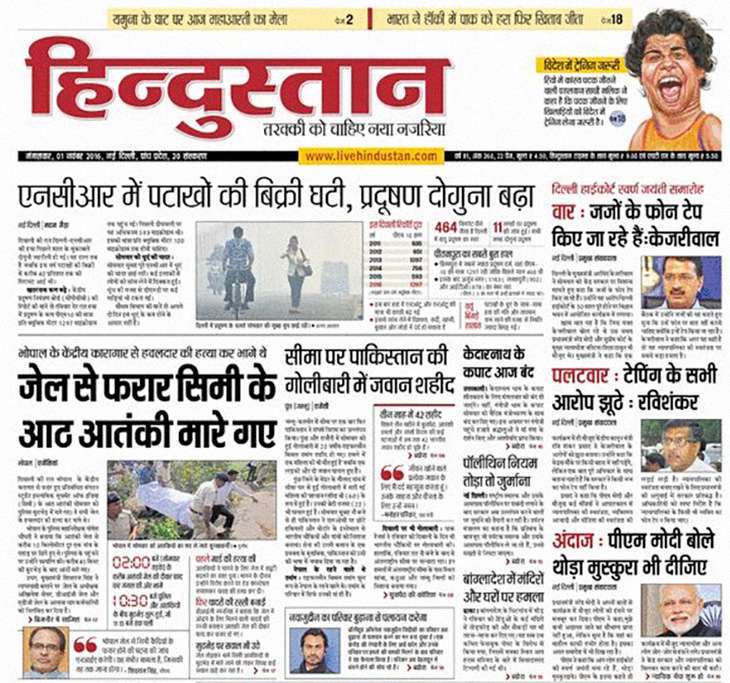 The front page of Hindustan.

Only Navbharat Times stood out among the top newspapers.

The problem was not with Hindi dailies alone.

Anandabazar Patrika, the leading Bangla newspaper, had a headline across seven of its eight columns: 'The mystery killing of 8 jailbreaking militants'

.
The front page of Anandabazar Patrika.
According to rival Bartaman: 'Eight SIMI jailbreaking militants finished'.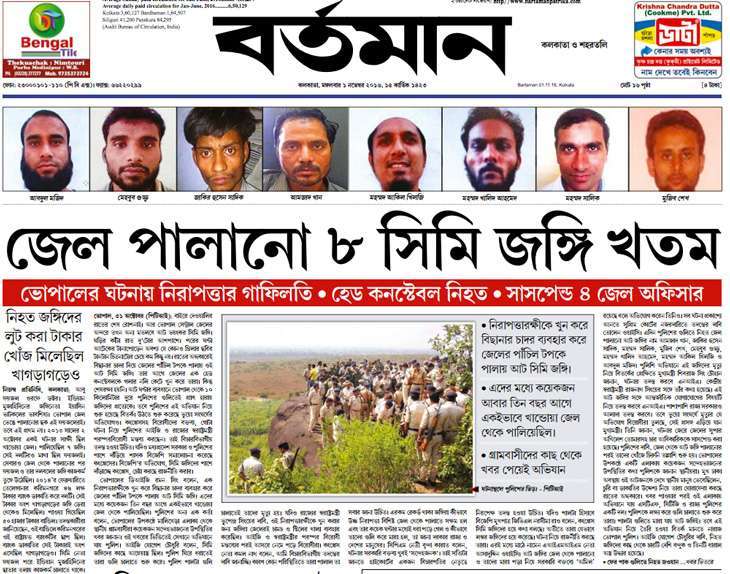 The front page of Bartaman.
Though Times of India and its Hindi counterpart Navbharat Times remained careful, the house's Bengali daily Ei Samay stuck to the 'militant' narrative.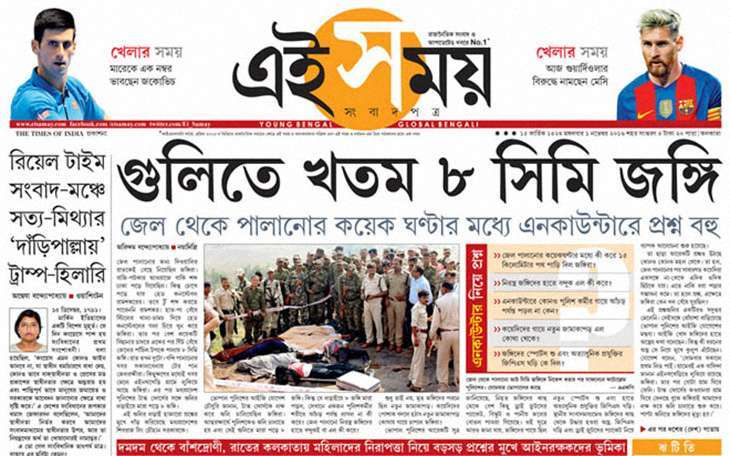 The front page of Ei Samay.

Asomiya Pratidin, a well-read Assamese daily said: 'Eight SIMI terrorists who fled jail shot dead'.
The front page of Asomiya Pratidin.
In Odisha, Sambad took to the trend calling the deceased 'terrorists'.
The front page of Sambad.
So did The Samaja.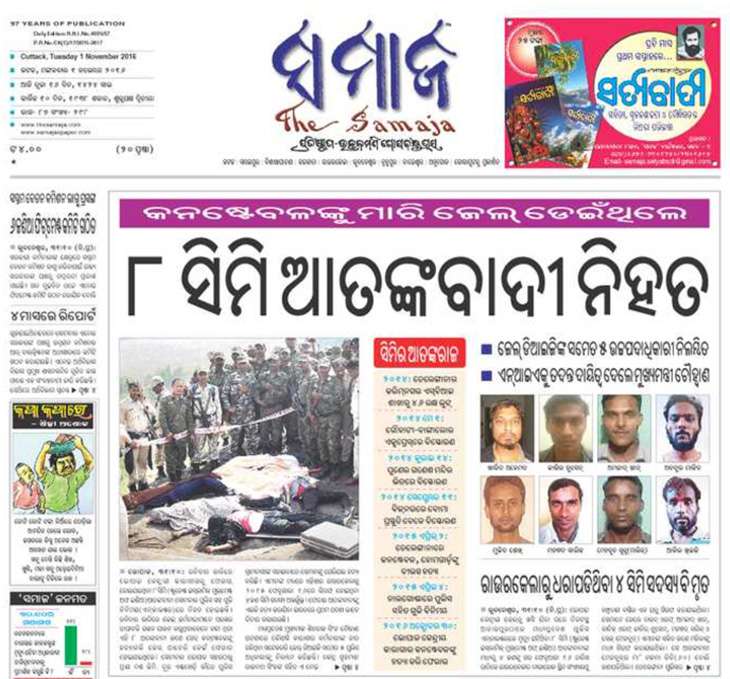 The front page of Samaja.
As well as The Prajatantra.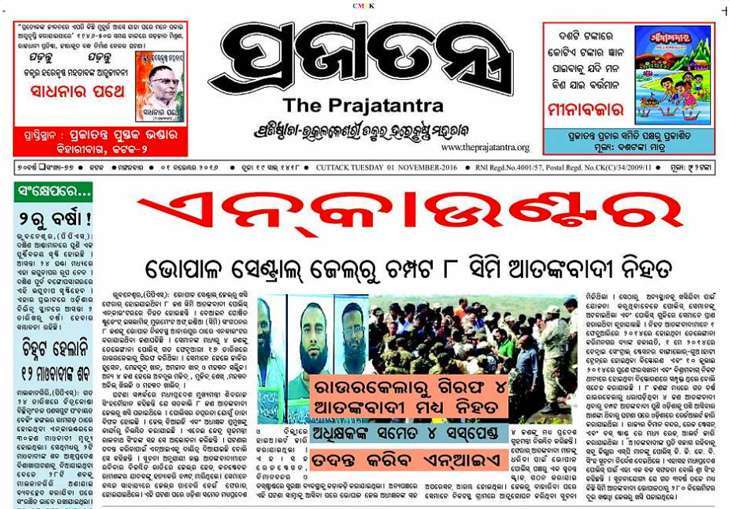 The front page of Prajatantra.
And others such as Prameya and Odisha Bhaskar.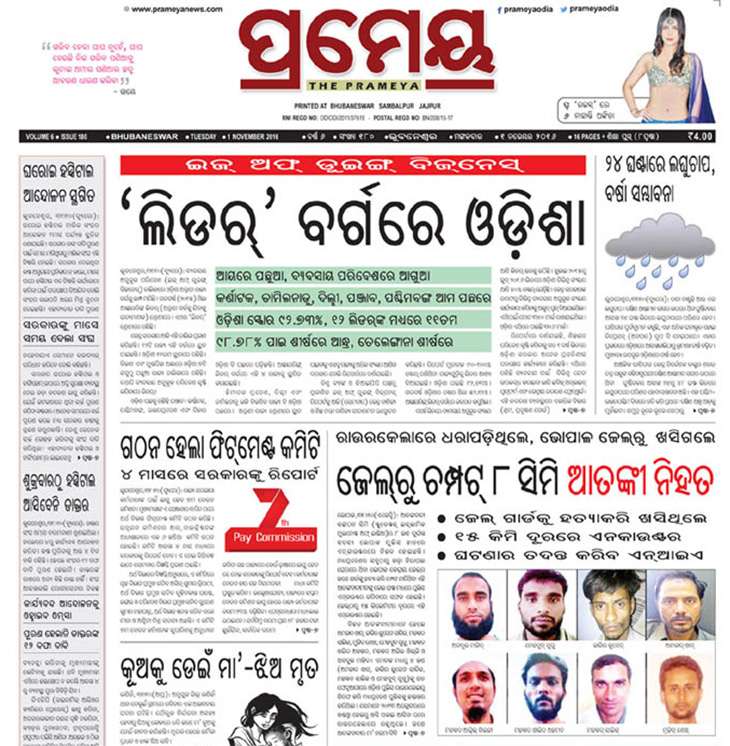 The front page of Prameya.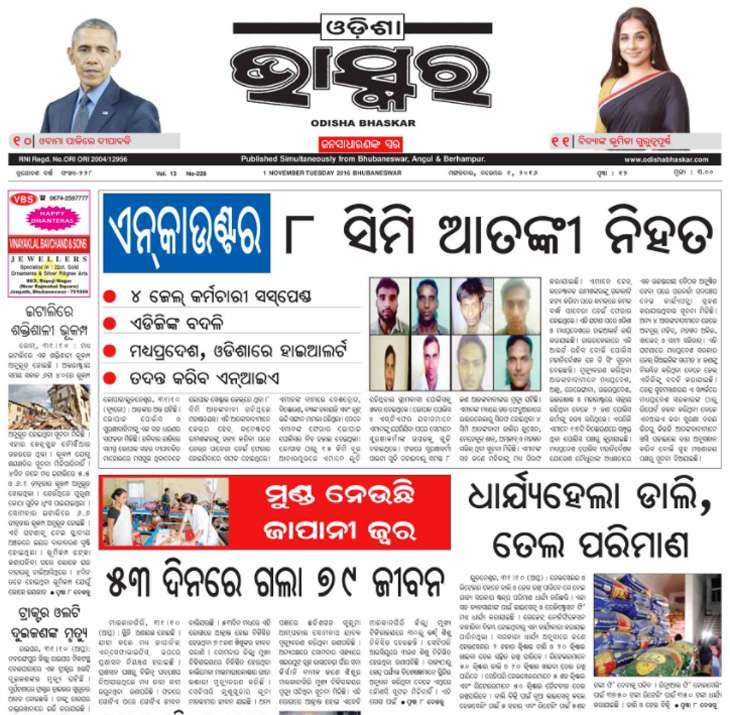 The front page of Odisha Bhaskar.
Once again, it is possible that high-pressure newsrooms led to such lapses. But it would perhaps be unwise to look at this as a mere lapse in symantics. A disturbing question niggle around: Are many of our journalists already sold on government versions?