Shiv Sena MLA slaps catering manager over food quality; assault clip goes viral [Watch]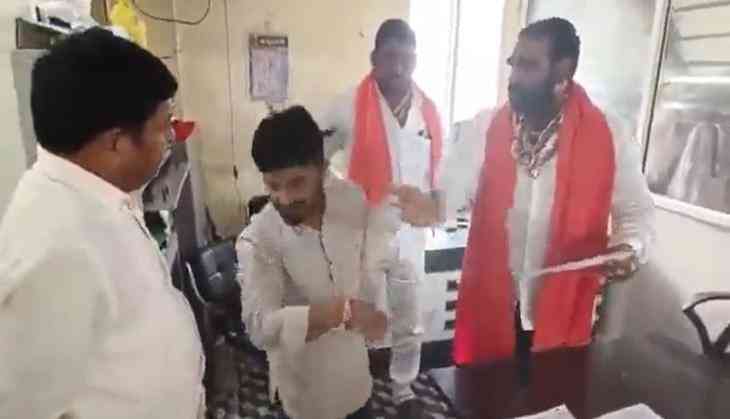 Shiv Sena MLA Santosh Bangar slaps catering manager.
A shocking video of a Shiv Sena MLA Eknath Shinde's camp abusing the catering manager for providing poor quality of food has gone viral on the internet.
In the now viral video, MLA Santosh Bangar can be seen abusing and physically assaulting the manager for substandard quality of food being provided to labourers in Maharashtra's Hingoli district as part of a midday meal scheme.
Watch the video here:
Shiv sena Shinde group MLA Santosh Bangar slaps caterer over poor food quality.

Incident took place in Hingoli yesterday pic.twitter.com/dOpYGHxQly

— Vivek Gupta (@imvivekgupta) August 16, 2022
The MLA claims he received a complaint over the poor quality of food, following which he paid a visit to inspect it himself.
The Sena MLA from Hingoli notably joined the Shinde camp minutes before the floor test of Maharashtra Assembly in July. The Sena leadership then removed Santosh Bangar from the post of Hingoli district president.
During the early days of the rebellion led by Eknath Shinde, Santosh Bangar was caught on camera, asking the rebel MLAs to return.
In another video, Bangar was seen crying and saying that the environment in Maharashtra had turned bad and that all the MLAs in Eknath Shinde's camp must come back to Shiv Sena's fold as party chief Uddhav Thackeray would forgive them.
Also Read: Bihar cabinet expansion: Around 30 Bihar MLAs, including Deputy CM Tejashwi's brother Tej Pratap, sworn in