Police officer runs over two girls, one dies; accident video goes viral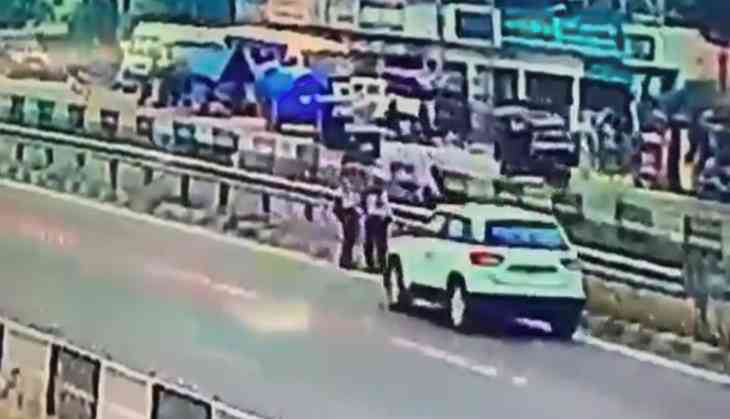 Jalandhar-Phagwara National Highway
In what was an appalling incident reported from Punjab's Jalandhar district, a girl met her end and another got injured after they were allegedly struck by a police officer's vehicle. The shocking episode occurred on Jalandhar-Phagwara national highway on Monday.
The deceased victim has been identified as Navjot Kaur, who passed away on the spot. The second victim identified as Mamta has been admitted to a hospital in grave condition.
Both the victims were employed at a car showroom in the city. Police have registered a case under 304-A (causing death by negligence) against the accused policeman, identified as Amrit Pal Singh, according to the Indian Express.
Take a look at the video:
A @PunjabPoliceInd inspector crushed 2 girls with his jeep. He is arrested but damage is done.

This is 4th such incident of #SlaughterByVehicle in last few weeks .. UP, Chhattisgarh, MP and now #Punjab😳

Sir @nitin_gadkari Stop dreaming 140km speed, we can't even handle 50-60! pic.twitter.com/cOWLPozE4J

— #Intolerant भारतीय (Sanjeev Goyal) (@goyalsanjeev) October 18, 2021
The accused policeman is stationed at Harike Patan. He was on his way to attend a meeting at Punjab Armed Police (PAP) in Jalandhar when the incident took place.
The unfortunate incident was captured on CCTV. In the video, the vehicle could be seen hitting the girls standing on the edge of the road. They were hit by the vehicle when they were crossing the road to reach their workplace.
The accused policeman fled from the spot but was later caught. "A case was filed and the accused was taken into police custody, but later released on bail" as the families agreed to compromise," said Gurmeet Singh DCP.
The accused policeman is supposed to pay a compensation of Rs 12 lakh to the family of the deceased and Rs 4 lakh to the injured girl, the report said quoting sources.
Also Read: Minor girl abducted, gangraped by two men for 3 days
Also Read: Patna Tik-Tok star succumbs to injuries after miscreants shoot her