Malegaon blast: Kin of dead accused now seek justice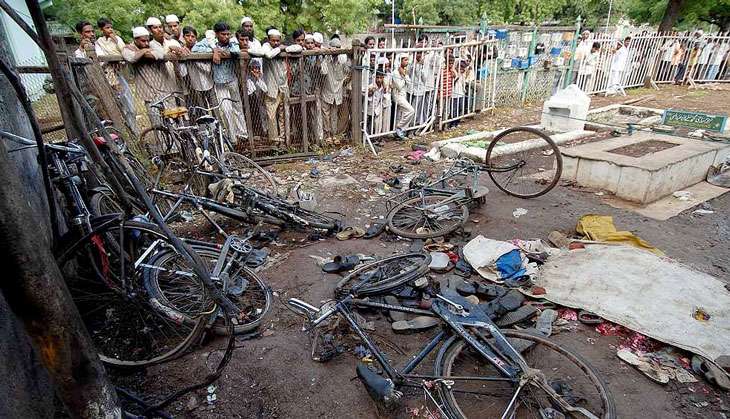 Controversies surrounding the 2008 Malegaon Bomb Blast seems to be unending. Now the kin of an accused has demanded capital punishment for police officials who allegedly killed some of the accused.
Mehboob Mujawar, a former senior inspector of Maharashtra Police, recently said Ramchandra Kaslangra and Sandip Dange - accused in the bomb blasts case -- were actually dead, but shown alive on police records.
Mujawar was part of an Anti-terrorism Squad team of Maharashtra Police that investigated into the 2008 blasts. He filed an affidavit at Solapur Court on 27 December in which he said the duo were killed in ATS custody.
A bomb fixed on a motorcycle exploded in Malegaon on 29 September, 2008. Seven people were killed and 100 were injured.
Missing or dead?
Ever since Ramchandra Kalsangra was made an accused in the case and went missing immediately after, his family members have been in trauma. And the affidavit, revealing the truth, has only added to their agony.
"We have not been able to live peacefully ever since the fateful incident took place. The wait for over eight years now seems futile as my father will never return home. If the claims made in the affidavit are true, his killers must get the death penalty," said Devavrat Kalsangra, son of Ramchandra Kalsangra.
Devavrat, who is 22 now, was in Mumbai on Tuesday and interacted with the media. His mother Laxmibai Kalsangra and brother Shiv Kalsangra too spoke their minds during the interaction.
Mujawar, in the affidavit, claimed that Kalsangra and Dange were killed in ATS custody and bodies were disposed as unidentified along with the victims of the 26/11 Mumbai Terror Attacks. On paper, the duo was shown 'alive and on run' ever since.
"I was just 14 when ATS took away my father. We did not even know what ATS was, back then. Since then, we saw his photo only in the news. It is really shocking that he was killed by ATS," Devavrat said. Despite all odds, he studied hard and recently cleared his chartered engineer examinations.
Laxmibai, wife of Ramchandra Kaslangra, broke down several times while speaking of the ordeal she and her two sons have gone through over the last eight years.
"Till last week, we thought my husband is alive and will come back home some or the other day. But the claims by Mujawar have shattered us. The government of Maharashtra must investigate the claims and punish the culprits who killed by husband," she said.
In solidarity
With the revelations about Kalsangra and Dange, kin of witnesses who have gone missing have come out in support of Kalsangra family. One of them is Ramswaroop Patidar, brother of Dilip Patidar, who has gone missing after being arrested by the Mumbai ATS. Ramswaroop has alleged that his brother Dilip was taken to Mumbai from Indore.
"The ATS abducted me from Indore and tortured me into signing a scripted statement in Mumbai. They gave me the third degree while I was in custody in Mumbai. All the time they were asking me about the whereabouts of my brother Dilip," he said.
Ramswaroop has even served a three-year jail term in connection with the blast. After he was released from jail in 2014, Ramswaroop moved Madhya Pradesh High Court, which directed the CBI to investigate the matter.
The investigations have found two officials of Mumbai ATS, former ACP Rajan Ghule and Police Inspector Ramesh More guilty of kidnapping, fabricating the case and criminal conspiracy.
Advocate Prashant Maggu, who represents the Kalsangra family said, "Since there was no contact with Kalsangra and Dange for the last eight years, there is substance in the claims made by Mujawar. There are reasons to believe him. The government of Maharashtra must investigate the claims."
Who is this man finally giving these families the truth?
Police Inspector Mehboob Mujawar was deputed to the ATS to probe the Malegaon blast. He was a part of the investigation team till March 2009. His main task was to gather intelligence on the blast.
Mujawar was suspended when a case of disproportionate assets and another under the Arms Act, were filed against him before the Magistrate Court at Solapur earlier this month.
Mujawar claims that he is being victimised for complaining against the officers who killed Kalsangra and Dange.
In 2009, Mujawar had written to the then Director General of Police, Maharashtra SS Virk about the killings.
Edited by Jhinuk Sen