Jharkhand: Sadhvi gang raped by 4 men in ashram; thrashed Sadhu for protesting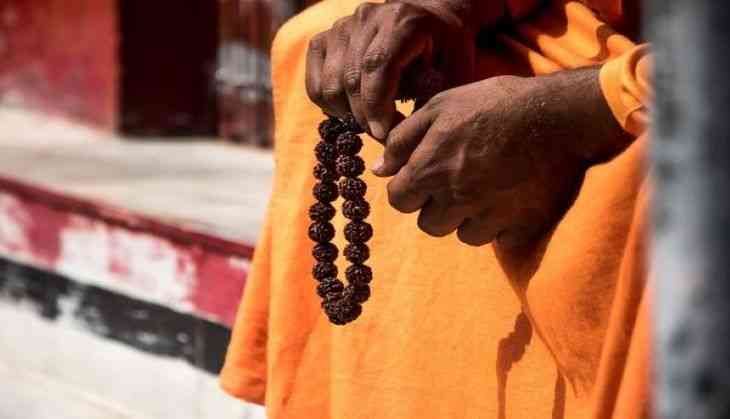 A shameful incident was reported from Jharkhand's Godda district where a Sadhvi was raped by four men. This incident took place on Monday night however it came to light on Tuesday when the victim approached the police to file a complaint against the accusers.
As per reports, the 38-year-old Sadhvi told the police that on Monday night the four accused forcibly entered the ashram in Pathwara village. First, they locked the Sadhus in a room and then gang-raped her, one of the Sadhus who was locked protested against this action so the accused thrashed them brutally.
After the complaint police swung into action first they reached the crime spot to investigate and then they launched the manhunt. Out of four, 3 have been arrested while the fourth one is absconding.
Also Read: UP: Dalit man battered to death over suspicion he was selling his 16-year-old daughter
As soon as this news escalated, BJP's Lok Sabha MP from Godda, Nishikant Dubey targeted Hemant Soren government over law and order situation in the state. He took to his Twitter handle and wrote, "Criminal Deepak Rana is involved in the gang rape of a Sadhvi at an ashram."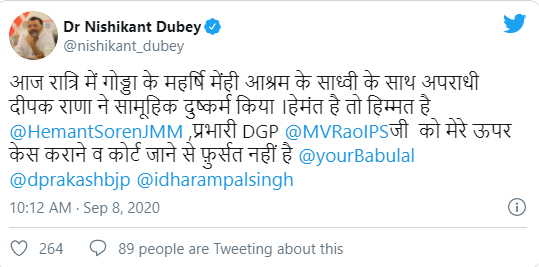 As per TOI reports, an eyewitness present in the ashram told, "Two other Sadhvis were beaten up by them before we were locked in separate rooms. They took her (victim) to another room to commit the crime."
Also Read: Indore: 11-year-old boy bludgeoned girl to death after she defeats him in online game