Magsaysay winner Sandeep Pandey sacked from BHU for being 'anti national'?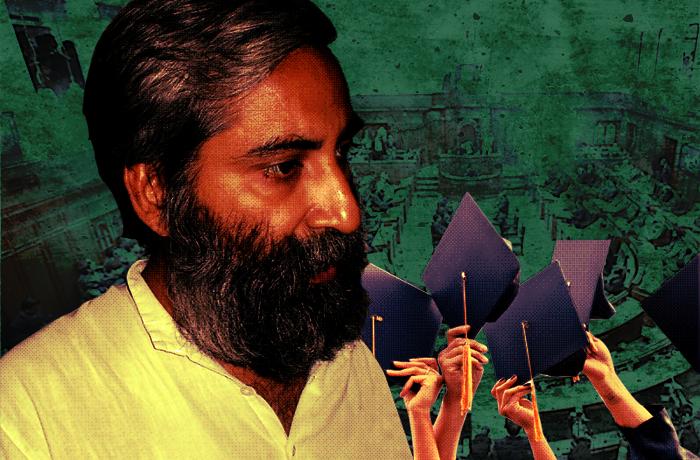 The allegations
Magsayay award winner Sandeep Pandey claims BHU has removed him as visiting professor
No academic reason has been cited. The administration refused to comment
The ideology
He says he is being punished for his ideology and for speaking against the govt
Pandey is a Gandhian. He has been an activist for many years
There is no place for eminent social activist and Magsaysay award winner Sandeep Pandey at Banaras Hindu University (BHU). The university administration has allegedly removed him as a visiting professor.
According to Pandey, the authorities have alleged that he is involved in "anti-national activities". No academic reasons have been cited for this decision. Pandey was teaching chemical engineering at the IIT's BHU campus for the last two-and-a-half years.
Also read -
Revamp of Delhi school education: Kejriwal's 'historic' mistake
"Vice-Chancellor Girish Chandra Tripathi pressurised the IIT Director to take this decision. He told the director that I have been involved in anti-national activities and that I often speak against the government," alleged Pandey.
He has not received any official communication in this regard so far. Pandey says he is waiting for the official letter.
Punished for his ideology?
"They have already taken back the subjects assigned to me. I am not teaching and their decision seems final," he added.
Pandey regrets the reason behind this action.
"The board of governors has not considered my academic qualifications. Their decision is based on my ideology," he laments.
Anand Pradhan, a former president of the BHU students' union, has termed this decision as "unfortunate".
Pandey says that he is being targetted for speaking against the government
"We all know Pandey as a Gandhian thinker. The university campus is a place where many ideologies clash. The attempt to govern it with one doctrine is fraught with danger," says Pradhan, who is an Associate Professor at the Indian Institute of Mass Communications (IIMC).
Stressing on the rich democratic tradition at BHU, Pradhan said, "BHU has always given space to various ideologies. Expelling anyone on the basis of his thoughts is nothing but ideological intolerance".
Institutional autonomy at stake
Pandey thinks the inclusion of BHU's VC in the IIT's board of governors is politically motivated.
"The VC was included in the board of governors during the time of IT-BHU. However, it became an autonomous institution after being elevated to as an IIT. It is not necessary to include the BHU VC in the board anymore," says Pandey.
He alleges that HRD minister Smriti Irani is behind the decision to include the VC in the IIT's board of governors.
"BHU cannot question my academic record. So they are targeting me on the basis of my ideology"
Catch tried to speak to the registrar office of BHU regarding the matter, but got no answer.
The registrar first disconnected the call saying that no final decision has been taken. Later, he told us to get the information from the relevant department.
The BHU-IIT administration said that they would be unable provide any details and told us to contact the registrar's office instead.
An atmosphere of intolerance
Instances of ideological intolerance are on the rise in this country. Pandey feels that this decision is an outcome of the prevailing atmosphere.
"The BHU administration cannot raise a finger at my academic record. Therefore, they are targeting me on the basis of my ideology," he says.
Anand Pradhan asks how a Gandhian could be a threat to any campus. Citing the Supreme Court judgment, he says, "Everybody has a constitutional right to choose their ideology. To support a particular viewpoint is not a crime. In any case, Pandey is a Gandhian".
Recently, Pandey was in Delhi to participate in a meeting of the National Alliance of People's Movements. He protested against the education policy of the Arvind Kejriwal government.
Pandey has also worked as an adviser to the Central Advisory Board for Education (CABE). He also led an Indo-Pak peace march from Delhi to Multan in 2005.
An alumnus of IT-BHU, Pandey started his teaching career in 1992 from IIT-Kanpur. He founded Asha Trust during this time. It is an organisation working for the decentralisation of democracy. An anti-corruption activist, Pandey was also one of the leading figures in the Right to Information agitation.
More in Catch - Welcome heat: After writers, 400 artists speak out against intolerance
PM's Mann ki Baat not enough. India needs action on intolerance