Buddha in a diplomatic jam: Nepal-China take on India over Buddhist heritage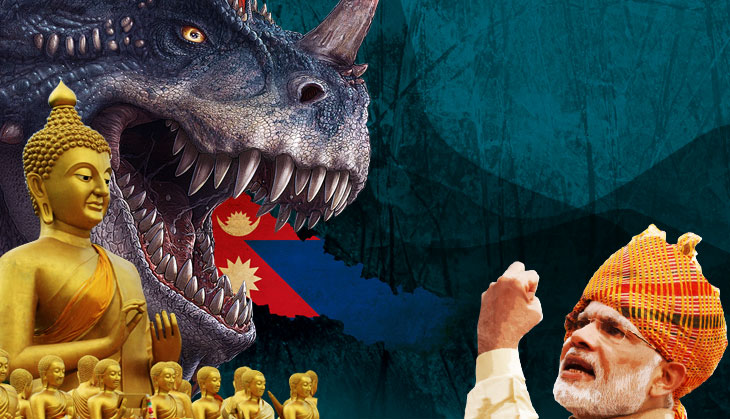 The projection
India is boycotting Nepal\'s international Buddhist conference in Lumbini.
With Chinese help, Nepal is promoting Lumbini as the centre of Buddhism over India\'s Bodh Gaya
Nepal PM KP Oli is trying to project the Buddha as exclusively Nepalese
More in the story
Why has Buddha\'s nationality become important?
How China has cleverly expanded its presence in Lumbini
Is China secretly funding the conference?
Suspecting a Chinese hand in an international Buddhist conference in Kathmandu (19-20 May) to be followed by the 2560th Buddha Jayanti celebrations on 21 May at Buddha's birthplace in Lumbini in Nepal, India has decided to officially boycott it.
Prime Minister Narendra Modi as well as several other official dignitaries, including External Affairs Minister Sushma Swaraj had been invited to attend. Prime Minister Modi in any case will be on his Iran visit during the scheduled dates of the conference, but Indian officials will not attend the events at any level.
Also read - India's spectacular policy failure in Nepal
This further dip in India-Nepal relations comes at a time when they are presumably already at their nadir.
Worsening India-Nepal ties
Indian officials are upset with Nepal on two counts.
First, they suspect that Nepal's Ministry of Culture has accepted US $1.5 million from China for the conference in Kathmandu and the Buddha Jayanti celebrations (Vesak) at Lumbini.
A part of the money is believed to have been transferred through donations from four main Buddhist temples located in holy sites in China at Mt. Wutai, Mt. Emei, Mt. Putuo and Mt. Jiuhua. They are believed to have donated $100,000 each.
The rest of the amount apparently has been routed through the Buddhist Association of China, the Chinese temple at Lumbini and the various Chinese Hotels and Commerce Associations based in Kathmandu. It is also believed by Indian officialdom that rather strangely some of the money has also been routed through Myanmar.
Second, India is upset with the Nepal Culture Ministry for changing the theme of the conference from "Preservation and Development of Buddhist Heritage of Nepal" with the sub-theme "Lumbini - Birthplace of Buddha" to "Lumbini - Fountainhead of Buddhism."
Prima facie, Indian objections seem petulant. However, there are several important issues involved here.
India sees in these developments a clear attempt by Nepal, with the assistance of China, to give primacy to Lumbini in Nepal's Terai over Bodh Gaya in India as the heart of Buddhist belief and pilgrimage. The involvement of the four sacred temples located at four holy sites in China is seen a further validating Lumbini over Bodh Gaya. These sacred sites in China are significant because they are linked to the enlightenment of Bodhisatvas - Guanyin (Avalokiteshwara), Wenshu (Manjushri), Puxian (Samantabhadra) and Dizang Wang (Kshitigarbha).
Nepal Prime Minister KP Oli has claimed in the media that the conference and the celebrations "will help remove the confusion and prove that Buddha and the Buddhist philosophy started from Nepal".
Ultra-nationalist Nepalese have often railed at the perception that Siddhartha Gautam attained enlightenment at Bodh Gaya in India and the widespread perception that, what one might call, civilisational India is the land of the Buddha and his birthplace.
Prime Minister Oli, however, is now espousing the theory that Siddartha Gautam could not have renounced his family, his crown and his worldly goods if he had not already attained wisdom at Lumbini in Nepal itself.
Nepal's Minister of Culture, Ananda Prasad Pokharel, who is acting as the bridge between Nepal and China on validating Lumbini over Bodh Gaya, has told the media that the international conference will prove that Nepal is the source of Buddhist philosophy as Nepal alone is the birthplace and place of work of Buddha.
The Indian establishment sees in this a clear attempt to divide the Buddhists in Nepal - forcing them to look towards Lumbini instead of Bodh Gaya, which is one of the binding factors between India and Nepal.
Therefore, they view the change in the theme of the conference as a deliberate provocation - from a general one about preserving various Buddhist heritage sites in Nepal to a specific one promoting Lumbini as the source of all Buddhist philosophy.
More importantly, India sees in this, an attempt by the Chinese to get a strategic foothold in Nepal's Terai (where is Lumbini situated), on the Nepal-India border.
"A large number of Chinese in Lumbini will certainly be seen as deliberately provocation and a matter of concern," said an official.
Chinese presence in Lumbini
This is not the first attempt by China to gain a substantial presence in Lumbini.
Initially, the Chinese came up with a proposal piloted by one Xiao Wunan, head of the Asia-Pacific Exchange and Cooperation Foundation. He had come to India and met the Dalai Lama and the Karmapa. In his meeting with the Karmapa, he is believed to have asked him whether he was happy in India and that if wasn't then he could arrange a Chinese passport for him. Indian officials were mighty upset with such crude attempts by China to lure the Tibetan leadership and have not allowed him in since then.
Xiao Wunan had proposed a US$ 3 billion project at Lumbini. This was sought to be operationalised in collaboration with the GP Koirala Foundation but did not fructify because of Indian objections.
A second attempt was made by China through a Korean business magnate. He also came out with a proposal like Xiao's which involved preserving and upgrading of the site, building a modern airport, hotels and even hospitals at Lumbini and with a similar outlay. However, that too did not pass muster because of Indian objections.
A fourth attempt, Indian officials believe, was made through Myanmar in 2014. A Buddhist conference on "Promotion, Protection and Preservation of Buddhist Culture and Heritage" was organised at Lumbini through a much respected and influential monk, Sitagu Sayadaw Dr. Ashin Nyanissara of Myanmar. He made a donation of US $150,000 for the conference leaving people wondering where he got the money from. Once again the needle of suspicion pointed to China.
In the events of 19-21 May this year, a key role has been played by Nepal's Culture Minister Ananda Prasad Pokharel. He heads an NGO called "Himalayan Border Area Relations Development Association" which has representations from 18 districts in Nepal and some districts in Tibet. Indian officials believe this NGO that has received substantial Chinese funds.
Pokharel has been a key organiser of the upcoming event by virtue of his official position, along with Drukhang Thubten Khedrup Rinpoche, a China based monk who is the Vice Chairman of the Buddhist Association of China and Deputy Director of the Tibetan Buddhist Academic Work Guidance Committee.
India's priorities
India-based International Buddhist Confederation (IBC), which is believed to have the backing of the Indian government, is also involved in the conference as a co-organiser. The IBC is headed by Lama Lobzang from Ladakh. The Chinese Rinpoche apparently did not object to IBC's participation but told Nepal that Chinese sensitivities on the Dalai Lama and the Tibetan issue should be respected. The Rinpoche is also learnt to have had some reservations about Lama Lobzang.
Lama Lobzang, who agreed to the change in the theme of the upcoming conference in a meeting with Pokharel in April this year, was told by the Ministry of External Affairs about Chinese involvement in the event on his return to India. Apparently he was advised that neither he nor any high level Buddhist delegation from India should attend the conference.
While Lama Lobzang is not attending the events himself, he has nonetheless nominated a five-member delegation of the IBC to attend. The delegation is to be led by a practicing Buddhist and former Foreign Secretary of India, Lalit Mansingh, in his capacity as the Vice President of the Mahabodhi Society of India.
The other members of the delegation are: B Mungekar, former MP, Venerable Seewali Thero, General Secretary of the Mahabodhi Society, Venerable Sanghasena Mahathera, Director Mahabodhi Intenational Meditation Centre at Leh and Captain (R) Kaji Sherpa, Buddhist Cultural Centre, UK.
The symbolism of Nepal's attempts must not be missed. During his Nepal visit in 2014, Prime Minister Modi made an elaborate offering of 2,500 kg of sandalwood at the Pashupatinath Temple. The effort was to stress the common Hindu roots of India and Nepal. PM Oli seems to be doing the reverse by projecting the Buddha as being exclusively Nepalese. It could also be seen as his way of telling India to lay off the Terai region, where Lumbini is located. However, his critics in the Terai would say that that the Siddartha Gautam a.k.a. Buddha is the only Madhesi, Oli wants to take along.
More in Catch - Nepal: India's emasculated responses have emboldened KP Oli
100 days of Oli-garchy: Nepal PM's joke is on the people