Bengaluru: Drunk man sets his bike on fire in full public gaze; video goes viral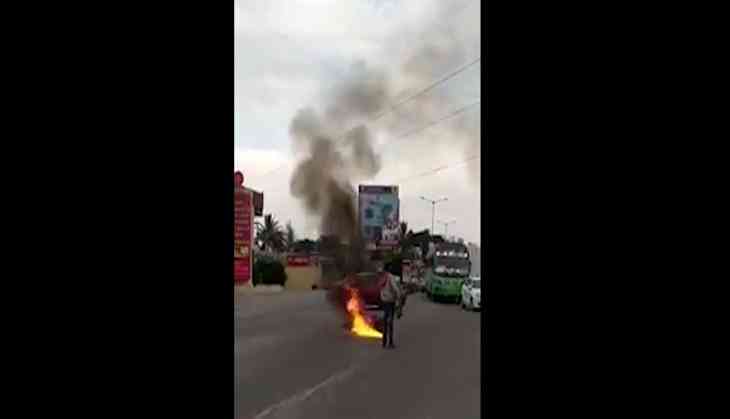 In a bid to revive the Indian economy, the government has given some relaxation by opening several essential and non-essential services, including liquor shops amid lockdown. With the opening of liquor shops, long queues have been seen outside the shops where people can be seen defying the social distancing rules. Shockingly, after buying the alcohol, several incidents of drunken brawl and vandalism cases have been reported from different parts of the country.
One recent case has been reported in Karnataka's capital Bengaluru where a man set his motorbike on fire in a full public view.
The incident took place on Thursday near Suryanagar police station limits in Anekal, timesnownews.com report said.
Reportedly, the man was believed to be intoxicated which could be the reason why put his bike on fire.
At around 4 pm, an unidentified man was seen setting his bike on fire in the middle of the road.
Meanwhile, police have filed a case against the anonymous man.
Earlier, a bizarre incident also took place in the Kolar district of Karnataka, where a 38-year-old ma, who was allegedly drunk, ran his bike over snake for blocking his way.
The shocking thing was that he also started peeling off the skin of the venomous snake and even bit it into pieces.
The weird incident took place when the accused man was returning to his village after buying liquor.
However, police arrested the man under the provisions of the Wildlife Protection Act in Mustur village on Wednesday.
While the carcass of the serpent was sent to a lab to find out its species by forest department officials.
Also Read: Lockdown 3.0: Tipplers need to apply for e-token in a bid to avoid long queues outside liquor shops in Delhi