Believing in an ideology, even Maoism, is not a crime: Hem Mishra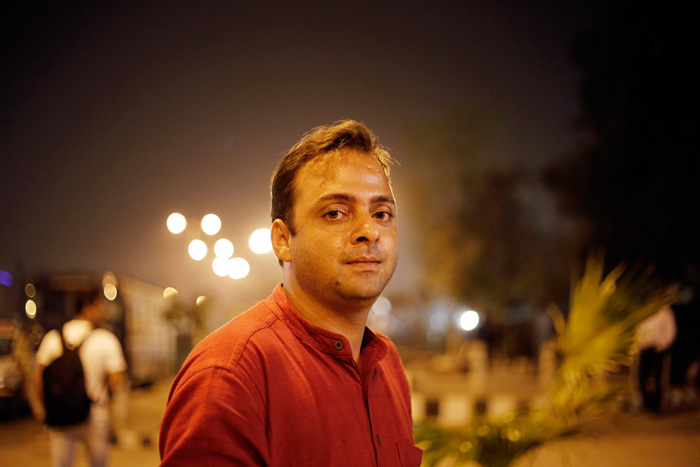 The activist
Hem Mishra, a JNU student, was arrested in Gadchiroli, Maharashtra, in August 2013
He was accused of helping Maoists, while he claims he\'s just a cultural activist
The accusations
Mishra is out on bail after spending one and a half years secluded in Nagpur jail\'s \'Anda cell\'
He is currently fighting legal cases in Almora, Delhi and Gadchiroli
More in the story
Mishra\'s main point - even SC says believing in any ideology, even Maoism, is not a crime
His account of his two-year-long nightmare - of torture and police brutality
In August 2013, the Maharashtra Police arrested Hem Mishra from Gadchiroli district. Mishra, a student of the Chinese language at the Jawaharlal Nehru University's School of Languages, was accused of helping Maoists.
The police booked him under several sections of the Unlawful Activities Prevention Act (UAPA). He is also facing the charge of sedition. Social activist Prashant Rahi and Delhi University assistant professor GN Saibaba, along with three others, are also accused in the same case.
Watch - #WhatTheYoungThink: Who is anti-national? JNU responds to RSS allegation
The cops say Mishra and Rahi were arrested after credible intelligence inputs. They also allege that incriminating documents and micro chips were recovered from them at the time of arrest. According to them, both Mishra and Rahi were on their way to meet senior Maoist leaders in Abujhmad forests and that the meeting was arranged by Saibaba.
However, Mishra has rejected these charges. He claims to be just a cultural activist.
After having been in jail for more than two years, Mishra was recently released on bail. Nowadays, he spends his time shuttling between Almora, Delhi and Gadchiroli for legal cases.
Excerpts from Catch's conversation with him.
Tell us about the circumstances of your arrest...
I left Delhi on 19 August 2013 to meet Maharashtra-based social activist Prakash Amte. The next day, I reached Balharshah railway station at around 9.30 am. I was to board a bus to Bhamragarh when suddenly some people pounced upon me. There were 10-12 people in plain clothes. They had come fully prepared for the attack.
At first, I thought they were kidnappers. One of the men showed his police ID card after about an hour. It was then I realised that they were cops from the special cell of the Gadchiroli police. I was taken to the police headquarters. All this time, they kept on beating me. I was told to confess that my name is Shankar and I was going to meet the Naxal commander Narmada.
Mishra, a JNU student, was accused of helping Maoists and arrested from Gadchiroli in Aug 2013
The police brought two tribal boys for my identification at Gadchiroli police station. I was meeting them for the first time. The boys also told the police that they did not know me. However, the policemen were adamant.
All three of us were tortured for the next three days. I could hear their cries. Every day, the cops would come and threaten to kill me in a fake encounter. I was severely abused. They wanted me to confess that I worked as a courier for the Maoists. I was not allowed to sleep for 80 hours. The other two boys have also been indicted in the case.
The police claims that you were arrested from the Aheri bus stand of Gadchiroli...
The police is lying. I was picked up from Balharshah railway station. They kept me in illegal detention for three days. I was presented before the then-Gadchiroli SP Suvez Haque at police headquarters.
I showed all identification documents and told him I am a JNU student. However, Haque said I should confess whatever I was being told, or else, they would adopt 'other means'.
I was sent to 10 days of police custody after three days of illegal detention. Later, the custody was extended for 14 more days. NIA officials and intelligence officers from Chhattisgarh, Mumbai, Delhi, Maharashtra and Uttarakhand questioned me during this period. They did not allow me to even wash my face for first 10 days. I could change clothes only when my father came to meet me.
Were you then put in Nagpur Jail in the infamous 'Anda cell'?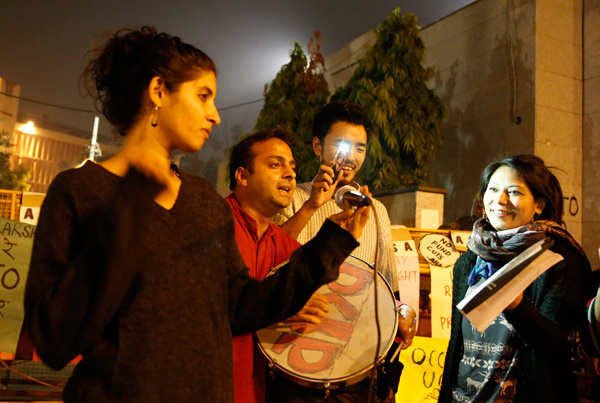 I was shifted to Nagpur Central Jail on 15 September. I thought life would be easier in jail than in police custody.
I was kept in barrack No. 8, where most undertrials in Naxal-related cases are kept. I found that most such inmates were Adivasis. Some of the young tribal men were facing over 50 cases. Many among them had faced police remand for months. Most of these accused do not get a hearing date from the courts for several months.
Mishra was detained without a court appearance for 80 hours - which is against the SC directive
In February 2014, these inmates started an indefinite hunger strike. I was among 22 people who were sent to the 'Anda cell' on the first day of this strike. The strike ended after eight days, following mediation by Justice VK Patil, the retired judge of the Bombay High Court. But I had to spend the next one and a half years within the 40-metre perimeter of the 'Anda cell.'
Do you support Maoist ideology?
It is not illegal to follow any ideology. Each individual is free to follow the ideas of his own choice. It is a democratic right. The Supreme Court has ruled that merely supporting a banned organisation is not a crime.
I am an artist. I sing for the masses and agitate in their support. I was jailed for my role in people's movements. I have no regrets. I am proud that I have fought for the people's cause.
What are the charges that Maharashtra Police has levelled against you?
It has slapped charges against me under various sections of UAPA. There are five other accused in the case. All of us were kept in the same jail, including Saibaba (who is paraplegic) and Prashant Rahi.
Who is helping you fight the legal battle?
A team of lawyers from Nagpur is fighting my case. Surendra Gadling is leading the team. They are also defending many social activists of Vidarbha, who have been labelled as Maoists.
Also read - JNU home to 'anti-national' forces, claims RSS mouthpiece Panchjanya
Police claims two other Adivasis were arrested along with you. What is your connection to them?
I saw them for the first time at Gadchiroli police headquarters. They belong to a poor peasant family. Both of them are out on bail now.
It is very easy for the security establishment to arrest Adivasis and frame them in false cases. If the student of a reputed university can be tortured, you can imagine the treatment these tribals receive at the hands of the police.
How do you know Prashant Rahi?
Prashant Rahi is a well-known journalist and social activist of Uttarakhand. He was arrested for the first time in 2008 for alleged involvement in Maoist activities.
I was part of a fact-finding team that had gone to meet Rahi in Dehradun jail at that time. He was arrested again on 20 August 2013, a few days after my arrest.
I came across him for the second time in Aheri police station. Rahi was kept in the adjacent lock-up. Later, I came to know that he had gone to Raipur for a legal engagement. The police picked him up from there but showed his arrest in Gadchiroli.
According to Maharashtra Police, Saibaba and Rahi had sent you to Gadchiroli to convey their message to the Maoist leaders. Did you know Saibaba before your arrest?
I know him through seminars and public meetings that were organised in JNU. I have never met him personally. Saibaba has been a vocal critic of operation Green Hunt. He has raised voice against the violation of human rights in tribal areas. I know him in that capacity.
But the police alleges you are a Maoist courier?
Vinayak Sen, the renowned doctor and the national vice-president of the People's Union for Civil Liberties, was also charged with sedition because he raised his voice on behalf of the people. I have been indicted for the same reason.
It is the police that breaks the law more than anybody else. Once, I was being taken to the hospital for treatment. Some policemen tried to handcuff me. The Supreme Court has clearly stated that accused cannot be handcuffed while being taken outside the jail. When I protested, they beat me up for over an hour. I was not given any treatment after that.
Do you hope that the judiciary will acquit you?
I have not committed any crime. I have already won the first battle. My arrest was opposed in India as well as abroad. Many people have raised their voice in my favour. This has ensured me bail.
The charges against me are baseless. This case has no merit. I was falsely implicated by the police. This is the reason the court has granted bail.
It is not a question of keeping faith in the judicial system. Thousands of political prisoners are languishing in jails without any trial. Innocent women, Dalits and Adivasis are facing frivolous charges of sedition. There is no hearing for the deprived.
He is currently out on bail, but is fighting a bevy of court cases in Almora, Delhi and Gadchiroli
I cannot say all the people are getting justice. There is much scope for reform in the judiciary. It is only due to people's pressure that courts have delivered many landmark judgments. There is need for a major movement to secure justice for Dalits, Adivasis, Muslims and other political prisoners.
Is there no democratic and constitutional solution for the issues that you have raised?
It will be a big respite if people are given the rights guaranteed by the Constitution. However, the government is not following the spirit of the Constitution.
The law mandates that an accused should be presented in court within 24 hours of arrest. But I was brought to the court after 80 hours of illegal detention. Neither police nor the government is serious about implementing the Constitution. We are fighting for justice to all.
People's struggle is the only way forward. No meaningful change is possible without the people's movement. For instance, the land should belong to the people and only people can ensure this right. The government has even stopped academic scholarships. It wants to exclude poor students from the higher education.
Shouldn't people's movements be within the parameters of the Constitution?
I have full faith in people's power. They are agitating within the framework of the Constitution. But the government is labelling them as Maoists. The government is not willing to listen to the voice of dissent. Everybody has a right to disagree with the establishment in a democracy. However, the government is not tolerating such voices.
Democracy doesn't allow the killing of people. But isn't that what Maoists are doing?
Who are these Maoists? People fighting for land, water and natural resources are being termed as Maoists. We will have to see who is responsible for this violence. People have no right over their land, they are not getting justice. There is no prosperity for the majority of the population.
Nobody is paying heed to democratic struggles. The economic, political and social policies of the government are responsible for the violence. I was arrested from Vidarbha, where thousands of farmers have committed suicide. Who is responsible for their plight? People are dying because of the anti-people policies of the government.
More in Catch - Maoist child soldier to record-breaking athlete: the incredible story of Mira Rai
CBI shrugs off probe in fake Maoist surrender cases; Jharkhand HC asks govt to file affidavit