Ayodhya's Mahant Gyan Das: Ram Mandir dispute can only end with dialogue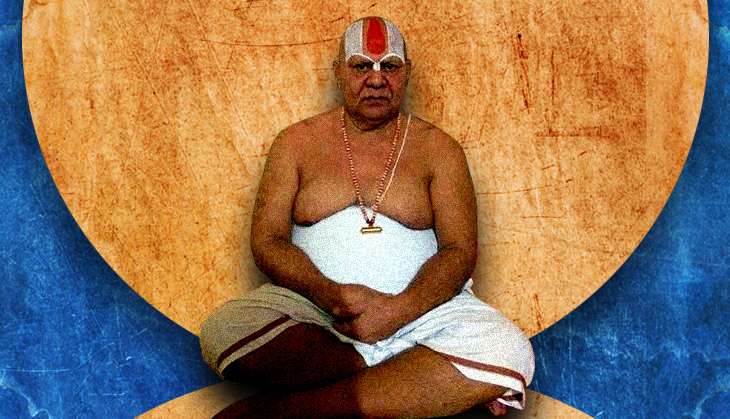 With assembly elections just a few months away, the Ram Temple issue has made its way back into political circles.
However, things are relatively calm in Ayodhya as religious leaders and locals ponder over how to come to an amicable solution. Efforts are also afoot, led by a former High Court Judge Palok Basu, to look for an out of court solution.
The campaign for such a solution, which has already garnered signatures of 10,000 locals in Ayodhya and Faizabad, will be submitted to the Supreme Court for consideration. The formula proposes to house both the temple and the mosque in the same area, within the boundaries of the acquired land.
However, it is facing stiff resistance from outfits like the Vishwa Hindu Parishad and the All India Muslim Personal Law Board.
Mahant Gyan Das, who heads the influential Hanuman Garhi Temple, is one of the votaries of a peaceful settlement of the issue. Catch caught up with him on Hanuman Jayanti in Ayodhya.
Here are excerpts from a conversation:
What do you think about the announcement of the Ramayana Museum in Ayodhya?
It is an election-related announcement. Now that the assembly polls are just three-four months away, all such announcements will be made. Mahesh Sharma's announcement would not lead to any development of Ayodhya. He should have done it before. A resolution of the temple-mosque dispute can only lead to Ayodhya's development.
How does one solve this issue?
A court order would only be a temporary solution. It will not solve the issue. A consensus among parties through a dialogue is the only solution.
I am leading the talks. When Hashim Ansari was alive he would come to me discuss a peaceful resolution. When the High Court judgement came in 2010, we had made up our mind to bring the issue to a close. But it could not happen the way we envisaged. Ashok Singhal and Vinay Katiyar were the major roadblocks.
Did parties like the Babri Masjid Action Committee agree to the proposal?
Babri Masjid did not agree. But Ansari and other major parties were on board. We were looking for a solution which would make everyone happy.
The High Court judgement gave us a foundation that Ram Lalla was born here. And we proposed that while the temple would come up at the sanctum sanctorum the mosque could be built a kilometre away. But there was opposition and people went to the Supreme Court to challenge the judgement and it eventually ordered a stay.
Do you think that Narendra Modi government would be able to solve this issue?
PM Modi has not touched the issue yet. In his Dussehra speech in Lucknow, he did not discuss temple. But once he gets into it, he has the capacity to solve it. After all, he has been elected by a majority of people.
There is a possibility that he will be able to sort this issue out in the next two years. When Rahul Gandhi met me during his Uttar Pradesh Yatra, people asked me what we discussed. But he is not in the seat of power so how can one expect him to solve the issue?
BJP leader Subramanian Swamy says that he will move court for a speedy hearing...
Swamyji says a lot of things to remain relevant and for votes. But does he think that moving court will resolve the issue?
Edited by Aleesha Matharu
Also read -Ram Mandir leader Nritya Gopal Das: "Construction will begin while Modi is PM"
More in Catch - A riled up opposition tears into Mahesh Sharma's Ayodhya comments
Rahul Gandhi visits Ayodhya, a first for a Gandhi since '92; avoids 'shilanyas' site