Allahabad HC judges click selfies with PM Modi, one even touched his feet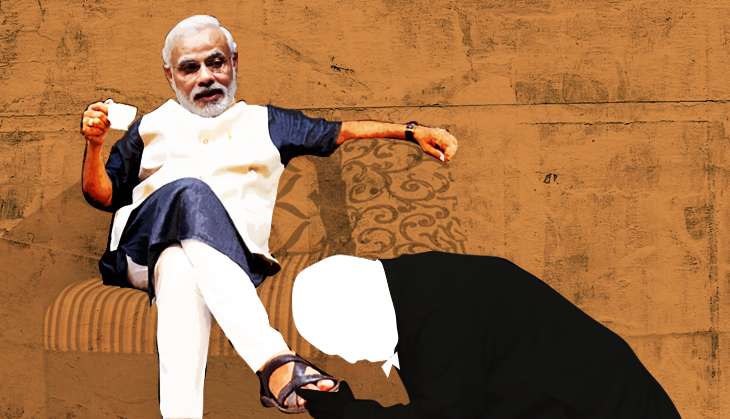 When a former chief justice of Uttarakhand high court was reported to have touched the feet of the state's chief minister, it left the judicial fraternity appalled.
If reports emanating from the Allahabad High Court are to be believed, the feet touching act was repeated by an honourable member of the Bench when Prime Minister Narendra Modi went there to have tea with the judges on Sunday.
Another senior judge described the prime minister as the "man of the moment", while there was a scramble to click selfies with him. The PM is said to have readily obliged to the selfies.
Also read - What a U-turn, milord! Guj judge deletes quota remark to avoid impeachment
A senior law officer in Lucknow said, "If true, the judges' conduct was disappointing."
President of the Allahabad High Court Bar Association said he had no knowledge of the feet-touching incident as they were not part of the judges' event, while the judges were kept out of the Bar's meeting with the prime minister.
Modi's visit to the High Court was meant to mark its 150th year celebrations which were inaugurated by President Pranab Mukherjee on 13 March, 2016. After his arrival in Allahabad, the PM first went to address a meeting of BJP office-bearers and at the end of it he went to the High Court for high tea.
Previous instances
Judges bowing before politicians is now becoming a common practice in the Allahabad High Court and many of them eye post-retirement plums.
Many judges know that it is always good to be on the right side of the government.
In the defection case of Bahujan Samaj Party MLAs the late Justice MA Khan had created a record of sorts by pre-empting his senior brother judge on a division bench. Before the latter could realise what was happening, Justice Khan read out his split verdict in favour of Mulayam Singh Yadav leaving the courtroom stunned.
But to those in the know of things, this was expected. Justice Khan was made the chief information commissioner soon after.
Another high court judge who did not mind seeking a favour from the Samajwadi Party was Justice Vishnu Sahai. Just before his retirement, Justice Sahai gave a verdict against the Bahujan Samaj Party which made it to the front pages of all the newspapers in Lucknow.
Soon after his judgment which said that there was jungle raj in Uttar Pradesh, he got the job of member, state human rights commission. In that capacity too he took "suo motu notice of rapes in the state" and issued notices to the chief secretary and the director-general of police.
Justice Sahai was again in the news recently when he put the entire blame for Muzaffarnagar riots on a local intelligence unit inspector and the district police chief, completely exonerating the state government and senior officials.
This is not what the Allahabad High Court has been famous for. People remember it more for Justice Jagmohan Lal Sinha's verdict which dislodged the then Prime Minister Indira Gandhi from office.
Legend has it that the Late Justice B N Katju, Vivek Katju's father, refused to meet Mrs Gandhi. He had been telephoned by another judge who said that Mrs Gandhi wanted to appoint him as Chief Justice of J&K HC and that he should call on her as she was coming to Allahabad. Katju is believed to have said that any such offer should only come through his Chief Justice and that he would continue to maintain his distance from all politicians.
This is quite a contrast from the judges who stooped low during the high tea with PM Modi.
Even former Chief Justice of India Justice RC Lahoti during a visit to the Allahabad High Court had said that judges should be like ascetics and avoid socialising with politicians and bureaucrats. There are obviously not many takers for his advice.
More in Catch - Madras high court judge stays his own transfer
Give judges a break. Let them have their vacations