A soldier and a teacher: Vijender Singh Chaudhary is a man with many ambitions
Some photographs and a small post have recently gone viral on social media. It focusses on an ex-serviceman from Dehradun who's devoting his time to teach poor children. Although it was a short post, it managed to attract enough attention.
Read- At the mercy of the elite: 25% quota for poor in pvt schools doesn't work
Vijender Singh Chaudhary retired as a Subedar from the Army in 2008. He served the country for almost 15 years, and now continues to help the society. He might have called it a day in the Army, but he's on a different mission now.
With his stout body and emphatic voice, Vijender Singh makes for a good private guard. He is deputed outside an ATM machine of Allahabad Bank in Dehradun. Vijender guards the ATM from 3pm-11pm without fail. But the man has turned the gates of this ATM centre into an open-air classroom. Dozens of poor children gather around him every evening to learn. The de facto classroom has existed since 2010.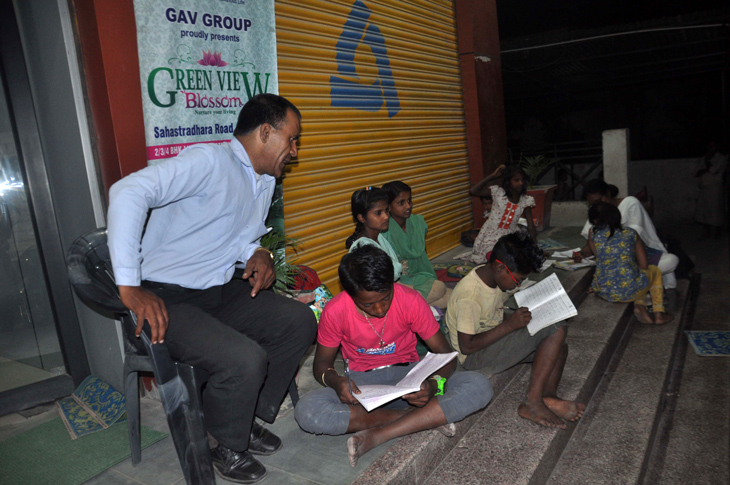 Photo: Virendra Negi
I called up Vijender to find out more about his daily work.
"Look, I am not doing anything special. Many people from the media have tried to contact me over the phone. Some have even come to meet me. I don't think I am doing any big job," he says.
Photo: Virendra Negi
He further adds, "You should rather write about the poor condition of children in this country. They are growing up surrounded by dirty drains and ageing without getting any education."
Vijender started teaching students eight years before his retirement.
Also read: Send kids to govt school, HC tells officials; UP society applauds
One evening in 2001, when he was serving in Amritsar, he came out of the Golden Temple and saw some children picking plastic out of the garbage.
This spectacle changed his heart forever.
"16 years have passed but I have not forgotten that scene. Most media persons come to shoot a story about me and go away. You are the first one to ask how it started," he says with an unmistakable warmth in his voice.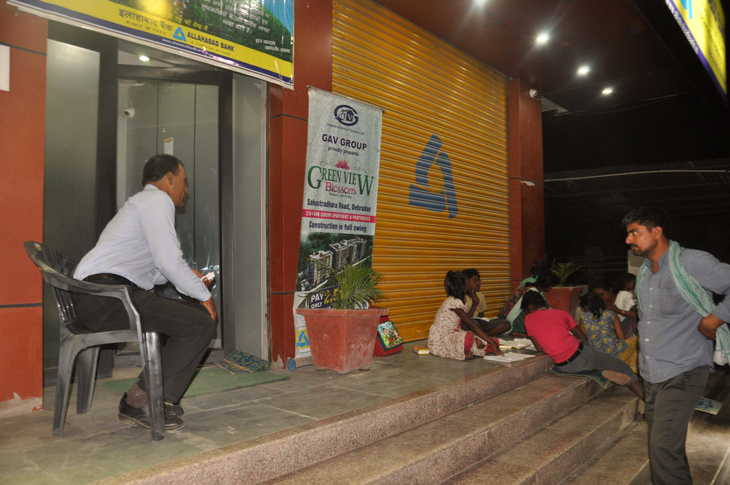 Photo: Virendra Negi
"I returned to my Army camp, perturbed by the sight of those ragpickers. My superior was a strict officer but he was forthcoming in listening to his juniors. I narrated the entire incident and expressed my desire to do something for poor children. I offered to teach these children after duty hours and he gave me permission. On 26 January 2001, I started this endeavour with five children in Amritsar, and it has never ceased since then."
Vijender was transferred to Jammu on 10 December 2003. He was informed about the transfer well in advance so that he could make arrangements for his students.
"I was sad after hearing about my transfer. But I recovered soon as many people came forward to help continue the classes," he tells me.
Photo: Virendra Negi
In Jammu, Vijender continued to teach dozens of needy children. After retiring, he moved to Dehradun to live with his family. Vijender's path was not always without difficulties. His family proved to one of the impediments after retirement. Vijender's classes irked his wife and children in the beginning. They felt he was wasting his time and money on others.
Read more: How life of a primary school teacher changed after PM Modi praised him
"It was a bad phase but passed with time. Now my family is proud of me. It was difficult to understand the cause of their anger in the beginning," he says.
Today, Vijender is a satisfied man. His happiness emanates from the fact that he has been able to place books in the hands of children, who happily receive the teaching he imparts.
"The job of the Army is to fight. But all battles are not fought at the borders against external enemies. This is a fight against illiteracy and poverty. It is a struggle for smiles on the faces of the children. I am waging this battle for my own happiness and will continue to do so till the end."
Translated by Deepak Sharma
Edited by Anna Verghese
More in Catch:
By 2050, India may lose 6% of GDP due to water crisis: World Bank
Superheroes and comic books say more about America today than any literature. Here's why
Bundelkhand drought: Centre offers 'water train', UP says it's of no use
Court-ship of the desert: MP camels to get married in a gala ceremony