By 2050, India may lose 6% of GDP due to water crisis: World Bank
The research
The World Bank has conducted a study about how water scarcity can impact the world economy
It says that owing to climate change and mismanagement, as it stands, Asia and Africa will be badly impacted
The effect
If India continues to mismanage water resources, it stands to lose 6% of its GDP by 2050
On the other hand, if the country manages it well, it can actually add 1% to its GDP
More in the story
The scenarios considered by the World Bank study - is there any hope for the world?
Other recent researches, and what India must learn from them
One-fourth of Indians are struggling with water scarcity. The drought in India is seen as a humanitarian crisis, but few realise how much water scarcity can affect long-term economic growth prospects too.
Read- Jaisalmer villager's letter: lessons on how to survive water scarcity
By affecting health, agriculture, income and property, water scarcity can severely erode economic growth, a new World Bank study has said. India stands to lose 6% of its economy's value by 2050 because of the current pace of climate change and mismanagement of water.
If, on the contrary, Indian can efficiently manage water resources, it stands to add extra value to the economy.
The World Bank's latest study, High and Dry: Climate Change, Water and the Economy, says the impact of water scarcity is different for each economy, depending less on how climate change affects water, but more on how the country manages its water resources.
India is among the several dozen countries in the world (limited largely to Asia and Africa) that the World Bank says will be the most adversely affected - with a possible 6% reduction in gross domestic product (GDP) in a business-as-usual scenario.
On the contrary, India can actually add 1% to its GDP because of efficient water management.
The methodology
Water should be seen as an input in economic activities (industrial production, agriculture, etc), one which is going scarce and is inefficiently allocated, the study says, so that the harm it causes can be found using metrics like GDP, trade balances and industry structure.
"Somewhat surprisingly, there is limited understanding and knowledge of these links," the study says.
Also read- Go Goa Gone: Once water-abundant, state hit by acute scarcity
The point of the study is to know how the world would do better (or worse) in the future if water management responds, or doesn't respond, to the shortages. It is obvious that if water management is insensitive to water scarcity (as it is largely in India), we are staring at a bleak future with more water demand and uncertain supply.
But the study goes a step further to find, although approximately, how much change this means for the GDPs of different economies.
To do this, it uses computer models of future possibilities - known as Shared Socioeconomic Pathways (SSP). Each SSP is an alternative future, describing development paths countries can take, taking into account technology, institutions, policy, demography, etc.
The study uses two extreme scenarios - SSP1, an optimistic one where the world is sustainable in the future, and SSP3, with high emissions, low adaptation to extreme climate, and poor economic progress. To this, it adds projections of water supply.
The study then isolates the role water will play in various growth scenarios in the world.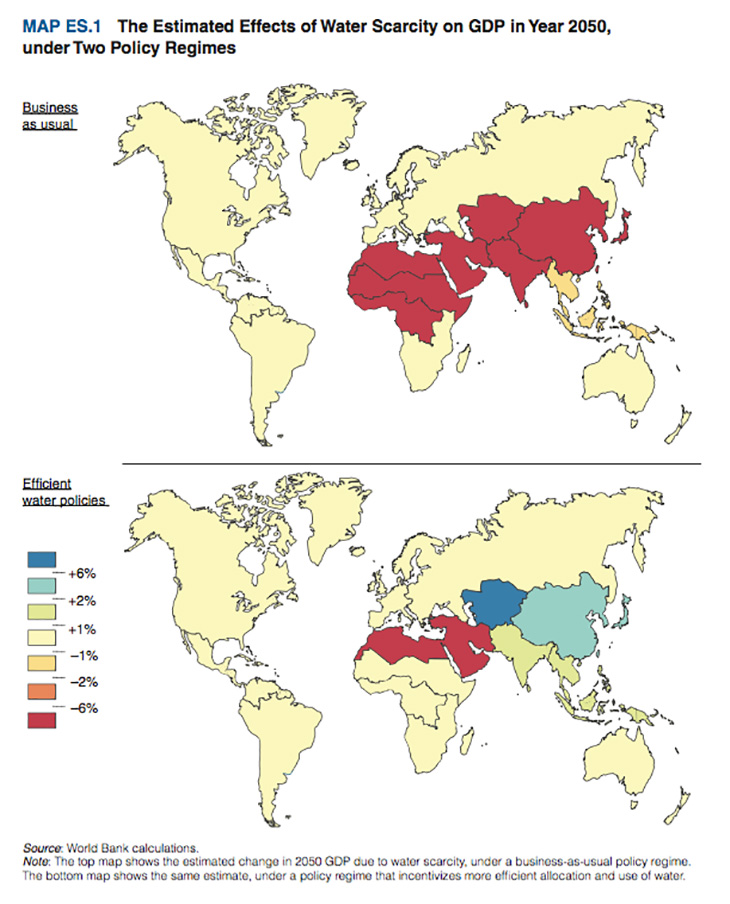 It finds that by 2050, the global loss to GDP will be marginal (0.37 to 0.49% of GDP, from the most optimistic to most pessimistic scenarios).
Who will be affected?
But the main story lies in the inequalities among countries.
North America and Western Europe - industrialised nations historically responsible for climate change - will face negligible effects.
Asia, Middle East and the Sahel region in Africa will be the worst affected - the worst case scenario being that their GDP would be lower by 6%, exclusively because of mismanagement or improper allocation of water.
Other recent researches
This study adds to recent research on the economic losses from water scarcity.
For example, a study by the International Food Policy Research Institute estimated that 45% of the world's GDP is at risk due to dwindling water resources. About 2.6 billion jobs depend directly on water, half of them heavily dependent, according to a UNESCO study last month.
Read more- Water supply once a month: lessons to be learnt from Latur
But it's not just that water has to be better managed so that it doesn't hurt growth. Economic growth can itself be a cause for water shortage.
A recent Greenpeace report found that thermal power plants - India's main electricity source - consume enormous amounts of precious water. In Maharashtra's drought-hit regions, each year they use water equivalent to a basic minimum supply to 1.2 crore persons - even when most of the plants follow the best water-saving technology.
Greenpeace also found out that almost half the reserves of coal - which fuel the thermal plants - fall in areas where mining can threaten freshwater sources, besides causing deforestation.
Edited by Shreyas Sharma
More in Catch:
AgustaWestland: how Singhvi tore apart NDA's case against Congress
Move over pessimism. We just got a beautiful lesson in hope courtesy Leicester City
Uttarakhand: Centre may agree to a floor test. Will 9 Cong rebels vote?
Punjab gangster gunned down in HP. Rivals fight for credit on Facebook