Bundelkhand drought: Centre offers 'water train', UP says it's of no use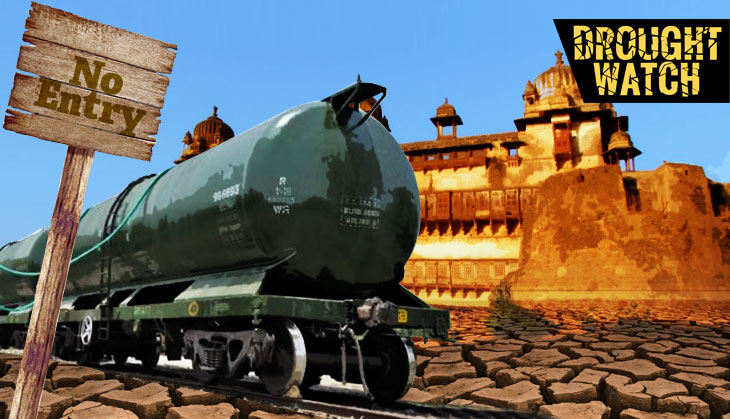 Water war of a different kind is being fought in Uttar Pradesh with the Railways offering to ferry water to the parched Bundelkhand region and Uttar Pradesh government officials saying no, thank you!
District magistrate of Mahoba Veereshwar Singh said that he was approached by the divisional railway manager of Jhansi with the offer that the railways could help the administration in meeting shortage of water by deploying a special train like it was done in Latur.
Read- #DroughtDiary: Chhattisgarh forgets to repair canals, drought relief in Ahmednagar
The idea, Veereshwar Singh said, did not make sense as the villages facing water crisis are located in remote areas and cannot be accessed by train. "Tankers would be more useful here. Somebody should have come and seen the ground reality first," Singh added.
"There are 41 such villages where we are sending water tankers. In some cases it is now one month that we have been providing drinking water and in some it has been five days," Singh said, explaining why a train full of water for the area did not make sense.
What is strange is that nobody knows whose idea it was to make the offer.
"The Central government did not take us into confidence before mooting the idea, nor did the railway ministry. They should have asked if we needed a water train for the region," chief secretary Alok Ranjan said.
A railway official in Delhi, who did not wish to be identified, said that some members of Parliament spoke to the minister of state for railways Manoj Sinha and he must have asked ministry officials to do something about it.
This official, who is attached to the Railway Board, said he did not know anything beyond this but said that 'water train' simply means empty wagons which have to be filled with water by the recipient government. "We don't provide water, we only provide wagons," he said.
Manoj Sinha disconnected his phone when called for his view.
Uttar Pradesh government may have shown a red signal to the proposed water train, but politics over water is well on track.
The state's irrigation minister Shivpal Yadav said that the government did not need water from the Centre as "we have already arranged tankers and are supplying water".
Not one to miss an opportunity, Union minister for water resources Uma Bharti advised chief minister Akhilesh Yadav not to be arrogant on water for Bundelkhand.
Railways minister Suresh Prabhu said that there should be no politics over water. He tweeted: "Bundelkhand is suffering from water shortage. We are working on supplying water through trains, putting logistics in place to help our brethren."
Akhilesh Yadav bounced the ball in Centre's court by tweeting that "10000 road tankers are needed" to supply water in Bundelkhand.
Clearly, a game of one-upmanship is being played just before the proposed meeting of Akhilesh Yadav with Prime Minister Narendra Modi on drought and water crisis on 7 May.
As things stand, a train with ten water wagons is parked at the Jhansi railway station waiting for the UP government's nod. The train reached Jhansi on Thursday and was supposed to reach Mahoba on 6 May.
Also read- #DroughtDiary: Breweries water supply cut in half, mid-day meals and 1.5-feet deep wells
In Mahoba alone, 50% hand-pumps have gone dry. But with elections approaching, the state government is unwilling to cede ground to the BJP and help it gain political mileage out of the water crisis.
As per the 2011 census, Bundelkhand has a population of 18.3 million. It has been reeling under severe drought for the last 3 years. To mitigate the people's woes, the state government recently announced a special relief package for the region. The Centre too is said to have devised a strategy to provide assistance
Edited by Aditya Menon
More in Catch:
AgustaWestland: how Singhvi tore apart NDA's case against Congress
Move over pessimism. We just got a beautiful lesson in hope courtesy Leicester City
Uttarakhand: Centre may agree to a floor test. Will 9 Cong rebels vote?
Punjab gangster gunned down in HP. Rivals fight for credit on Facebook