#DroughtDiary: Breweries water supply cut in half, mid-day meals and 1.5-feet deep wells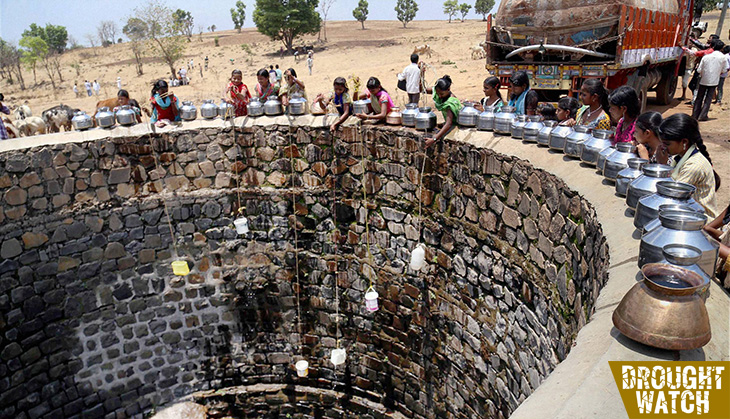 Local newspapers often tell stories that fall outside the national media\'s attention. As a severe drought grips large parts of India, Catch curates important, interesting and ignored stories from the hinterland.
01
Marathwada: Bombay HC wants water to breweries cut by half, state govt in a tizzy
The Bombay High Court has suggested that water supply to Aurangabad's 11 breweries and distilleries be cut down to half. Aurangabad is in the Marathwada region of Maharashtra, one of the worst drought-hit regions in the country. Since the water-guzzling industry brings in much needed revenue for the state, the High Court's proposal has put the state government in a spot.
Water ministry officials were in discussions with industrialists and the Marathwada Chambers of Industries and Agriculture till late on Sunday, 24 April, according a report in the Marathi daily Loksatta. The industries, and the government, had earlier agreed to a 45% cut, of which 30% is already in force, with a proposal for additional 5% cuts after every 8 days. But the Bombay HC has proposed a 50% cut right from 10 May. Water resources minister Girish Mahajan has said that the final decision will be taken by the district collector, the report adds.
Also read: Invisible tragedy: Bundelkhand is facing a famine. Where's the State?
02
Bundelkhand: Village of 1000 relies on 1.5-feet deep well, considers it a miracle
An entire village near Bina, in Madhya Pradesh's Bundelkhand region, is relying on a tiny well 1.5-feet deep and 1.25-feet wide for all its water needs. This has come as a blessing to the 1,000 residents of Dudhavni village, which is near the MP-Uttar Pradesh border, reports Patrika.
This is because the villagers would have had to migrate were it not for this water. The report adds that previous attempts to widen and deepen the well have resulted in the water disappearing. As a result, locals consider this a miracle - also because the water appears to be unlimited, and is reported to be as pure as filtered water, and as cool as if from a water cooler.
Also read: #DroughtDiary: Of bird excreta in tanks and MS Dhoni's swimming pool
03
Jharkhand: Girls in residential school face water crisis, state govt and NTPC ignorant
Girls living in a residential school in Jharkhand's Hazaribagh district are facing a severe water crisis. In Kasturba Vidyalaya, a residential high school for girls in Badkagaon, girls can bathe only once in several days, reports Jagran.
Often, they have to travel to a nearby village to fetch water. The report adds that a water tanker service can resolve the problem for now, but neither the state government nor public sector firm NTPC - which has adopted the school - have responded to the crisis. Jharkhand is one of the worst drought-hit states, with drought declared in 22 of 24 districts.
Also read: #DroughtWatch: 6 reasons why this is a national calamity
04
Chhattisgarh: Mid-day meals to be served during summer vacation in view of drought
Chhattisgarh has taken a welcome step to deal with starvation during drought. Schools in the state will continue to serve mid-day meals even during the summer vacations, the state's education minister Kedar Kashyap announced after holding a review meeting with the school education department. The decision will be implemented from 1 May to 15 June in 117 blocks of 25 districts in the state, Patrika reports. A roster will be prepared for teachers, who will work in shifts to ensure the food is served. Last week, the state had decided to prepone school timings from 7 am to 10 am in view of the heat wave, as per a report in Deshbandhu.
Edited by Sahil Bhalla
Also read: #DroughtDiary: Marathwada reservoirs at 3% of capacity, 11-year-old dies while fetching water