#DroughtDiary: Marathwada reservoirs at 3% of capacity, 11-year-old dies while fetching water
Local newspapers often tell stories that fall outside the national media's attention. As a severe drought grips large parts of India, Catch curates important, interesting and ignored stories from the hinterland.
Marathwada: 11-year old girl dies of heatstroke while fetching water
Yogita Desai, 11, succumbed to the drought and heatwave in Maharashtra's Beed district. Desai died after collecting water in the heat. A report in Lokmat says Desai had to walk to a handpump 500 metres away from her village multiple times. She collapsed on her fifth round, and was taken to the hospital, where she was declared brought dead. The cause of her death was attributed to dehydration and heart attack. On Sunday, the maximum temperature in Beed was 42 degrees.
Thousands of villages face water crisis, 80% reservoirs in Marathwada dry
There are 11 large, 75 medium and 729 small sized reservoir projects in Marathwada, but 80% of them have dried up, according to a report in the daily Lokmat. Just 232 Million Cubic Metres of water is left in all these reservoirs combined - lower than the capacity of a single medium-sized dam. This is just 3% of the total capacity of all the reservoirs, 7980 MCM.
Read- Drought & development: why Maharashtra is fast running out of water
Because of this, by the month of May, there will be no water left even for the government to fill tankers, the report adds. Since many reservoirs have completely dried up, thousands of villages that depended on them for water supply are facing a water crisis.
From Karjat with love: residents send 50 jars of water to Latur every day
There's a heartening story in the Marathi daily Loksatta: some residents of Karjat - a town between Mumbai and Lonavala - wanted to send water to Latur, 400 km away, by train. But since they cannot afford to pay Rs 26,000 per rail wagon, they instead send 50 jars of water (totalling 1,000 litres) every day by the Mumbai-Latur Express. This water is distributed among those living near the railway station, and empty jars are sent back by the returning train.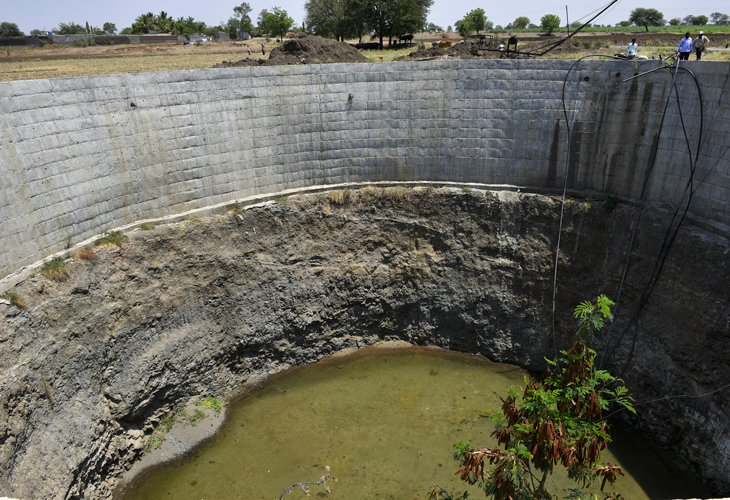 A huge well that has nearly dried up at Bhadha in Latur. Consecutive drought years have resulted in acute water scarcity and the agrarian crisis. Photo: Anshuman Poyrekar/Hindustan Times via Getty Images
Drought hits railway stations in Bundelkhand, passengers go thirsty in sweltering heat
Because of the drought, there is no drinking water supply at several railway stations in the Bundelkhand region. Two Patrika journalists took a 34-km train journey from Sagar to Jaruakheda in the middle of a hot day, and found that none of the 20 drinking water taps on the three railway stations en route had any water.
Also read: Govt has failed drought victims by starving MGNREGA of funds
They describe how passengers on the Bilaspur-Bhopal Express had already finished their supplies, especially given the hot afternoon winds. At Jaruakheda, while the railway taps were dry, the passengers' hopes rose because a hand pump on the station was found working. But the five-minute halt wasn't enough to fill up water, and most travellers continued on their journey thirsty.
Bundelkhand godman buries himself for 48 hours to pray for better rains
In Madhya Pradesh's Chhatarpur district - which also falls in Bundelkhand - a local baba (godman) spent 48 hours buried, in order to pray for better rainfall this monsoon.
This took place on Sunday in Guraia village, five kilometres from the district headquarters at Chhatarpur, Patrika reports.
The godman is known as Sri 108 Narayandas Bairagi Panchanami Akhada. This is the latest record set by the Baba, who had previously buried himself for up to 36 hours.
Read more- Drought-hit farmers on the brink: Chhattisgarh govt bungles relief distribution
The baba said his feat was to pray for good rainfall in the whole of Bundelkhand, where water scarcity has caused unprecedented migration and made life difficult for commoners. 
Water crisis brewing in western UP? Water in Ganga barrage in Bijnor at 10-year low
There is a water crisis in the making in western Uttar Pradesh. A report in Patrika says the water level in the Ganga barrage in Bijnor is already at a 10-year low.
Water levels are low because the monsoon was deficient not just in Bijnor, but in Haridwar and the hilly regions around it too. Because of this, the water flowing in from Haridwar has reduced.
Read- Ground report: Drought-stricken Marathwada limps from bad to worse
This has affected the cultivation of fodder, and cattle in the region are not being fed well, the report says.
This is causing diseases among the cattle, and their milk output has reduced. This has in turn affected families who depend on selling the milk.
Edited by Shreyas Sharma
More in Catch:
Sukma CJM's sacking: something is rotten in the state of Chhattisgarh
Want to win 1,000 pounds? The #InsultErdogan contest is now open
Gul Panag on #ShortSkirtBan: State can't decide what women wear; speak up, Kirron Kher
Say cheese: how 2 photojournalists took the profession to a new low