Sukma CJM's sacking: something is rotten in the state of Chhattisgarh
On 14 April, the Chhattisgarh government dismissed Sukma's Chief Judicial Magistrate Prabhakar Gwal on the grounds of "public interest" following the recommendation of the Chhattisgarh High Court.
Gwal, a 2006 batch judicial officer belonging to the Dalit community, has a reputation as an upright judge. He is known for several landmark judgments against the powerful.
Why was he dismissed then?
Records accessed by Catch reveal that Sukma's Superintendent of Police D Sharavan Kumar had complained against Gwal's decisions to the District and Sessions Judge of Dantewada. Another police officer from Chintagufa Bhim Kumar Som had also remonstrated Gwal in a letter to the sessions judge.
The letters not only raise doubts over the independence of the judiciary, they strengthen the suspicion that the security apparatus in Chhattisgarh sees itself as practically unaccountable.
Also read: 'Quit journalism or leave this place': the choice before reporters in Bastar
In Shakespeare's Hamlet, Marcellus expresses his anguish over Claudius' mismanagement of the body politic by stating, "Something is rotten in the state of Denmark". While Marcellus could be consoled by Horatio saying "heaven will direct it", there seems little reason for optimism in today's Chhattisgarh, where being honest is apparently against "public interest".
What exactly does "public interest" mean in Chhattisgarh? Nobody has the slightest idea, not even Gwal who got the axe without the state bothering to explain how he had worked against it.
Gwal, Catch learned, is known in these parts as a fearless and honest judge. He ruffled powerful feathers last year with his judgment in a case related to the leakage of question papers of the medical entrance exam conducted by the Chhattisgarh Professional Examination Board in 2011.
On 17 July 2015, Gwal, then ACJM of Bilaspur, sentenced the five accused in the case to six years in prison. He also passed stringent remarks against a senior police official, Deepanshu Kabra, for "negligence" in the matter, and wrote to the Director General of Police recommending departmental action against him.
Gwal alleged the local BJP legislator Ramlal Chouhan had tried to bribe him, and even threatened to implicate him on trumped up charges, to influence the case. He also alleged a threat to his life from Deepanshu Kabra. Gwal's wife later complained to the President that the judge was being harassed and that his transfer to Sukma was "a vendetta against his judgments".
Not long after delivering the judgment in the paper leak case, Gwal was attacked by unidentified men at Arang in Mahasamund, promting him to reiterate that Chouhan was after his life. The police, however, did not take any action on his complaint.
In October 2014, Gwal send three people to three years in prison for their role in a land scam in Bilaspur's Bhadaura, in which the powerful minister Amar Agarwal was also embroiled.
Among Gwal's other decisions that attracted considerable media attention was the sentencing of two engineers to 12 years imprisonment for fraud and misappropriation of funds, and the summoning of eyewitnesses to Bilaspur SP Rahul Sharma's alleged suicide.
Last December, Gwal publicly crossed swords with Sukma Collector Neeraj Bansod when the latter told him to take "necessary advice" before delivering any verdict. Terming it "interference in judicial work", he lodged a complaint against the collector with the higher authorities.
Punished for saving the innocent?
It is not only Gwal's judicial challenge to institutionalised corruption that seems to have infuriated the state. In some of his verdicts, he had indicted senior civil and police officers for excesses against tribals in the name of battling the Maoist insurgency.
The documents accessed by Catch indicate that this had made Gwal a thorn in the side of many police officers. For instance, the letter written by Sukma SP to the sessions judge alleges that Naxals involved in serious crimes easily got bail because of Gwal's leniency.
The SP's letter also alleges that:
CJM Gwal asks for elaborate information from persons arrested for Maoist activities. He demands their full name, photographs, father's name, village name, age, caste from the police. This despite the fact that Maoists operate under various pseudonyms.
Gwal revoked several serious charges against seven people accused in a case related to a Naxal incident in Chintagufa region. The accused had attacked the security personnel with an intention of murder and robbery. Yet, they were granted bail by Gwal. Granting bail to persons booked under Section 307 of the IPC weakens the judicial process.
The persons arrested for four Maoist incidents in Gadiras were given bail by Gwal. Such decisions adversely affect the morale of the security forces and provide an opportunity for criminals to make a mockery of the law.
Also read: Violence on the rise again in Bastar. Talks of a 'Mission 2016' are rife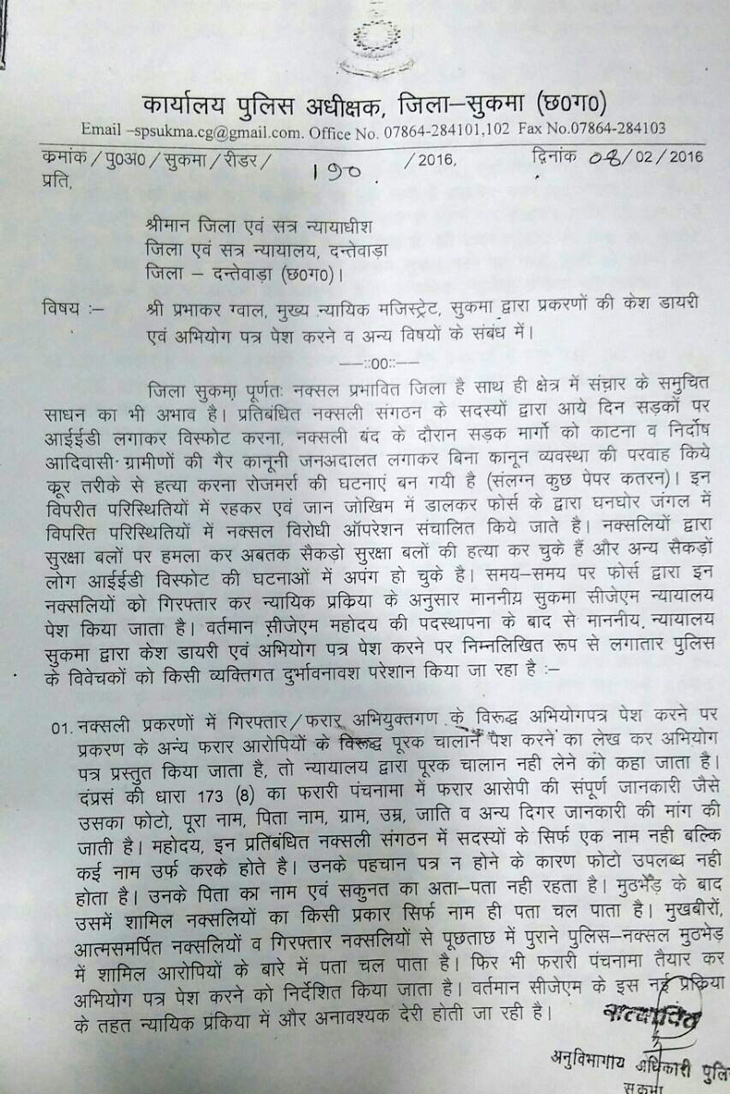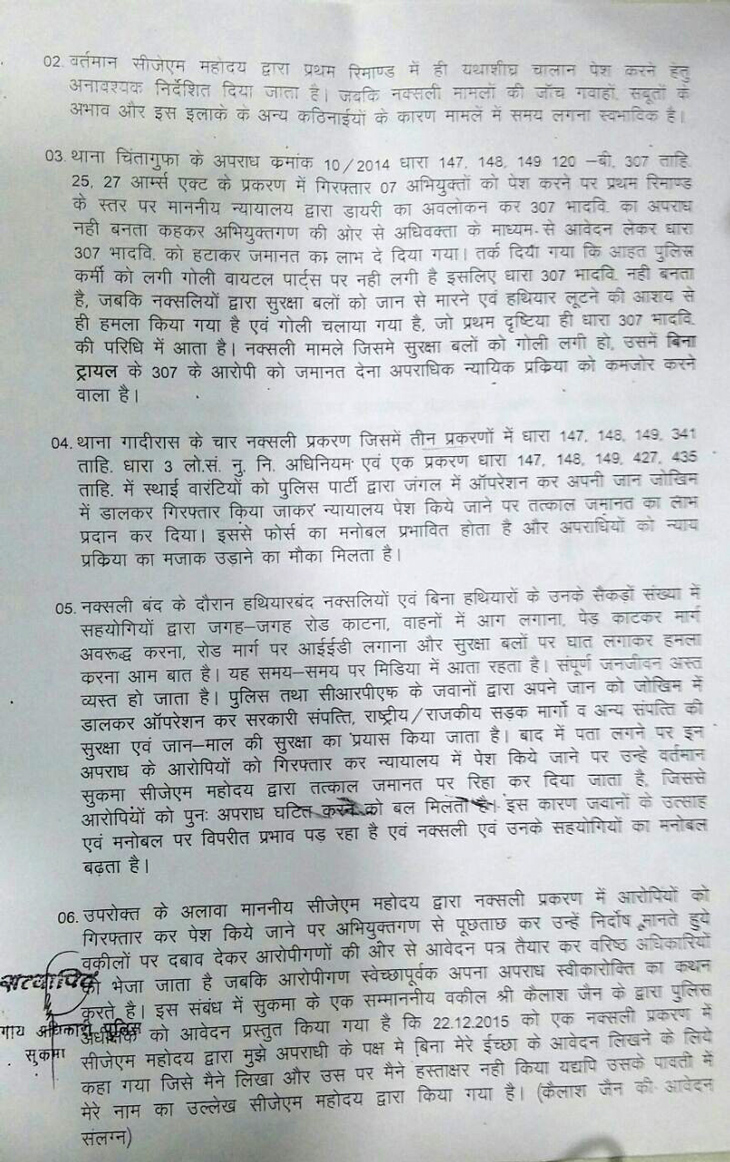 Not just the SP, the heads of several police stations battling Naxalism had also complained to their seniors that Gwal's decisions were affecting their morale "by unnecessarily obstructing the judicial process".
On 31 January this year, Janmejaya Pandey, an inspector at Chintagufa police station, griped in his case diary: "When I presented myself before CJM Gwal, he chided me by saying 'you herd poor villagers like sheep and goats. They cannot protest out of fear of your guns. I feel they are not culprits in any manner. These people are not even able to feed themselves. How can they fire bullets? They are forced to support the Maoists and wield arms because of police atrocities. You are not able to nab the real Maoists and make up by putting poor villagers in jail'."
Also read: A killing a month: how state, Naxal violence has brutalised Chintagufa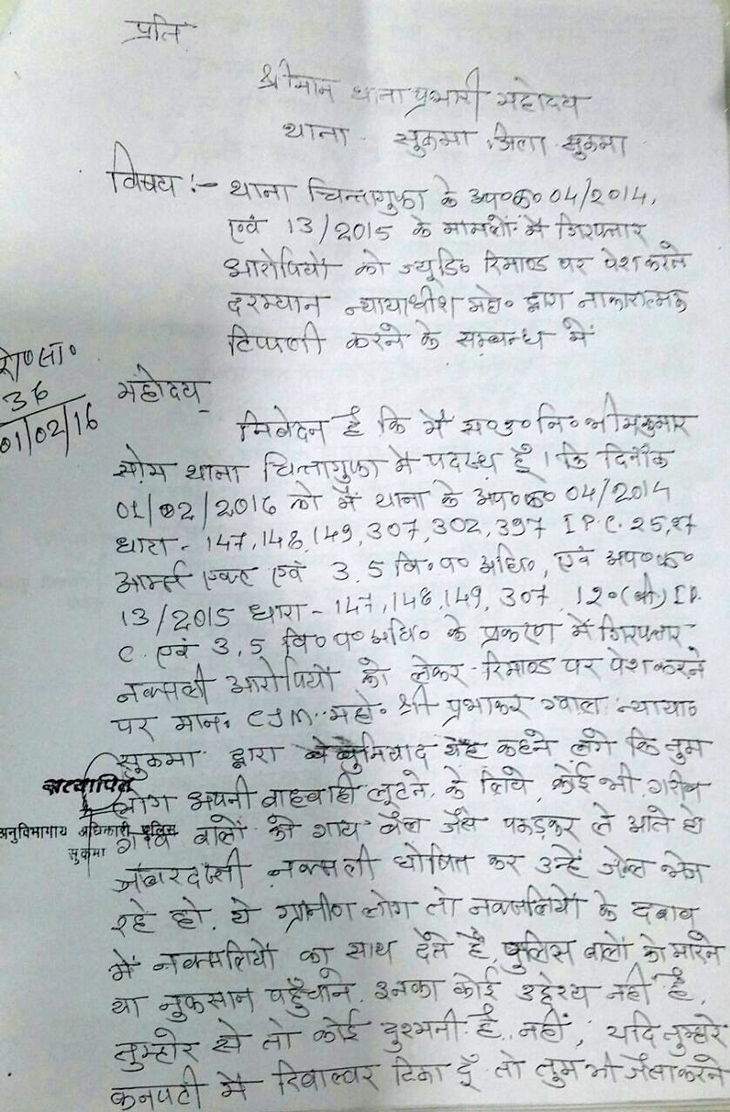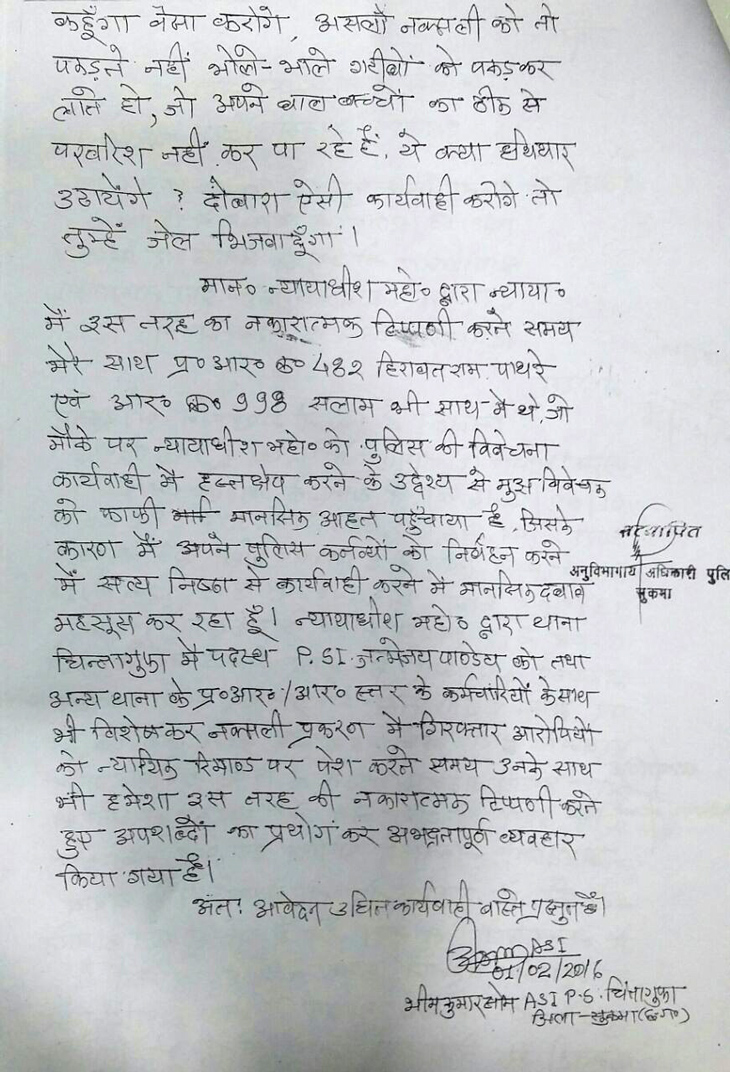 ASI Bhim Kumar Som echoed this complaint in his letter, dated 1 February 2016, to the in-charge of Sukma police station. "You people round up hapless villagers like cattle and brand them Naxals," the letter quoted Gwal as saying. "Even you would confess in a similar manner if a gun is put to your head. These people are not even capable of feeding their children. How can they raise arms."
On 2 February, the in-charge of Chintagufa police station informed the ASP of the district that the "CJM has threatened the police personnel implicating villagers in false Naxal-related cases with a jail sentence".
Three days later, the in-charge of Sukma City police headquarters wrote to the ASP that the "CJM has lowered morale of our cops by passing adverse remarks against them".
Also read: Bastar cop: Samajik Ekta Manch is our version of guerrilla warfare
Getting away with injustice?
All these complaints against Gwal were made between 31 January and 8 February this year. Why is this fact important? On 22 December last year, Gwal had written to the police top brass, including the DGP, alleging that "a fraud is going on in Bastar in the name of eradication of Maoists".
So, was Gwal targeted for confronting the state police over atrocities against innocent tribals? Is it just a coincidence that he was axed barely months after these letters were written?
SP Sharavan Kumar has kept a convenient silence. "I have nothing to say over the contents of my letter against the magistrate," he says.
Gwal, on his part, insists that the police often target innocent Adivasis. "I have discharged my duties in a judicious manner. Once the police brought around 1,000 people to me alleging they were all Maoists. The questioning revealed they were villagers who had come to visit the local market. I granted them bail based on facts and evidence. The Bastar police is playing a sinister game of labelling innocent Adivasis as Maoists. I have only ever acquitted innocent persons," he says.
Also read: Cannon fodder: how police is using child spies against Naxals in Bastar
This begs the question: does the police in Chhattisgarh have the authority to question a judge's verdict as "unsolicited interference"?
"It is the right of any magistrate to send an accused to remand or judicial custody. He's not a postman whose only job is to distribute the letters. The police superintendent has no right to comment on the magistrate's verdict. The police can challenge his decision in higher courts. No police officer can accuse a judge of obstructing the legal process or making a mockery of it," says senior Chhattisgarh High Court lawyer Kanak Tiwari.
All this leads to only one conclusion: something is really rotten in the state of Chhattisgarh.
Edited by Mehraj D Lone
Also read: Former rebels or police captives? 'Surrendered Naxals' narrate their ordeal