Cannon fodder: how police is using child spies against Naxals in Bastar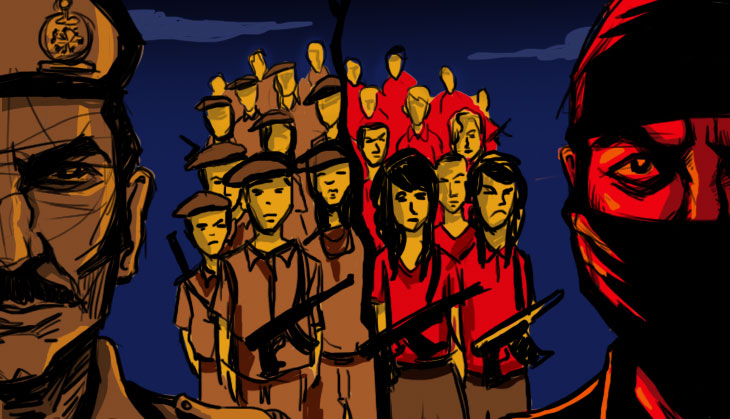 Anjum, 15, was told her life would have been fraught with danger if instead of the police, the Maoists had got hold of her. She agrees.
Anjum's police handler takes care of her daily needs and encourages her to take her school exams. He even ensures her a regular monthly salary. Anjum – not her real name -- says it's a better life than what she, an Adivasi orphan in the conflict zone of Bastar, could have hoped for. It comes with a price, though.
She has to go village to village and perform street plays. She is a member of the police's newly-created propaganda wing, Sanskritik Natya Manch, which travels across Bastar and Sukma trying to convince the tribal villagers to stop supporting the Naxals.
What Anjum and the other children she works with don't realise is that the police has not only recklessly made them a target for the Naxals, it also doesn't have any plans to secure their future.
The SNM isn't an ad-hoc group of child spies. According to sources, these children, employed as informers and as instruments of propaganda, are paid through government-issued cheques. "Each of them is given the salary of a police informer. Gopniya Sainiks or GSes they are called. They are supposed to get around Rs 15,000 a month. It is a proper structure," says a source.
By banning the use of cellphones and cutting electricity cables, the Naxals have left few modes of communication available to people in the areas they dominate. The easiest way of spreading a message, and ideology, is through entertaining street plays and songs. The Naxals have perfected this system, and use it to great effect. To counter this, the police have formed the SNM.
How do they operate? According to the source, an itinerary is prepared for the SNM, following which the police "sanitise" the villages where the kids are to perform plays and songs, mostly in Gondi, exhorting people to stand up against the Naxals and join the "mainstream".
When a police officer associated with this programme was asked what plans they had of securing the future of these children, he replied, "What plans are you talking about? Nobody knows about what will happen tomorrow. How can we talk about their future two or three years from now?"
In harm's way
Still, the programme continues despite everyone in Bastar, including Anjum, knowing the consequences of the Naxals finding out those who conspire with the state's forces.
Mostly, their families don't stop these children from being sent in harm's way because they have lost their breadwinners in this conflict and the children are the only means of earning some income. This despite the fact that the lives of informers, whether of the police or the Naxals, are known to be remarkably short in these parts.
Just this month, two young police informers were hacked to death in broad daylight in Sukma. One of them was Kichhemukka of Polampalli village, a father of seven who was killed in front of his wife and one child just outside his house. And a warning was issued to other villagers to not talk to the police.
This, however, doesn't stop the state from using children in its war. It has been doing this for long, abusing the rights of poor children who somehow find a way into their custody, and even arming them with weapons.
A report released by the Asian Centre for Human Rights in 2013 revealed how Chhattisgarh was conscripting children into a ragtag army. On paper, they were listed as "boy orderlies", but in reality they were child soldiers. The revelation didn't make much difference. "This phenomenon of the state using child soldiers is continuing. Despite evidence, and our report was based on RTI replies, the state did not acknowledge it was using children as soldiers against an extremist group that was doing the same," says ACHR Director Suhas Chakma.
Yashwant Jain of the National Commission for Protection of Child Rights hails from Chhattisgarh, and he knows these issues well. "In some ways, the police has put in place the same systems of combat and intelligence gathering that their enemies have employed for long. And this (using child soldiers) is a big problem in the state," he says.
Edited by Mehraj D Lone