15 point open letter to Modi from an angry Nepali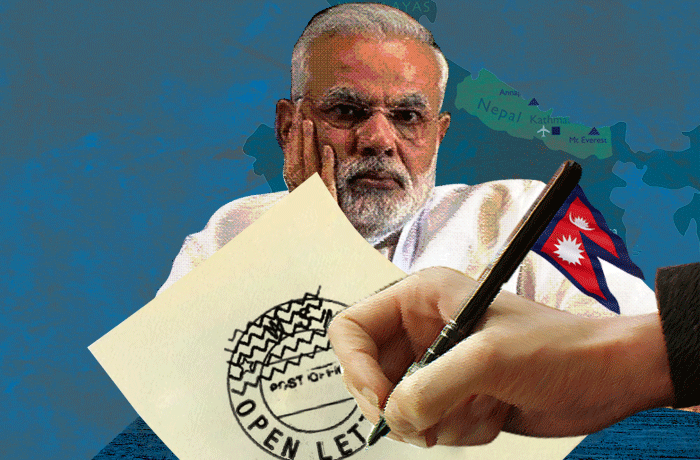 Respected Narendra Modi ji,
Please do the following:
Remember what you had said in your address to our Constituent Assembly during your first visit to Nepal.
Please remember the oath you took as India's Prime Minister that you would uphold India's Constitution. Article 51 of the Indian Constitution urges you to respect the sovereignty of other countries.
Keep in mind that the amity between India and Nepal isn't restricted to Madhesis. Your goodwill should also be towards the Pahadis who brave various difficulties and are ready to give up their lives on the battlefield for India.
Ask a few scholars, Nepal's new Constitution is the best in matters of social justice and equality. It is far superior to the Indian Constitution.
The hue and cry your "servants" are raising against Nepal's constitution is completely false. Your corrupt intelligence agents and officials are perpetuating this fraud to deceive you and pursue their vested interests. Please summon a group of constitutional experts, call people from Nepal as well and see it for yourself. And please promise that you will not spare the people who have misled you.
Let me tell you that those who are creating a furore in the name of Madhesis are the same individuals who were defeated by the voters in the elections to the second Constituent Assembly.
They ran away from the Constituent Assembly, but they did not resign.
After his loss in the elections, Rajendra Mahato said that his defeat is India's defeat.
Rajendra Mahato, Upendra Yadav and Amresh Singh issued a fatwa to Tharu tribes that they should take up arms and kill Pahadis and security forces. That is exactly what happened. Eight people, including an SSP, were mercilessly burnt to death. A one-year old child was shot only because he was a police official's child
At every place people were told that they should revolt and kill Pahadi rulers, the police and government officials and destroy government property.
You are committing proxy aggression on us. You have imposed an undeclared blockade on us. Many of the protestors pelt stones from Indian territory. They get food and shelter in India.
These protestors may become part of the government. They will loot the country. But by then, Nepali society would have been divided into two parts: patriots on one side and India's brokers on the other. Is this what you want?
These people are destroying Madhes. Madhes will become the hub of terrorism, not just for Bihar, Uttar Pradesh and West Bengal but for the entire world.
You would recall that when India's Constituent Assembly was drafting its Constitution, the British government came with its agenda. Jawaharlal Nehru's response to them was, "We have decided on how our Constitutional is to be drafted". With what face are your officials telling us how to draft our Constitution?
As your well-wisher, I must warn you that there are many people here who are waiting to see you fail. Send someone wise or call us, we are willing to pass your test.
Also read:
India's spectacular policy failure in Nepal
Nepal Constitution: take everyone along, or prepare for crisis
Nepal has become a Hindu State through the backdoor
Watch: