125 day Bhim Yatra against manual scavenging ends. Some memories
The campaign
The Bhim Yatra, which began in Dibrugarh on 10 December, has come to an end
It\'s aim was to create awareness about manual scavenging
The Yatra managed to reach out to manual scavengers from across India
More in the story
What did the Yatra mean to manual scavengers?
What lies ahead?
To celebrate Ambedkar's 125th birth anniversary, a bunch of people boarded an orange coloured bus at Dibrugarh, 125 days ago, on 10 December. A big blue banner declared that it was the Bhim Yatra bus. The Yatra's aim was to demand justice for manual scavengers.
At first there were 9 people who boarded it - activists, social workers, people showing solidarity and manual scavengers themselves. By the time the Yatra, there were 45 people in the bus.
Read- Songs of the dawn: how the Bhim Yatra articulated protest and hope
45 year old Raja Kharoshia Valmik from Panna, Madhya Pradesh was one of them. Being from the Valmiki caste, Raja never thought it to be derogatory when he watched his parents do manual scavenging as a livelihood. Like scores of others he grew up to think so much about life was normal - the untouchability, the lack of human dignity and constant odour of shit surrounding everyday life.
It was when his father made him study that he finally clasped the pen and graduated with a BSc. degree from Bhopal. "I always dreamt of becoming a social worker who would work to change this country. Today I'm a government school teacher at Chhatarpur. I teach maths and science. But social work is what I do in everyday life," says Raja.
When Raja heard about the Bhim Yatra he was determined to be on it, even if it meant leaving his two small kids and wife for 27 days. He travelled for the time in his life to Assam, Chhattisgarh, Jharkhand, Tamil Nadu and Kerala.
There was a detailed plan to visit 500 districts, spanning across 30 states to raise awareness on manual scavenging and detailed arrival and departure timings into each village that manual scavengers lived. "But we found that the Yatra was simply usurped by its people," laughs Dr. Bezwada Wilson, of the Safai Karamchari Andolan.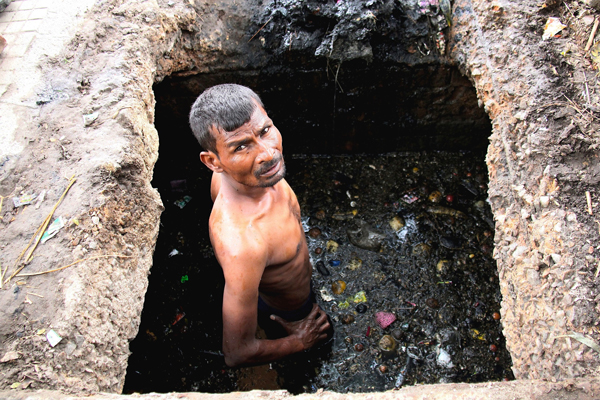 Photo: Getty Images

Plans were changed according to the needs of the community. "Some days we stayed up till 4AM talking about issues that touched a chord with the manual scavengers," says Bezwada.

According to Raja, the experience was eye opening. "What I saw in the Bhim Yatra is that the state of manual scavengers everywhere is pathetic - whether it is Tamil Nadu, Madhya Pradesh or Assam. Manual scavengers continue to die in sewer lines and septic tanks. And nobody cares," says Raja.

"The moments that will haunt me most are faces of people who have lost their loved ones in septic tanks. A newly married widow, or babies just a couple of months old who lost their fathers to manual scavenging... It has only strengthened my resolve to fight to eradicate it," says Raja.
No dignity, even in death
Santosh is sitting clutching a few papers in a crowded stage at Jantar Mantar. While prominent journalists, activists and thinkers speak their mind about manual scavengers at the Capital's closing of the Bhim Yatra on day 125, Santosh made his way to the Yatra from Meerut.
His brother Ballu was just 20 years old when he slipped and fell into a 40 feet septic tank of Mithaas, the company he was working for, at a salary of barely Rs 3000 a month. When he fell, another boy, Dinesh tried to go down to rescue him. But the toxic fumes made them both unconscious and they died on the spot. This happened five years ago and Santosh has received no compensation for his brother's death except a few thousand rupees from the company.
The latest Socio-Economic Caste Census data released in July last year reveals that 1.8 lakh households are engaged in manual scavenging across India. Maharashtra, with 63,713, tops the list, followed by Madhya Pradesh, Uttar Pradesh, Tripura and Karnataka.
Also read- Bhim Yatra: a bus full of hope for the manual scavenger
Wilson estimates, through the Andolan's network, that over 1,200 worker deaths on the sewer line go unrecorded and unnoticed each year.
"The Bhim Yatra offers the promise of taking up issues such as mine collectively," says Santosh.
Starting an unprecedented conversation
When the Yatra completed 100 days, Wilson and others wrote a letter to President Pranab Mukherjee demanding that they eradicate manual scavenging, and be given compensation for those who died. Their letter and various RTIs filed across India have fetched no response.
"The Bhim Yatra will not end. This is just the beginning of a long fight," says Wilson, already preparing for a national convention.
The amazing part seems to be that the manual scavengers themselves have never felt this kind of a unity and awareness about their own livelihood and rights before.
Read more- BR Ambedkar: why Left, Right & Centre are romancing this theorist of resistance
"Yesterday all the safai karamcharis were dancing and shouting slogans and celebrating at Ambedkar Bhavan. How can the society make such vibrant people as slaves?" asks Wilson.
What have you learnt about Ambedkar? I ask 35 year old Bhattu Lal Valmik who is a manual scavenger from Panna, who rode the bus for a few days when it toured Madhya Pradesh.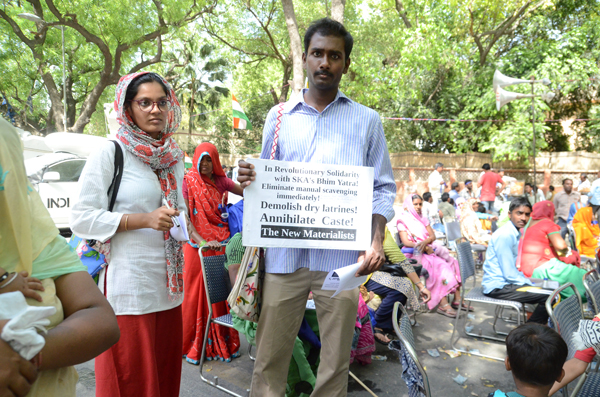 Photo: Shriya Mohan/ Catch News

"That freedom and equality is our birth right. And we should fight to preserve it," comes a sharp response.

Creating that awareness, may in itself, be the best way of honouring Ambedkar today.

Edited by Aditya Menon

More in Catch:

Kobe Bryant finishes as only Kobe Bryant knows how: epic end to a 20-year career

'Bharat Mata Ki Jai' is a trick to divide and rule: Mayawati

Will the Bombay HC order really help drought-hit Maharashtra?

American Idol ended after 15 years last week, and no one really noticed