Songs of the dawn: how the Bhim Yatra articulated protest and hope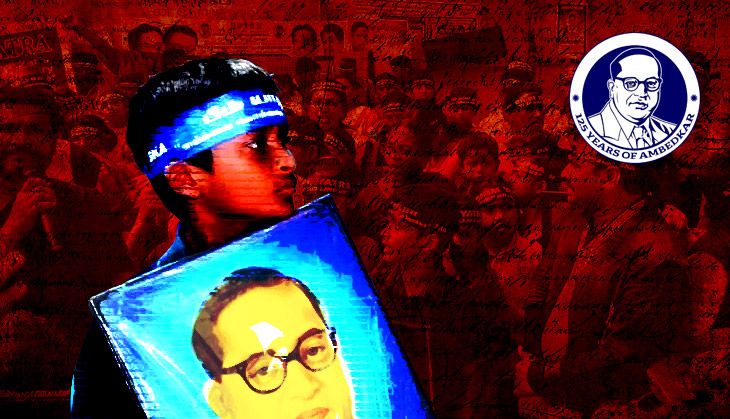 The Bhim Yatra is back in Delhi just in time for BR Ambedkar's 125th birth anniversary. The busful of Safai Karamchari Andolan activists have been on a 125-day tour of 500 districts across 30 states to take Ambedkar's teachings to the masses.
The journey started from Dibrugarh on 10 December
, the International Human Rights Day, and ended on April 13, the eve of Ambedkar's birth anniversary.
"What better way to celebrate Ambedkar's birthday than to take his message to the people of this country," says the national convenor of Safai Karamchari Andolan Dr Bezwada Wilson. "That is what the Bhim Yatra has done in his honour."
The overarching message of Bhim Yatra was: "stop killing us". The key demands: elimination of manual scavenging, end to deaths in sewers and septic tanks through the introduction of mechanised cleaning, fair compensation for the families of those lost to manual scavenging.
The journey itself was a source of strength, awareness, healing and coming together for the Dalit community. Each evening, after Bhim Yatris gathered with local communities to discuss issues pertaining to their rights, livelihood and justice, one of them would read poetry from Dalit poets - some famous, others relatively unknown.
Here's a sample collection of poems read during the course of Bhim Yatra.
Day 78
Robert's Ganj, Mirzapur
The pangs of pain which the clouds bear
Subside in a moment when they shed.
They wander here and there
Like a bunch of novices
Copulating with the winds.
But the mother in throes,
Her woes all over the sky,
Dimly remember the time before she conceived.
Through lanes and alleys she tramples
The bulge in her belly,
To calm her intense hunger
With a mere handful.
When labour begins, her head holds a load,
And her eyes, a shadow of anxiety for food,
Under burning skies and a hot, breathless wind
Rise the infant's first cries,
Saying: world, now I see you for myself.
Thus she delivers, and her hands
Set fiercely to work again.
Like the clouds, whose pangs
Take just a moment to subside.
- Baban Chahande
Day 81
Gandhi Maidan and Gardanibagh, Patna
Our gods do not hide
Within the Brahman
Or tell stories only
In the language known
To the few.
They enter the loose,
Betel-chewing mouth of the
Nappy-haired Thangasamy
Posses him
Jive in him
Tell signs in our language
Eat pig flesh
Drink arrack
Smoke a cigar
And settle down amongst us
In the ghettoes
Next to sewer ditches
In the no-man's land.
- ND Rajkumar 
Day 82
Darbhanga
We are the aboriginals
This is our land
We, in any condition, will make it
Manual scavenging free.
This land is ours
We will cry for the sky too.
- Poet unknown
Day 93
Dehradun
Beef, Dear Me
Beef
Oh, what great savor!
I see now why in Vedic days,
They used to gulp down a piece a day in the name of yagams.
What great look!
When chopped into small pieces
And put in bubbling oil, it's so delectable
Daubing thickly chilly and salt
Spices to add to
And gulped down,
It slides down the guts, so ticklish, my brother!
When the dried piece is roasted,
It wafts around a dozen houses.
How do I tell you
If I miss it any day,
I miss myself, my brother.
- Inala Saidulu
Day 101
Punjab
In Delhi, civil society members met President Pranab Mukherjee and gave him a letter to end manual scavenging, stop sewer deaths. The letter quoted the poem below and said "Prahlad Chendwankar's 'empty advice' almost matches the what we are getting from this government".
This country which demands
A pot of blood
For a swallow of water,
How can I call it mine
Though it give the world
The (empty) advice of peace?
- Prahlad Chendwankar