Change is coming to the Oscars as the Academy of Motion Picture Arts and Sciences has announced a new award- Outstanding Achievement in Popular Film, which is the first new category since 2001 when the Animated feature was added.
As reported by E Online, Academy President John Bailey and CEO Dawn Hudson, in a letter told members that apart from the new popular film category, the Oscar telecast will be shortened to three hours.
The letter read, "We are committed to producing an entertaining show in three hours, delivering a more accessible Oscars for our viewers worldwide. To honor all 24 award categories, we will present select categories live, in the Dolby Theatre, during commercial breaks (categories to be determined). The winning moments will then be edited and aired later in the broadcast."
The Academy announced the same on Twitter, writing, "Change is coming to the #Oscars. Here's what you need to know: A new category is being designed around achievement in popular film, We've set an earlier airdate for 2020: mark your calendars for February 9 and We're planning a more globally accessible, three-hour telecast."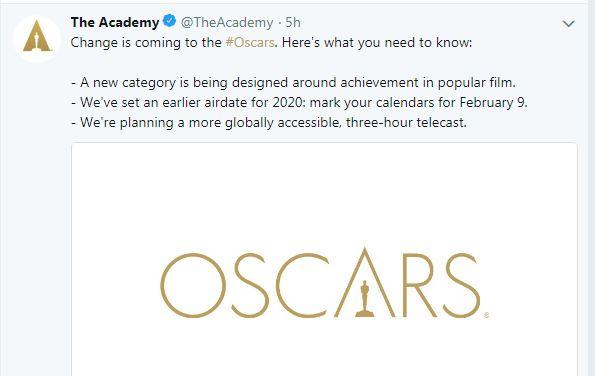 Oscars also known as the Academy Awards are a set of 24 awards for artistic merit in the American film industry, given annually by the Academy of Motion Picture Arts and Sciences (AMPAS). The aim is to recognise excellence in cinema as assessed by the Academy's voting membership.
(ANI)