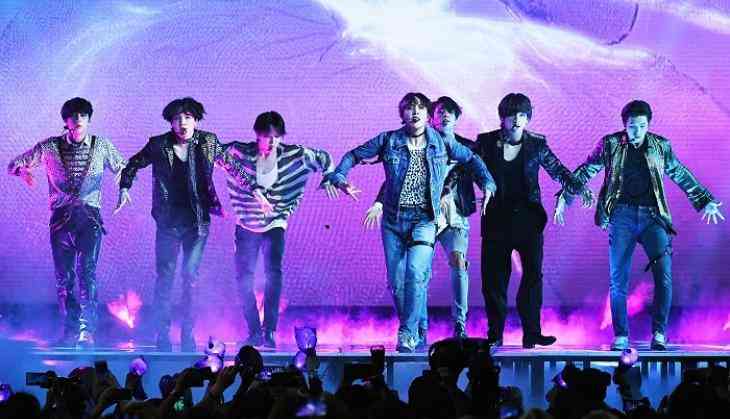 Korean-pop boy band BTS became the first Korean artists to perform at the Billboard Music Awards stage on Sunday night. The band performed their new single "Fake Love" for the first time on television.

Kelly Clarkson introduced them as the "biggest boy band in the world," the seven BTS members swept across the purple-lit stage in a choreographed routine. BTS fans, who call themselves the A.R.M.Y (Adorable Representative M.C for Youth), broke into tears during their performance.
Also Read: Billboard Music Awards 2018: Check out the complete list of winners

V, Jungkook, Jimin, Suga, Jin, RM (Rap Monster) and J-Hope took to the stage in their denim looks — including harnesses. They also won the award for top social artist at the show.
The boy band made their American stage debut at the 2017 American Music Awards last year. Since then the band performed in Times Square on New Year's Eve and appearing on US talk shows like Ellen.

The band's new album, "Love Yourself: Tear," sold 1.44 million pre-order copies before its Friday release, and the "Fake Love" music video gained 41 million views on YouTube within 24 hours. Tickets for an autumn world tour have already sold out in 14 locations.
It's TIME for @BTS_twt's FIRST #BBMAs performance AND WORLD TV PREMIERE PERFORMANCE of their song 'FAKE LOVE!' #BTS_BBMAs #BBMAs pic.twitter.com/HkR8FQalzp

— Billboard Music Awards (@BBMAs) May 21, 2018
Pre-performance huddle with @BTS_twt. ❤️ #BTS_BBMAs pic.twitter.com/pdXe9pSk0K

— Billboard Music Awards (@BBMAs) May 21, 2018
The band is trying to join other artist for new music. "Charlie Puth, Troye Sivan, Drake, Shawn Mendes, DJ Khaled, Khalid," they told PEOPLE (in unison!). "I think we've talked with Troye Sivan and maybe Shawn Mendes, too, but we'll see what happens."
Also Read: Prince Harry and Meghan Markle sent royal wedding flowers for hospice patients