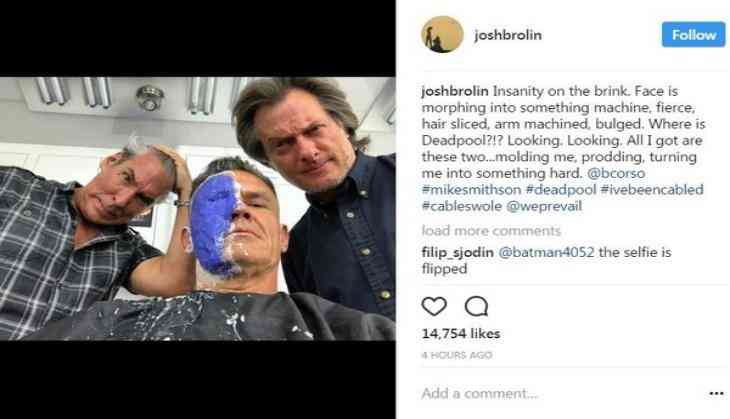 Josh Brolin is all set to transform into Cable for 'Deadpool 2'.
Since his casting announcement, Brolin has been teasing fans with new images or videos from behind-the-scenes of the film, but this latest tease is surely going to make Marvel fans go insane.
The 'Everest' star took to Instagram and shared a photo in a makeup chair getting prepared for what will be Cable's iconic bionic enhancements.
He captioned the picture, "Insanity on the brink. Face is morphing into something machine, fierce, hair sliced, arm machined, bulged. Where is Deadpool?!? Looking. Looking. All I got are these two...molding me, prodding, turning me into something hard."
Cable's bionic facial implants, eye, and arm/shoulder all come from a "techno-organic virus" the time-hopping X-Man was infected with as a child.
Recently, Brolin revealed his beefed up look for the role by posting a video of his intense work out.
' Deadpool 2' shooting began on Tuesday. Reynolds shared the news via an Instagram post of a movie slate.
The flick has a June 1, 2018 release date.
-ANI