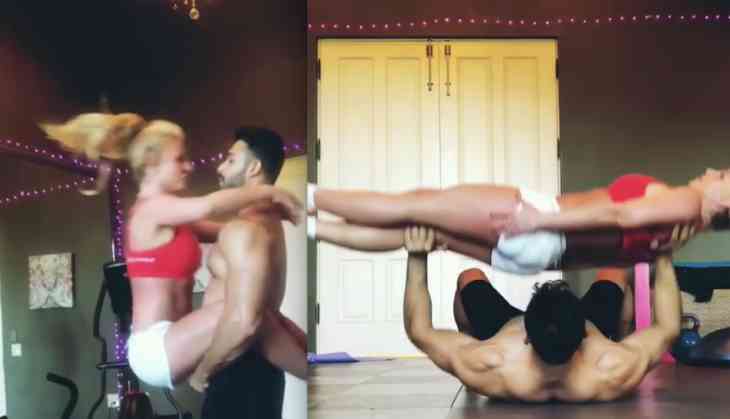 It is obvious that one has to work hard to get a perfect look. However, in the case of Britney Spears, working hard is not the only one thing which she does for her amazing body.
The singer and dancer shares her amazing workout sessions with her boyfriend Sam Asghari.
She's doing leg lifts on top of her boyfriend and at the same time she is practicing her gymnastics moves solo also. Spears spends a lot of time working out, prepping for her dance-heavy performances. And she seems to have a lot of fun doing it with her boyfriend!
Here is the complete compilation of the best of the sessions she's shared of her routines in the gym.
The couple is seen using each others body, as they do push-ups, leg lifts, and sit-ups. They also manage to kiss each other whenever they got the chance.
Asghari and Spears shared a clip on Instagram of them enjoying a sexier sweaty session. Both of them even did their own version of the lift from Dirty Dancing.
"Stronger together @samasghari," Spears posted, as she and Asghari sweetly exchanged kisses during sit-ups.
After meeting on the set of the shoot for her "Slumber Party" music video, Spears revealed in January 2017 that she called Asghari five months after their first encounter.
"I was like, 'He was really cute, this guy was really cute,' so I called him," Spears recalled in a radio interview. "He's just a really fun, funny person."

Like Spears, Asghari regularly posts snaps from the gym, including quick clips of workouts with his favourite gym buddy.
"#workout @britneyspears," Asghari wrote Thursday.
Also Read: How women once got naked and wrote poem on their back to raise awareness about PTSD to support their husband