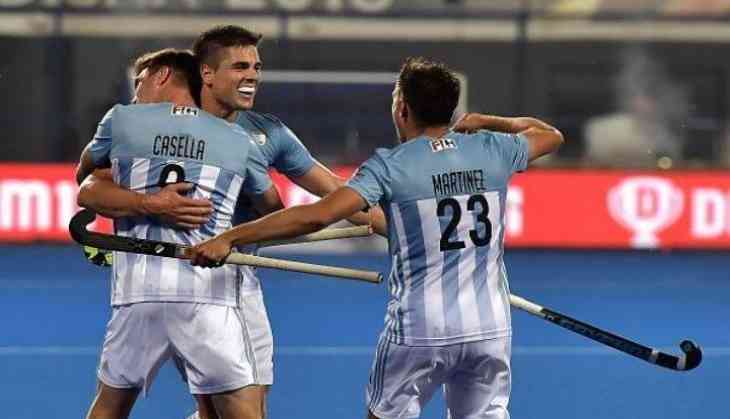 With their composed performance, Argentina showcased absolute class on the field by thrashing New Zealand 3-0 to clinch three more points and seal their quarter-finals spot in the ongoing Men's Hockey World Cup here at Kalinga Stadium on Monday.
Agustin Mazzilli, Lucas Vila and Lucas Martinez's goals displayed Argentina's dominant performance to retain their spot at the top of Pool A.
There was not much to differentiate between both the sides in the opening exchanges as New Zealand and Argentina's defenses kept cancelling out each other. However, Argentina slowly gained more possession with New Zealand defending deep in the first quarter.
Argentina, in the 16th minute, got the first shot on the goal in the second quarter through Vila's shot at the far post. But New Zealand goalkeeper Richard Joyce made a good save with his right glove to keep the ball out.
A lapse of judgment from Argentine captain Pedro Ibarra in the 18th minute resulted in a penalty corner for the Kiwi side but Kane Russell's drag flick was dealt well by the defense.
Mazzilli, in the 23rd minute, took the lead for Argentina before going into half-time with a superb reverse stick into the top left corner.
In the third quarter, Argentina again displayed how flexible they were by launching a counter-attack and seized back the possession. Vila doubled the lead for his side with an emphatic finish at the near post. In the 41st minute of the match, the forward tussled with Blair Tarrant on the edge of the circle and smashed it to the right top corner before ending the third quarter.
Argentina sacrificed pace for skills and patience in this match. Their passing and dribbling inside the final quarter have been on spot with Vila, Juan Lopez and Agustin Mazzilli making things look easy with their stick-work.
While, in the 51st minute, New Zealand, which was looking for an opening, created a flurry of chances. Martinez scored from a penalty corner as Gonzalo Peillat's back pass reached the forward at the far post who fumbled, but managed to put the ball behind the net from close range. In the end, Argentina outclassed New Zealand by 3-0.
Argentina will next meet France, while New Zealand will cross swords with Spain in their Pool A final fixture on December 6.
-ANI