You've already encountered this spoiler, but if you want no more, stop reading now.
It takes a lot for Bollywood to not mess up a character or a setting with any homosexual undertones. So it is no surprise that Kapoor and Sons is making us cry out in joy for getting it right. For a change however, it isn't just the break from mediocre Bollywood depictions of gay characters that we are celebrating.
In the (never-ending) times of Section 377, here's a film that has a completely self-aware gay character. One who is not the only point of drama in the film. "Main thak gaya hun apka perfect beta banke," says Fawad Khan's Rahul Kapoor after his doting mother - played to perfection by Ratna Pathak - snoops on him and discovers that there is no girlfriend in his life, and probably has never been.
Rahul tries hard to convince his mother to get away from her crumbling marriage and to move to London to live with him. "Maa, aap aake toh dekho. Kaise rehta hun. Kiske sath rehta hun." He wants to ease her into his reality, one that she cannot even imagine as she dreams of the perfect bahu for her favourite son.
Rahul's relationship with each member of the Kapoor clan highlights his nagging need to come out to them. But they are all grappling with their own problems and seem to be too self-absorbed to notice his desperation.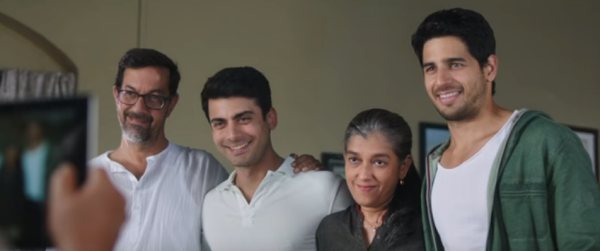 His father, played by Rajat Kapoor, is a frustrated middle-aged man who is always at odds with himself for not being able to financially support his family. Rahul acts as his confidante, the only person he can turn to. But the man barely knows his son.
Rahul's strongest love-hate relationship is the one with his brother, Arjun - essayed by Sidharth Malhotra - who sees him as the sole reason why he always got the short end of the stick.
And yet, late one night after a particularly hilarious pot-smoking session with Grandpa Kapoor - played by Rishi Kapoor in all his wrinkly, prosthetic glory - the brothers find themselves opening up to one another, sharing a bed after years. Rahul tries once again. "Ek baat hai jo kisi ko nahi pata..." he starts. But his brother is fast asleep by then.
The family does not seem to realise that Rahul's visit means more to him than just a trip planned around his 90-year-old grandfather. They seem to have no idea of his conundrum as he mulls over how best to come out to them. But is his personal turmoil more significant than the problems the other members face? The film doesn't judge.
And that's the beauty of it. Kapoor and Sons normalises homosexuality by portraying Rahul's character to be just as troubled as everyone else's in the film. A cheating husband, a jealous wife, a lonely grandfather, a lonelier young woman, a wronged brother and a struggling artist, all come together in this film to rid Rahul's story of stigma. We are all dysfunctional and far from perfect, the film seems to say, while establishing that imperfection is okay.
As is the case with most families, the dysfunctional Kapoor clan too is brought together by a shared loss. And when Rahul returns to face his emotionally-numb mother, she remembers to ask him about his "dost", the only direct reference that the film makes to Rahul's partner.
Not once is Rahul Kapoor called "gay" or "homosexual". And with zero labels, Kapoor and Sons showcases his character in the most human way. And yes, that is indeed a feat worth celebrating.
-- Edited by Blassy Boben