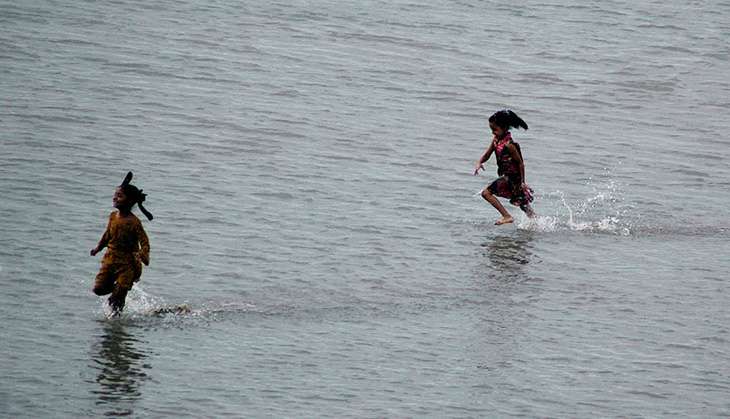 Save the girl child.
Just how many times have we read that, heard that, hashtagged it? But while saving the girl child is extremely important, what sort of life do we give her once she is 'saved'?
On International Day of the Girl Child, Catch spoke to three girls who lived on the fringes of society. They etched out their own success stories with some help from a Delhi-based NGO called Childhood Enhancement through Training and Action or CHETNA.
Also read - Wilbur Sargunaraj: The simple superstar fighting for India's girl child
Jyoti from Sarai Kale Khan is a spirited 16-year-old. As a child, she worked as ragpicker on a railway station. Through CHETNA's initiative, Badhte Kadam, Jyoti not only helped herself out of a difficult life, but she now does the same for other kids. Jyoti dreams of being a dancer one day.
Sanno is 21 years old and looking forward to a possible career in journalism. Hailing from Sundar Nagri, Sanno worked at a factory as a child. Today, she's an editorial advisor to CHETNA's Balaknama, a newspaper by street children, for street children.
Jyoti from Shakur Basti had to do domestic work as a child to make ends meet. The 21-year-old is now an active trainer with CHETNA's banking initiative Meljol. She helps young adults figure out their savings and investments. A political aspirant who works closely with AAP, Jyoti is a known face in Shakur Basti for her welfare initiatives.
Beyond CHETNA, there's one common strand that binds them together - that they all empowered themselves. And that they all continue to do that for other girls like themselves.
Empowerment can't be achieved top down. The girl child can be provided with the tools to empower herself, but beyond that, she chooses her direction. And that's what these girls' heartwarming stories prove.
These are their stories, as narrated to Catch.
Jyoti - 16 years old
Sarai Kale Khan
"I've been with Badhte Kadam since I was about 8 years old. I used to ragpick at the railway station. This teacher called Manjula ma'am from CHETNA taught kids there. I used to ragpickand pickpocket because my father got TB and my mom didn't have a job. I even did drugs.
Jyoti sends us a photo from a mall.
"I've done every kind of drug imaginable. The gang of older kids that controlled us at the station beat us up if we didn't. Before I joined the gang, these kids used to beat me up, steal my money. These gangs could vary from being a 20 member gang to 7-8.
"So when I met ma'am, the kids in my gang told me if I went to her, she'd sell me off or get me married just to dissuade me. But ma'am found my home and came and met me.
"I've always had one simple dream. I want to be a dancer. I want to be a dancer. I want to be a dancer."My work involves talking to children, fighting for their rights, making them understand their rights and helping them resolve their problems.
"We have support group meetings at Badhte Kadam where teachers go to different areas and teach kids.
"Badhte Kadam has changed my life. I'm 16 today. Those boys I knew as kids from the gang are now 18-19 and behind bars in Tihar Jail. And these are the boys. I'm a girl, I can't even tell you what could have happened to me.
Also read - Today is International Day of the Girl Child. Here are some crucial numbers you need to know
"I think god wanted me to escape this life and do well for myself. God came in the form of ma'am for me.
"I could have been married, or worse off. But instead, I'm with my family now. And the best part is that I'm helping kids like myself. I feel like those kids are stuck in a marsh and I need to pull them out.
"I feel like I've brought about change. The kids in my locality are going to school now and I feel like I've had a part to play in this. Badhte Kadam helped me get out of that life. And now I'm doing that for others.
"Before I become a dancer though, I want to help those kids realise their dreams."
Sanno - 21 years old
Sundar Nagri
"I've been with CHETNA since 2010, but I've been involved with NGOs since 2007. CHETNA ran an education programme in our community. When I would come home from the factory for lunch I used to see these classes being held. I heard kids talk about newspapers and reporting and got interested.
Sanno (in white) during a Balaknama editorial meeting.
"That's when I learned that kids can study while working and that they can run a newspaper too. After joining I attended a few leadership workshops and for the first time in my life I felt like there was a power within me, that I too could do something for other kids.
"They educated us about our rights, the laws, and what schemes they could avail to study in the future, etc.
"I was about 12 then. When I joined Balaknama, I left my factory work and devoted myself to reporting full time. At first, I was a Batooni reporter - someone who shares the story with a writer but doesn't write it. I would share stories about how us Muslim girls didn't have access to a lot of things, including education. This was my story too.
Also read - 'It's a girl': Social experiment shows how Indians truly feel about the girl child
"I wasn't literate. I had to leave school and help my mother make ends meet as my father was a drunk and was never home. She'd stitch clothes and I'd work at the factory.
"CHETNA helped me get open basic education. The training helped me not just with writing but also to know about what I was dealing with. I could deal with cops and government offices thanks to the education. And now I'm training other kids to do the same.
"I was an editor at Balaknama but because it's a newspaper by kids I couldn't remain an editor post turning 18. So the kids decided they'll make me advisor.
"I have made the style sheet at Balaknama and I co-ordinate the editorial board. It helps establish a uniform code of conduct for all reporters.
"Balaknama is a really democratic paper. We chase the stories we want to. There's no agenda we need to follow, unlike big media.
"Street children and stake holders are our main readership. So it is our responsibility to talk about the issues plaguing them.
"We provide kids with helpline numbers and talk about serious social issues. Sometimes, we ask the police for help and they usually co-operate. We've done stories about the problem of child marriage. It's still so common.
"Recently we did a story on how the kids who work at railway stations are made to move dead bodies. This is extremely hazardous to their health. When we reported this, the cops took action. So yes, these are some of the initiatives we undertake.
"My future? I'm not thinking much about marriage. Fortunately for me, my mom says that I should study as much as I want. Honestly, I want to study hard and earn well for myself. I've gotten so much support, I'd like to extend that to other children.
"I would like to be a mainstream journalist at some point. But I feel I need to equip myself first. I can't begin to tell you how different my life would've been without Balaknama. My factory was like a prison to me. I was isolated. I knew nothing about the world, not even enough to take care of myself."
Jyoti - 21 years old
Shakur Basti
"I've been with CHETNA for over 11 years now. I used to be with Badhte Kadam growing up but now I'm part of Meljol programme. This programme teaches young adults about savings, banking, investments, etc. We work with 14-18 year olds.
Jyoti at her home in Shakur Basti.
"Getting education was difficult. I had to drop out of school. My father is my second papa. My mother remarried. He's not very supportive and he doesn't work himself.
"My mother used to work as a domestic help. So I joined the same profession. In 2006, CHETNA came to Shakur Basti, and that's how I found them.
"I am quite interested in politics. I help people resolve their issues in my area. Be it familial matters of dispute, or basic civic needs, they approach me for help. Would I want to stand for the elections? Yes, I think I'm ready for it.
Also read - Viral video: ad promoting girl child education will make you reach for a tissue
"I regularly help the police investigate matters here and in turn they hear me out on other concerns.
"I've volunteered with Kejriwal and Aam Aadmi Party. Though I'm not an active member, AAP people contact me when they need to do something in my area. Like getting labour cards made, fumigating the area due to mosquitoes etc. Sometimes, I participate in AAP meetings.
"I suppose my aim is to help provide all the amenities people in my juggi need. Be it water, housing, electricity, I want to help. If I become a political leader, I'll be doing the same things. I guess I'll just have more power then to get them done."