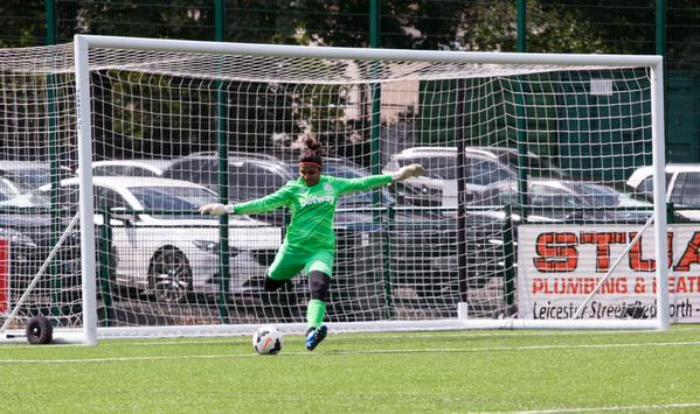 Aditi Chauhan has been in the news in India recently after signing for the West Ham United Ladies in England's Premier League Southern Division. The Indian international goalkeeper signed for the club a year after moving to England to study at Loughborough University. Having played for India on quite a few occasions before moving to England, she now hopes to make her mark in English football with West Ham.
Chauhan spoke to Catch to discuss her move to England, women's football in India, and her career in general. Here are some excerpts from the interview:
Your move to West Ham has received an incredible amount of coverage in the Indian media. How do you feel?
It is an amazing feeling. I have received an overwhelming response on social media after signing for the club, and I am extremely thankful to everyone for their love. It motivates me to work even harder.
I just want to clarify to everyone that the Women's Premier League Southern Division, the league West Ham are part of, is not the top tier of women's football in England; the Super League is the top division here.
Moreover, I am not the first Indian woman to play in England, as has been reported by many media outlets. Tanvie Hans had played for Tottenham reserves for two seasons before moving to Fulham this season. That being said, it is absolutely amazing seeing the response I have received so far.
How did the move to West Ham materialise? Did you try out at other English clubs before moving to West Ham?
After I completed my university, I got a job at Decathlon and moved to London. I wanted to continue playing football and gave trials for Women's Super League club Millwall, but I was told by the manager of the club that FA rules do not allow me to play for a Super League club with a student visa.
Incidentally, the goalkeeping coach of Millwall Ladies also holds the same position at West Ham, and he told me to try out for them as they were looking for a goalkeeper. I played one friendly game for them before I signed the contract.
Tanvie Hans has already been playing in England; and now, with you following suit, do you see more Indian women in English football in the coming years?
There is no doubt that there are a lot of talented women footballers in India. I am hopeful of seeing more of them playing professionally in England and various other countries in the near future.
At the same time, I hope that India will soon have a national women's football league.
Tell us a little about your childhood. When did your first start playing the game?
As a kid, I used to play basketball in school, and later went on to participate at the zonal and inter-zonal levels. That is probably how I first developed my goalkeeping skills.
One day, my basketball coach from school, Mr. Anil Yadav, suggested to me that I attend trials for the Delhi team in the goalkeeping position. That is how I started playing football.
What prompted you to pursue the Sports Management degree at Loughborough University?
I want to have a career in sports even after I stop playing football, and that was the reason behind coming to England last year to study the course at Loughborough. Once my playing career is over, it will certainly help me in getting into the sports industry.
Talking about football back home, the All India Football Federation (AIFF) has failed to deliver on its promise of starting a national women's league by mid-2015.
It is sad that no development has been made in India, in terms of starting a national women's football league. However, I am hopeful that this news will create a buzz around India which will encourage the authorities to take action in the near future.
I really hope we have a professional league in India, and if it does start, then I would love to come back to India and play in front of my home fans.
Many members of the Indian women's national team have jobs outside of the football industry. Do you think this is proof of the fact that football, as a professional avenue, does not provide long-term financial security to women who pursue it in India?
Yes, that is absolutely true, and is also the reason why a lot of girls quit playing football after finishing school. Most female footballers in India do not see a safe and stable future for themselves in the game.
Talking about your move to West Ham, how important do you think this is for your career?
I am hopeful of improving as a goalkeeper, and as a player in general, here at West Ham. Moreover, this is a big opportunity for me to get Indian women's football noticed at the world stage.
You missed the SAFF Championship last year because of your studies. After signing for West Ham, are you open to playing for India once again?
Yes, absolutely. I am willing to play for India whenever the team needs me.