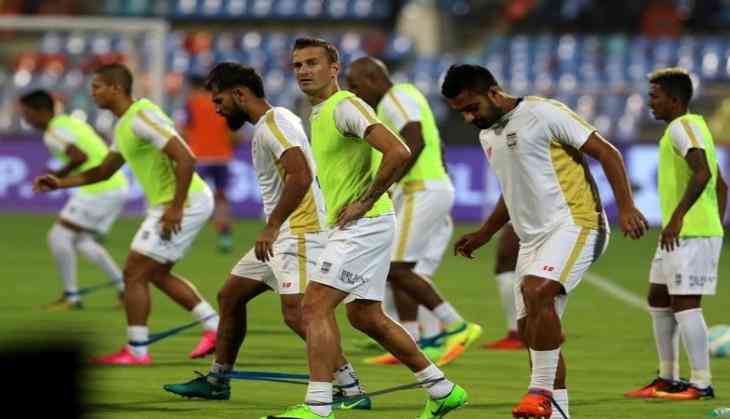 Mumbai City FC and Jamshedpur FC will lock horns in a crucial Indian Super League (ISL) clash for a "prize worth winning" at the Mumbai Football Arena, on Thursday.
Jamshedpur and Mumbai City are placed fifth and sixth, respectively on the points table and are well aware that a victory for either team will boost their chances of qualification and significantly reduce the chances of the other from moving ahead. It is a straight battle for the semi-final slot and nobody wants to leave anything to chance.
"You saw how in Jamshedpur, we had a 2-2 result. Both teams wanted to win and the same will be true tomorrow. The prize is worth winning tomorrow and both sides will be very much trying to win," said Jamshedpur FC coach Steve Coppell.
Jamshedpur are placed fifth with 19 points from 13 matches and can displace FC Goa from their fourth spot, even though the Goan club would have played two matches less.
Coppell disagreed with suggestions that it is a do-or-die clash but agreed that a win can work wonders.
"I don't think so it's a do-or-die match for either team. We have five games left. Can you lose the game and still be part of the playoff? Yes. But it will be more difficult. There is lots to play for. It's not quite do-or-die but almost do-or-die," said Coppell.
Mumbai City FC managed a fantastic 4-3 victory over FC Goa in an away game with a late winner from Balwant Singh. The victory threw them a lifeline and with 17 points from 12 matches, they are still in the running for a place among the top four.
"In these kind of games, every detail will make the difference. Jamshedpur is not a team which concedes too many goals. We have to be very much accurate to convert the chances that we have. Our defence has to be very alert. In the last games, they have changed their approach. This is one of the tough matches," said Mumbai City coach Alexandre Guimaraes.
Mumbai City lost their last two matches at home against Kerala Blasters (0-1) and Bengaluru FC (1-3). Guimaraes is aware of the shortcomings that led to their defeats and has now taken measures to overcome those problems.
Mumbai City missed out on the services of their injured captain Lucian Goian and Brazilian midfielder Leo Costa in the earlier match and Guimaraes will be hoping he can count on their services, particularly in a game with so much at stake.
--ANI