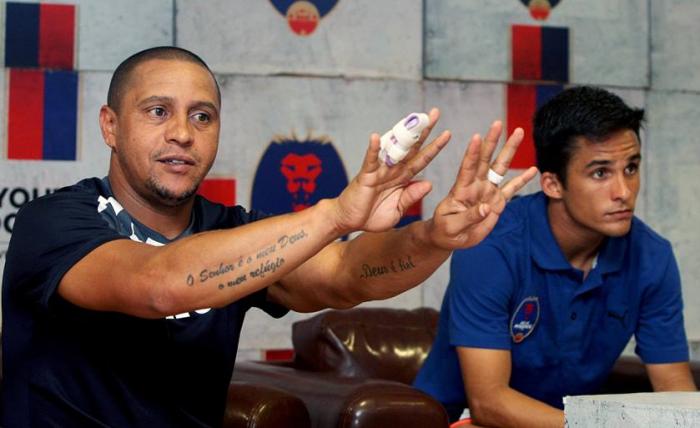 The manager of an amateur football team playing in a private football tournament in India is furious with the country's national team head coach Stephen Constantine. He is furious because Constantine recently turned down his request to allow some of the Indian internationals in his team from playing in a match of the said tournament, four days prior to India's crucial World Cup qualifier against Turkmenistan in Ashgabat on 8 October.
The behaviour of the manager may sound ludicrous to you. After all, why would Constantine allow the players in his squad to play an inconsequential match in Delhi four days before a must-win game thousands of miles away in Ashgabat? Surprisingly, the manager in question here is Brazilian football legend Roberto Carlos, who has been in top-level professional football for well over two decades, and is currently in charge of Indian Super League franchise Delhi Dynamos.
"Don't want to speak about the Indian national team because of the way he spoke to me."
After a 2-0 defeat at the hands of FC Goa on Sunday, 4 October, Roberto Carlos seemed upset at having missed the services of three of his players who had left for national team duty earlier in the day. In a lacklustre game of football which saw Delhi go down tamely away from home in Fatorda, Goa, Carlos' team looked short of ideas throughout the 90 minutes.
Later on, he was asked about the three missing players in the team. "Yes I spoke to him (Constantine) and asked if I could keep them (players). I did not like the way he spoke- at all," he was quoted as saying by Goal.com. "I don't want to speak about the Indian national team because of the way he spoke to me. Good luck to him," Carlos added.
Earlier, Delhi Dynamos had requested the All India Football Federation (AIFF) to allow the three Indian players to stay with the team till 5 October. The proposal was rejected by AIFF, as FIFA guidelines clearly state that national team players must be released by their clubs at least four days before international games. AIFF, however, said that they would have no problem if Constantine heeded to Dynamos' request.
Constantine understandably turned down the request, with the Indians required to travel for thousands of miles for the games in Turkmenistan and Oman on 8 and 13 October, respectively. A planned training camp ahead of the two World Cup qualifying games had already been cancelled because of opposition by ISL franchises, and Constantine needed all the time he could afford with his players.
Carlos' comment displays a complete lack of respect
There is no doubting Roberto Carlos' status as one of the modern days greats of football. During his prime years, he went on to establish himself as one of the greatest left-backs in the sport's history. Even as a manager, he has done relatively well during his brief stints with Anzhi Makhachkala and Sivasspor.
Now that he has come to India to earn his daily bread, one would expect him to at least respect the footballing interests of the country. His comment, however, not only displays a complete lack of respect for both Stephen Constantine and the Indian national team, but also shows his ignorance of the FIFA regulations, which is baffling, given his experience in the sport.
Perhaps the Brazilian legend could put himself on Constantine's shoes and try to understand the other side of the story. Today Indian football stands in a very precarious position. Professional clubs are disbanding, the I-League is dying a slow death, the national team lies at 167th in the FIFA World Rankings. On top of that, the national team is robbed of a precious training camp ahead of two World Cup qualifying games away from home.
In such a scenario, it is probably not entirely logical to expect an amiable reply from the national team coach when you are making an irrational and unfeasible request.
Does ISL need to follow FIFA guidelines?
ISL, although not recognised by FIFA, falls under the jurisdiction of AIFF. With AIFF directly answerable to FIFA, the ISL has no other option but to follow FIFA guidelines in matters relating to the national team.
However, there seems to be a misguided sense of entitlement on the part of ISL franchises and its organisers IMG-Reliance, which is very well reflected in Robert Carlos' statement. The fact that the stakeholders of ISL managed to highjack the national team's preparations for the two World Cup qualifiers this month, is a stark reminder of the dangers posed by ISL to Indian football interests.
While preparing the schedule for the second season, the organisers of ISL completely disregarded India's involvement in the FIFA World Cup qualifiers, holding games on the same day the Indian team plays its matches. This itself is enough to show where exactly the priorities of the organisers lie.